There are three things every Texan should do before he dies: Read Colonel William Travis' letter at the Alamo, stand in the middle of the Texas Capitol Rotunda, and hike the South Rim at Big Bend National Park.
I must confess that I've hiked the South Rim trail more times than I've done the first two.
Maybe it's the stark beauty of the Chisos Mountains or the challenge of trekking on a 14-mile trail that begins with a 2,000-foot vertical climb. Maybe it's because the South Rim was the first long trail I ever hiked 25 years ago, introducing me to a whole new way to see this country's beauty.
All these things and much more keep drawing me back to Texas' most iconic trail.
In mid-May, I hiked it for the fifth time. When my wife, Karen, asked me what I wanted for my birthday, it didn't take long to answer. We hadn't hiked the South Rim since the fall of 2013, so it was time to return.
We also had another reason to go: Karen underwent hip replacement surgery last December, and an overnight backpacking trip on the South Rim would be a good test before we hike the John Muir Trail in California's Sierra Mountains later this summer.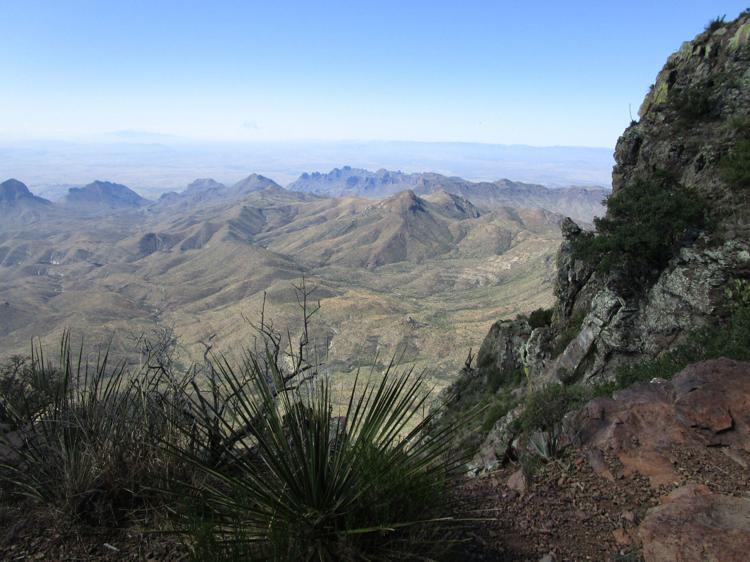 To get to Big Bend, you must psych yourself up for a long drive. Even with an 80 mph speed limit along I-10 in West Texas, it's an eight-hour drive from Waco to the northern edge of the national park. Then it's another hour to the Chisos Mountains, which straddle the Mexico border on the Rio Grande.
Otherworldly is a word that's thrown around too easily, but it perfectly describes this part of the Trans-Pecos region of the state.
Once you hit the towns of Marathon, Alpine and Marfa, you feel like you're in a weird, distant land.
With the historic Gage Hotel, Marathon on the east seems like a trip back to the 1950s. You almost expect to hear Hank Williams singing "I'm So Lonesome I Could Cry" on your AM radio.
Alpine is buoyed by Sul Ross University. I once ate at a restaurant in Alpine and saw Tommy Lee Jones at an adjacent table, taking a break from a film he was starring in at the Trans-Pecos.
Marfa to the west is an artist colony stuck out in the desert. Just off Highway 90 northwest of Marfa stands a structure resembling a Prada store. No, you can't buy $750 leather boots there, but you can pull off to the side of the highway and scratch your head for a few minutes wondering who dropped this building in the middle of nowhere.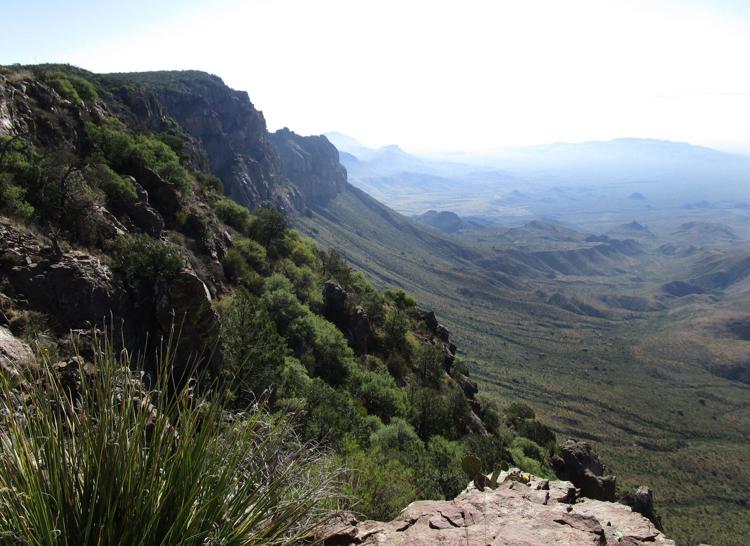 Down in Big Bend, you really feel like you're away from civilization. It's a vast, diverse national park that features Boquillas Canyon to the east and Santa Elena Canyon to the west.
For a fun, lazy day, there isn't anything much more relaxing than a raft trip on the Rio Grande through Santa Elena Canyon.
You could easily spend a week at Big Bend, but we only had a few days on this trip, so backpacking was a priority.
Before arriving in the Chisos Mountains, we stopped by Panther Junction to pick up our backcountry permit. Our first choice was a campsite on the South Rim because we had seen how spectacular it was on a previous overnight hiking trip.
That spot was already taken, so we reserved an available campsite on the Northeast Rim.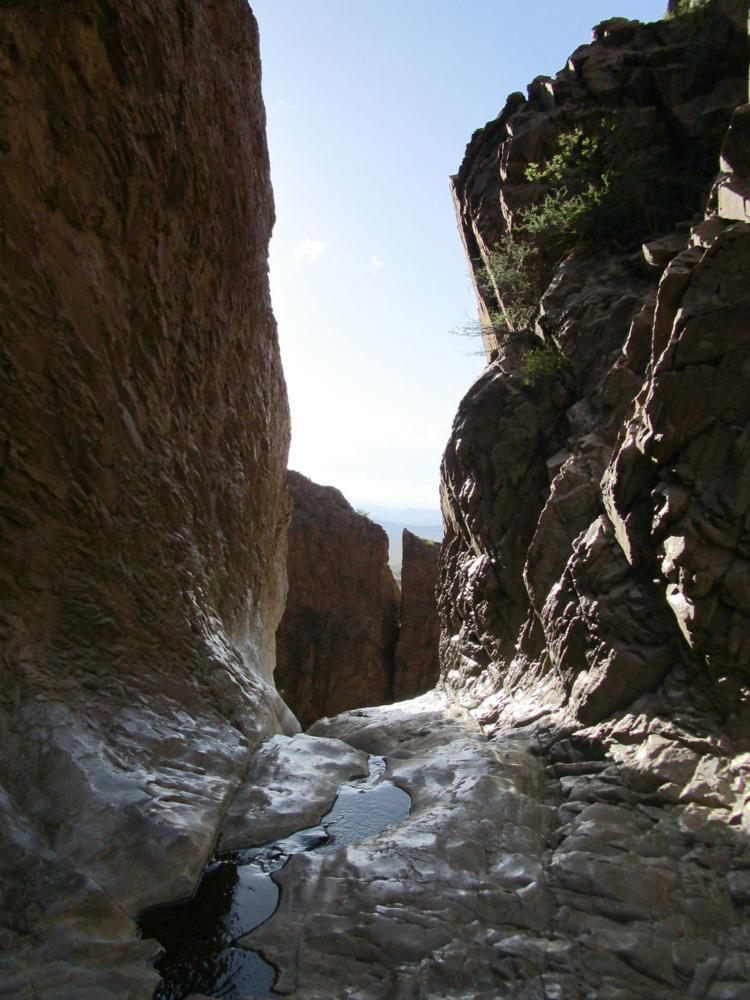 Since I've hiked the Window trail on every trip I've made to Big Bend, I didn't want to break tradition. After setting up our tent in the Chisos Mountains basin, I made the cool five-mile hike that culminates with a 200-foot waterfall that begins through a narrow rock gorge to the desert below.
We got up early the next morning to start the South Rim backpack, planning to take the Laguna Meadow trail up to the rim since it's not as steep as the Pinnacles trail.
Somehow we took a wrong turn and headed toward the Pinnacles instead, but I'm glad we did because we got to see the hike from a different perspective.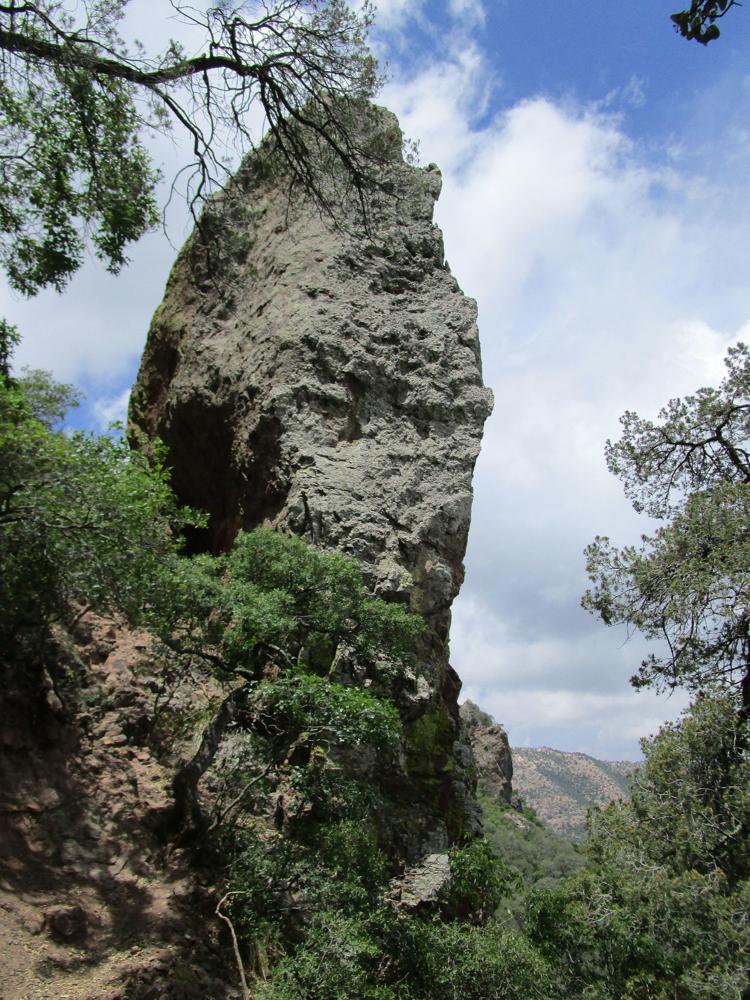 Fortunately, there was a lot of cloud cover that morning and it wasn't uncomfortable to make the 2,000-foot climb through the huge monoliths that surround the trail.
Most of the people we met on the trail were college-aged kids taking the trail up to Emory Peak, the highest point of Big Bend at 7,825 feet. For most, it was their first trip to Big Bend, and you could sense their excitement.
It's always good to see young people experiencing nature and taking a challenging hike instead of sitting in their rooms playing video games. I've got to believe spending all day in the Chisos Mountains is much more rewarding.
We ran into a middle-aged guy who had hiked the South Rim trail many times. When we told him we were camping at NE3 on the Northeast Rim, he said, "Wow, that's a beautiful campsite. You're lucky."
I was pretty pumped after hearing that as we made our way to Boot Canyon. It's named after a rock outcrop that looks like an upside-down boot, and is one of the lushest areas of the Chisos Mountain with junipers, bigtooth maples and ponderosa pines.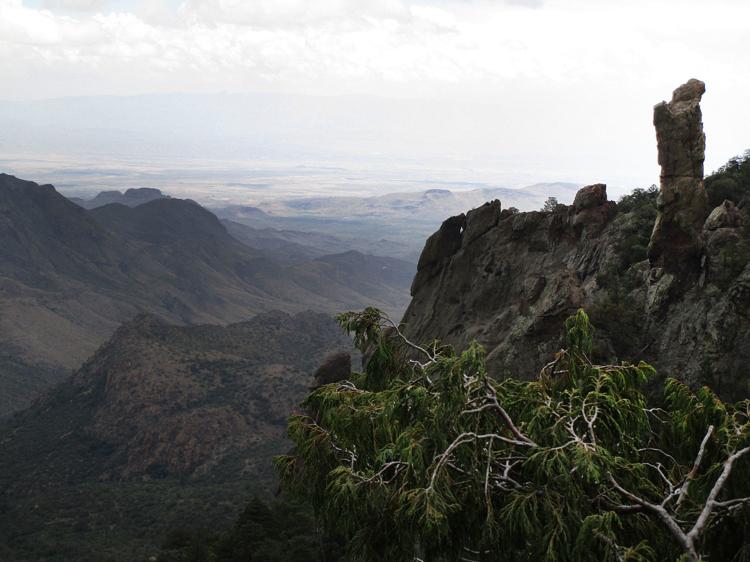 When a hailstorm blew in, we felt pretty fortunate to be hiking under tree cover. The hail was only pea-sized, so it didn't really sting much. We saw a couple of young women huddled under a wooden table by a remote cabin.
"We're newbies," one of them laughed.
It's great to see hikers show a sense of humor because sometimes you need it on a long trail. Out in the backcountry, any kind of weather can hit anytime. It's best to just chalk it up as part of the adventure.
The hailstorm passed after an hour, and we made our way to our campsite for the night. We were tired after hiking seven miles since we each had to carry a gallon and a half of water in our backpacks because there are no dependable water sources on the rim.
Fifty yards outside our campsite stood the best view of our hike. Juniper Canyon was stunning as the evening clouds passed through the high, tree-lined cliffs that were deep green because of abundant rain.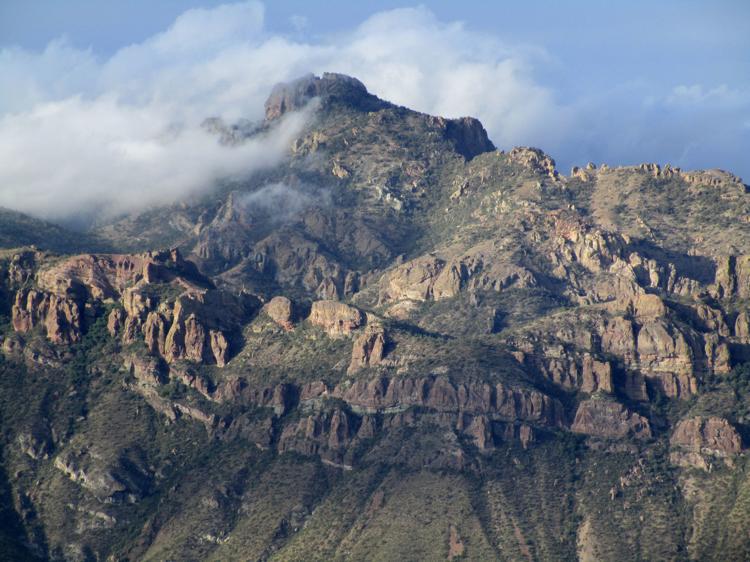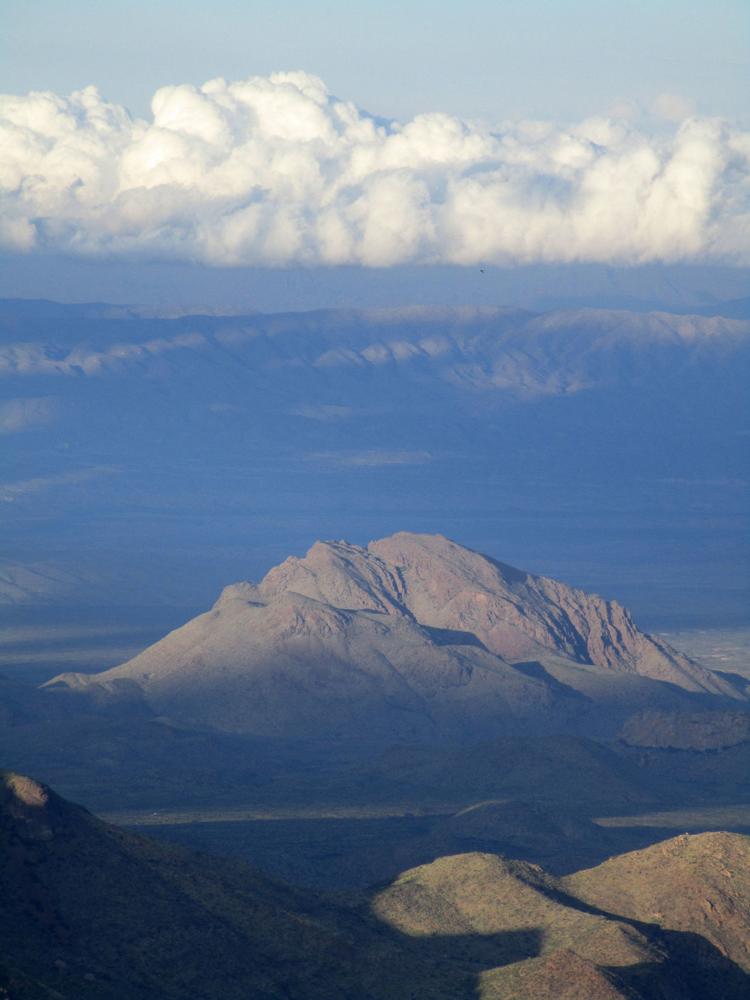 As the sun began to set, we gazed out in awe at the beauty as we heated up our freeze-dried beef stroganoff. The food was extremely average, but the scenery was extraordinary. These are the big payoff moments that make backpacking all day worth it.
We woke up the next morning and quickly reached the South Rim, which features the most panoramic views of the Chihuahuan desert in the park. We saw some Peregrine falcons whipping around us at lightning speed. There's no better place than Big Bend to see these amazing creatures.
Trekking on, the weather got much hotter as we made our way through Laguna Meadow. I was glad we took a wrong turn the previous day because it would have been scorching hiking down from the rim through the Pinnacles with no cloud cover.
With the sun blazing on the rocks, we were pretty worn out when we finished our hike about 2 p.m. that afternoon. But Karen's new hip held up great during the hike and I had a memorable birthday.
We spent the night at the Gage Hotel in a room with no television. Sometimes you need a break from technology, and a long trip west to hike the South Rim at Big Bend is just the ticket. And if time allows, don't forget to stop at that fake Prada store, and scratch your head for a few minutes.