When the Texas Rangers winter caravan rolled through Waco in January, the biggest question didn't seem to be if they would finish last in the American League West but by how much.
Their potential starting pitching rotation had one thing in common: They had all undergone Tommy John surgery at some point in their careers and most of them hadn't pitched like Tommy John.
They had a lineup full of feast or famine hitters who struck out a lot more than they went deep. Joey Gallo, who hit 40 homers in 2018 but struck out a whopping 207 times and hit .206, was the Rangers' poster boy for the team's all or nothing style of hitting.
Texas' prospects really appeared dim after the retirement of future Hall of Fame third baseman Adrian Beltre, the most respected player on the team.
It seemed quite likely they could finish 40 games behind the powerful Houston Astros after going 67-95 and finishing 36 games back in 2018.
But instead of a repeat of last year's futility, the Rangers have emerged as one of the most improved teams in baseball. First-year manager Chris Woodward, formerly the third base coach for the Los Angeles Dodgers, deserves consideration for manager of the year.
Following a three-game road sweep of Detroit, the Rangers were 45-36 at the midway point of the season. It's remarkable that the Rangers stand just 4.5 games behind the Astros, a vastly more talented team.
I don't expect the Rangers to catch the Astros, but they are on a 90-win pace, which would probably be good enough to earn an AL wild card berth.
So how did this rebirth happen?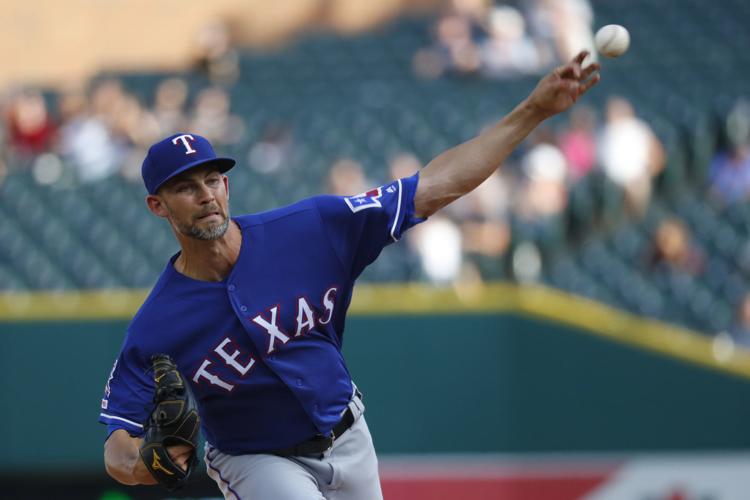 Journeyman starter Mike Minor has pitched like an ace with an 8-4 record and a 2.40 ERA. Lance Lynn has pitched like the stalwart he once was with the St. Louis Cardinals as he's gone 9-4 with a 4.32 ERA. Unproven Adrian Sampson has been a nice addition to the starting rotation with a 6-4 record while 35-year-old Jesse Chavez pitched so well out of the bullpen that he's been bumped to the starting rotation.
While Texas' bullpen hasn't been lights out by any means, it's been good enough to help the Rangers push nine games above .500.
Gallo has emerged as a legitimate AL MVP candidate as he's hitting .279 with 19 homers and 44 RBIs despite an injury-plagued season in which he's missed 28 games.
Coming off an oblique injury, Gallo crushed two homers in Thursday's 3-1 win over the Tigers. The first was a tape-measure shot deep over the right-field fence that showed why opposing defenses often use a right field-oriented shift when he steps to the plate. But Gallo has often beaten the shift by becoming a much more selective hitter as he's walked 46 times while occasionally hitting the ball to the opposite field.
Shortstop Elvis Andrus, a throwback to the Rangers' World Series years in 2010-11, has become a better hitter as his career has unfolded as he's hit .307 with seven homers and 43 RBIs while stealing 16 bases.
Outfielder Nomar Mazara has belted 12 homers with 46 RBIs, and has sometimes rivaled Gallo for tape-measure shots. With a .302 batting average, infielder Danny Santana is hitting 40 points above his career .262 mark and has shown surprising power with nine homers. Outfielder Shin-Soo Choo is hitting .285 and has given the Rangers veteran leadership.
Nobody has been more elemental to the Rangers' success than 36-year-old Hunter Pence, who has shown his best days aren't behind him as he's hit .294 with 15 homers and a team-high 48 RBIs. Selected as an All-Star Game starter, Pence has been on the injured list with a groin strain since June 17, but is expected back in the lineup next week.
So many things have gone right for the Rangers that it seems inevitable that they'll hit a slump at some point. But they've already proven to be resilient as they've kept winning even with Gallo and Pence out for considerable stretches.
Rangers fans should have something to look forward to the rest of the summer and into the fall as they play their last season at 25-year-old Globe Life Park before moving across the parking lot to their new retractable roof stadium.
"Whether that lasts and we sustain that, it's totally up to us," Woodward said earlier this week. "Do we feel we have a team that we feel like can win every game? We do, and they truly believe that."