Brice Cherry: Why we can't help but rave over rants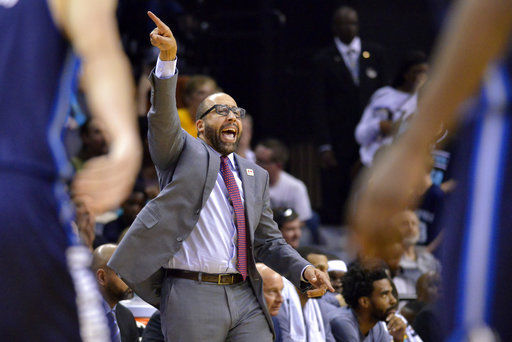 Reporters expecting the same-old, same-old press conference following the Spurs-Grizzlies playoff game on Monday night instead were treated to something different.
Rant alert! Sound the alarm, grab your laptops – we've got a rant alert!
Grizzlies first-year coach David Fizdale did not appreciate the discrepancy in the free throws attempted by his team and the victorious Spurs. His team doesn't get the respect it deserves from officials, he said. And he pulled no punches in letting that opinion be know.
In addition to passionately noting the difference in the numbers, Fizdale said, "I know Pop's (Spurs coach Gregg Popovich) got pedigree, and I'm a young rookie, but they not going to rook us!"
Fizdale closed his remarks by slamming his hand on the table and barking, "Take that for data!"
Man, I love a good rant. You'd think reporters would seek to maintain decorum and professionalism in the postgame presser, and we do. But we also crave honesty, passion. Do you know how many times we're silently rolling our eyes at the neverending cliches or zoned-out blather? At least the rant is real. No need to read between the lines.
Fizdale's outburst was pretty righteous, and somewhat out of left field, which always aids the shock factor. I watched Monday's game off and on and didn't really notice an abundance of calls going the Spurs' way. San Antonio is better and more aggressive than Memphis, and that may have had as much to do with the free throw trips as anything.
But credit Fizdale for letting his voice be heard. He had all the ingredients of a classic rant – he had a point to make, he was fired up, and he dropped a few pretty memorable lines. ("Take that for data" won't die anytime soon.)
Yet it still probably doesn't reach the level of all-time bombast, doesn't earn first-ballot entry into the Bobby Knight Memorial Tirade Hall of Fame. Behold, the all-time greatest sports rants. (I'll bleep out the bad stuff.)
"You play. To win. The game." – Herm Edwards, 2002.
Herm had to have been a fun coach to cover. He always seemed like he was in Sunday sermon mode. The guy had passion.
But nothing ever resonated quite like Edwards' preaching as coach of the New York Jets in 2002. The backstory: The Jets had just lost to Cleveland to fall to 2-5 on the year, and Judy Battista of the New York Times asked Edwards something to the effect of, "Do you have to talk to your team about not giving up on the season?"
Edwards took the question and ran. "Hello? You play to win the game. You don't play to just play it."
Edwards had a 10-year playing career in the NFL that included a memorable fumble recovery in the playoffs, but that soundbite follows him like nothing else. When he published a book in 2005, the title was a given: "You Play to Win the Game: Leadership Lessons for Success On and Off the Field."
"Playoffs?" – Jim Mora, 2001.
Mora was another coach who seemed to be perpetually drenched in lighter fluid, as it didn't take much to set him ablaze. But it wasn't just what he said, it was how he said it. And how he said it was pretty stinkin' hilarious. (Diddly-poo comes to mind.)
As coach of the Indianapolis Colts in 2001, Mora came into the press conference following a Colts' loss to the 49ers which featured five turnovers from his offense. He proceeded to shred his team, calling it a "disgraceful performance" and saying that "we gave them the friggin' game."
Then a reporter asked if Mora still thought the Colts had a shot to make the playoffs – and hilarity ensued.
"Playoffs?" Mora said, his voice nearly cracking. "Don't talk about – playoffs? Are you kidding me? Playoffs? I just hope we can win a game."
They did. And Mora won the presser – big time.
"They are who they thought they were!" – Dennis Green, 2006.
Ah, the late Dennis Green. He had some nice moments as an NFL coach, including leading the 1998 Vikings to a 15-1 record in the regular season. But this diatribe from his stint as coach of the Arizona Cardinals may be his "crowning" achievement.
You remember the opponent, of course. It was the Bears. The question from the reporter was innocuous enough, but it didn't even seem to be the question that got Green boiling. On this day, he was the kid on the playground looking for a fight.
"The Bears were what we thought they were," Green began, relatively calm. "What we thought they were. We played them in preseason."
But Green went from speaking to shouting in a snap: "The Bears are who we thought they were!" he bellowed. "That's why we took the (expletive) field! If you want to crown 'em, then crown their (expletive)! But they are who we thought they were! And we let them off the hook!"
I kind of wish some reporter had the gall to ask a follow-up: "Um, Coach, who did you guys think the Bears were?"
"We're talking about practice." – Allen Iverson, 2002.
Players can rant, too. Iverson's media session in the middle of the 2001-02 season was an instant classic. He uttered the word "practice" 22 times in less than five minutes, each time spitting it out with disdain, like he was describing vegetables or property taxes.
The Sixers were mired in a lost season, and the relationship between Iverson and head coach Larry Brown had grown contentious. Trade rumors were abundant. When reporters questioned AI about his practice habits – a frequent complaint by Brown – what followed was future YouTube gold.
Iverson opened by mentioning that he may have missed one practice all season. But as he got going, he revealed his true contempt for it, "We're sitting here, I'm supposed to be the franchise player, and we're talking about practice. I mean, listen, we talking 'bout practice. Not a game, not a game, not a game. We talking about practice."
My buddy Jeff later adopted "Talkin Bout Practice" as his name for his fantasy basketball team. For what it's worth, he won – as did Iverson with that tirade.
"I'm a man! I'm 40!" – Mike Gundy, 2007.
For all the (neverending) talk about how newspapers are dying, they sure can get people fired up.
Gundy has never been more animated in an interview than he was in this outburst. Gundy's Oklahoma State team had just picked up a win over Texas Tech, but what the coach wanted to talk about was the Daily Oklahoman. The day before, columnist Jenni Carlson had written a piece about quarterback Bobby Reid in which she suggested that the reason the quarterback had been benched is because the coaches thought he was soft.
Gundy didn't appreciate it. And he went ballistic.
"Here's all that kid did. He goes to class. He's respectful to the media! He's respectful to the public! And he's a good kid! And he's not a professional athlete and he doesn't deserve to be kicked when he's down."
Eventually, Gundy memorably turned it around on himself. "Come after me! I'm a man! I'm 40! I'm not a kid. Write something about me, or our coaches."
The fallout actually benefited Oklahoma State. Gundy said that for years after that, recruits – and often parents of recruits – would bring it up, and comment about how they appreciated how he passionately stood up for one of his players.
Four years ago this summer, I spent my 40th birthday at Big 12 media days. Across the aisle sat the Oklahoman's Jenni Carlson. I had the temptation to stroll over and say, "It's my birthday today, Jenni. I'm a man! I'm 40!"
But I didn't. For two reasons – I didn't really know Jenni, and figured she probably wouldn't appreciate the humor.
And two – I wasn't looking for a rant.