When I was a kid in the early 1980s, nothing beat the Friday night TV lineup on CBS.
Every Friday, my parents, my brother and me would pile into our silver '82 Lincoln Continental (sweet ride) and drive over to my grandparents' house. After dinner, we'd settle in front of Nana and Granday's giant console TV, for a magnificent marathon of the "Dukes of Hazzard" followed by "Dallas" and "Falcon Crest."
On those nighttime soap operas, drama lurked around every turn. Cliffhanger endings were the norm. The shows contained more twists than the Texas Cyclone at Astroworld.
But J.R. Ewing and Angela Channing have nothing on Kawhi Leonard and Anthony Davis.
Every summer, the NBA offseason delivers a can't-miss soap opera for drama-starved sports fans. Every rumor, every innuendo, seems to carry delicious possibility. Hoopheads eagerly await the next Woj Bomb to detonate, a Woj Bomb of course being the latest breaking news development served up by ESPN's top NBA reporter Adrian Wojnarowski.
Nobody does the offseason like the NBA. There are entire websites just devoted to the summer's player movement. Some fans get into the trades and signings more than the games themselves.
Lost in all the hoopla is a hidden truth. While there are significant transactions that take place every offseason, with superstars swapping jerseys like a Dwyane Wade retirement party, it's not only the guest stars that matter.
This time next year, I promise you this — some guy who stayed put and didn't switch uniforms will make an enormous impact in a team's run to a championship.
I know, I know. We just witnessed the Toronto Raptors win their first NBA crown behind Kawhi Leonard, an offseason import from San Antonio. As it turned out, it was the trade of Kawhi — not former all-star DeMarcus "Boogie" Cousins signing with the all-star-laden Warriors — that proved to be the most pivotal transaction of the summer of 2018.
Granted, maybe that shouldn't have been that much of a surprise. When healthy, Kawhi was one of the four or five best players in basketball, a freakishly gifted two-way force with a championship pedigree.
But he was also coming off a quadriceps injury that cost him a major chunk of the 2017-18 season, and a messy divorce with the Spurs that had many questioning his loyalty and even his will to win. Ultimately, Kawhi had the last (awkward) laugh.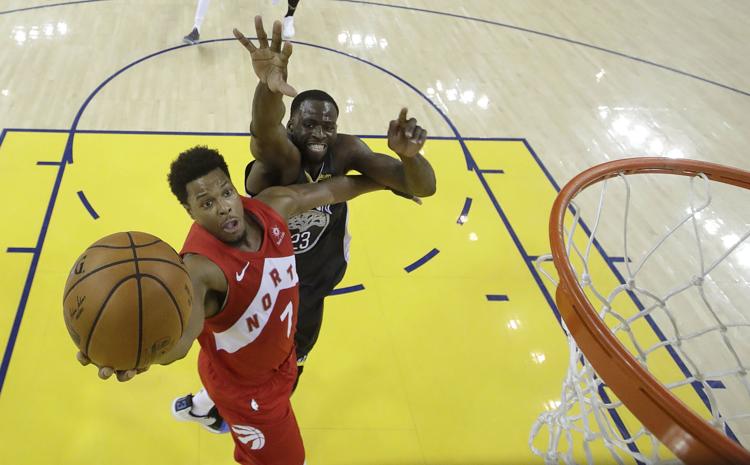 Here's my real point: Obviously the Raptors don't win it all without Kawhi. But they also don't win it all without Kyle Lowry or Pascal Siakam. It's not only the max contract guys that matter. They can't win it alone. You need young, budding talents like Siakam to take the leap to the next level. You need vets like Lowry to stay the course, remain level-headed and make big plays when the team is lagging.
It's something to keep in mind when it comes to the Anthony Davis trade. When the news broke on Saturday that the Lakers had traded Brandon Ingram, Lonzo Ball, Josh Hart, Magic Johnson, Byron Scott, James Worthy, Kurt Rambis and three first-round picks to the Pelicans for Davis and an Eyebrow to Be Named Later, it was a BIG STORY.
I was at a restaurant with some friends when the news broke. A buddy spotted the Woj Bomb on an ESPN crawl at the bottom of the screen before both our phones started blowing up. Then my son came out of the restroom, wide-eyed and breathless, "Dad … the Lakers got …" before I cut him off with, "I know." (Puh-leeze. Like you don't look at your phone on the potty. They should change the name of "Words With Friends" to "Poops with Friends.")
Immediately, Las Vegas bookmakers adjusted the odds on the Lakers winning the 2020 NBA title. Stack Davis with LeBron, and suddenly they're the favorites. Never mind the fact that if the season started today they'd have to start Jack Nicholson at the two-guard.
Hear this: I'm not dismissing the Lakers as a factor. LeBron and Davis should deliver more scares than "The Walking Dead" next season. But if the 2019 playoffs taught us anything (or perhaps just reminded us), it's that superstars aren't bulletproof. Even the must-be-living-right Warriors are mortal, as critical injuries to Kevin Durant and Klay Thompson confirmed.
This is where the ensemble cast must rise to the moment. Old reliables like Steph Curry, Draymond Green and Shaun Livingston kept Golden State from rolling over. Yet the Warriors could not compete with the Raptors' depth, with Lowry, Siakam, Serge Ibaka, Fred VanVleet and Marc Gasol all joining Leonard by averaging double-digit scoring in the Finals. All of those players but Gasol were holdover Raptors from 2018.
To win an NBA championship, you undoubtedly need stars. Sometimes that means going out and plucking them away from some faraway sky. You also need grit. You need teamwork. You need stability.
You need dudes playing better than they've ever played before.
The NBA summer isn't just for luxury tax talk and contract negotiations and multiplayer, blockbuster deals. It's also about shooting. Weightlifting. Honing one's game.
Because while everyone is abuzz about the latest all-star on the move, some future NBA champion is alone in a gym, quietly putting up 500 free throws.
Unrestricted free agents matter. So do unrelenting secret agents.