Once about 15 years ago, I was walking in downtown Waco alongside my friend and fellow Tribune-Herald sportswriter John Werner. I think we'd gone for lunch over on Austin Avenue, and were taking advantage of the short walk and sunny day.
Suddenly our conversation was interrupted by a passing motorist, who bellowed from his rolled-down window, "Podcast sucks!"
We were initially taken off guard. Then we took a good look at the driver, and realized it was then-Trib staffer Chris Oliver, the producer of our Big 12/Baylor football podcast. We couldn't help but bust up laughing.
For a split second there, though, there was this feeling like, "Wow, that's random. I'm stunned that anyone would have such a visceral reaction to the podcast. Who knew they were even listening?"
It sometime takes a while for these things to gain an audience. But if you're a sports fan on the prowl for some quality listening, allow me to introduce you to the Texas Sports Hall of Fame's podcast series. (See, you thought I was setting up a commercial for the Trib's podcasts, didn't you? Oh ye of little faith.)
Last fall, the Texas Sports Hall of Fame rolled out a new podcast series called, "In The Locker Room." The first episode featured former Houston Oilers safety Ken Houston, with Houston recalling stories and sharing anecdotes from his brilliant football career.
"We kind of started out with the philosophy that we've got a lot of older guys around, and we wanted to give them an outlet to share their stories," said Jay Black, vice president for the Texas Sports Hall of Fame. "We're so proud to be able to record those stories and offer them to the public free of charge. That's really our job, to collect Texas history, and I'm super proud that we're able to do that in this new way."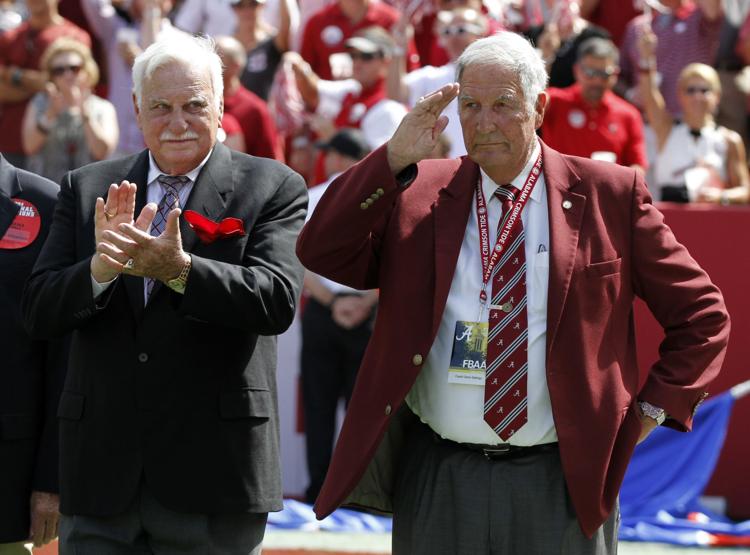 The podcast is hosted by Jackson Michael, author of the book "The Game Before the Money," about the NFL's early days. Since the Houston episode, other podcasts have featured a who's-who list of elite Hall of Famers, including former Texas A&M and Alabama football coach Gene Stallings, former University of Texas baseball coach Cliff Gustafson, football legend Raymond Berry, Southwest Conference football pioneer Jerry LeVias, and former Texas Tech athletic director Gerald Myers.
In my view, the LeVias podcast is especially compelling. Hearing the former SMU star talk about overcoming polio as a child, or having to face death threats as he helped integrate the SWC, resonates in a powerful way.
The podcast series is available on iTunes, SoundCloud and PodBeam, or by visiting the Texas Sports Hall of Fame's website at www.tshof.org. Adding a unique touch is the inclusion of an illustration of each podcast subject, drawn by Samantha Westbrook, a TSTC student and Hall of Fame volunteer.
"We're really proud of it, and it's definitely something we need to be doing more of," Black said. "Hopefully, it will continue to grow and maybe eventually we'll get most of the living Texas Sports Hall of Fame members to tell their stories."
The Boston Marathon is one of the most iconic races in the world, each year drawing tens of thousands of competitors.
Waco's Ridley Holmes, 20, was among that field on Monday for the 123rd edition, and represented Central Texas well. He finished 618th overall in a field of more than 35,000, completing the course in a time of 2 hours, 44 minutes and 31 seconds.
Not a bad day at all, and maybe something for Ridley to use as bragging material to his sister Celia, a former record-setting, multi-time state champion at Live Oak who now runs cross country and track at Baylor.
Other Wacoans listed among the Boston Marathon final finishers — William Best (5,353rd) Lonnie Coone (8,935th) and longtime local running enthusiast Nancy Goodnight (11,561st).
When the Los Angeles Sparks drafted Kalani Brown in last week's WNBA Draft, they set in motion a new Baylor pro basketball connection.
Brown looks to join former Lady Bear Odyssey Sims on the Sparks' roster. Sims, of course, owns a national championship ring, just like Brown, as she helped Baylor win the 2012 NCAA title with an unprecedented 40-0 season. Sims will start her sixth WNBA season this year and her third with Los Angeles after previously playing for the Tulsa Shock/Dallas Wings franchise.
Brown and Sims will become just the second set of Baylor players to be WNBA teammates. In the 2017 season, the Phoenix Mercury roster included both Brittney Griner and Alexis Prince.
To say last week was a productive one for Kim Mulkey and her family would be an understatement.
Obviously, Mulkey and her daughter Makenzie (Robertson) Fuller, won a national title as coaches for the Baylor women's basketball team. But Mulkey's son Kramer Robertson, an infielder in the St. Louis Cardinals organization, didn't want to miss out on the fun.
Two days after the Lady Bears cut down the nets, Robertson achieved a pretty cool professional moment when he homered off Clayton Kershaw. The longtime Los Angeles Dodgers ace was on a rehab assignment with LA's Double A affiliate in Tulsa, Oklahoma, and surrendered a solo homer to Robertson in the sixth inning of a 3-2 Tulsa win over Robertson's Springfield (Mo.) Cardinals.
On the year, Robertson, a former star at Midway and LSU, is hitting .265 with nine runs scored, three home runs and seven RBIs in 11 games for Springfield.
However you feel about Art Briles (and everyone is entitled to their opinion), it's impossible to deny that the man knows something about coaching successful football.
With no real options in the United States, Briles opted to coach this year in Italy. He's the head coach of Estra Guelfi Firenze of the Italian Federation of American Football, based in Florence. Guelfi is 3-1 on the season, suffering its first loss last Saturday to the defending league champion Milano Seamen, 35-28. But early returns suggest that Guelfi is playing faster and scoring more than ever before, which would be no surprise to anyone who remembers Briles' Baylor teams.
The Italian league allows for two American players per roster, and Briles tapped some familiar names to fill those spots – former Baylor players Lynx Hawthorne and Silas Nacita. Hawthorne has been playing quarterback for Guelfi, while Nacita is more of a do-it-all scatback.
Nacita, the walk-on who Baylor fans lovingly nicknamed "Salsa Nacho," also produced a high-quality documentary about the team for his YouTube channel, entitled "The Rise of Guelfi."
In it, Briles talks about the joy he has found in coaching football again.
"It's awesome, unbelievable. To me, it's at its purest form," Briles said. "These guys are playing the game because they love it, and that's why I'm coaching them."
Guelfi's next game is Saturday against the Bolanzo Giants.
Closer to home, Waco's newest professional sports team seems to be finding its footing.
FC Waco, a nonprofit, adult semipro soccer squad that started in 2018, is off to a 3-0-0 record in its 2019 campaign after defeating Samba FC of San Antonio, 6-4, last weekend. FC Waco plays in the United Premier Soccer League, taking on teams from around Texas and Oklahoma.
And it's getting it done on the field. The team currently leads its division and has outscored its opponents, 16-5.
They'll try to pick up their fourth win when they host the second-place team, the San Antonio Runners, at 5 p.m. Saturday at University High School. Tickets are $5 for adults, while kids are free.