Consider this prospective plot for a horror movie starring you as the protagonist: You're tasked with protecting your family while the bad guys fire bullets at you for two to three hours.
That's it. That's the whole plot. I never said it was terribly inventive, nor did I suggest that you'd be likely to survive.
Nevertheless, that's the life of the NHL goalie, who stars in that horror flick eight to nine months out of the year.
The goalkeeper may have the toughest — and most underappreciated – job in sports. Yes, they wear helmets and they're padded from head to toe. But, look, I've played paintball before. You can pad it up all you want, but if you get caught flush with one of those little suckers, it stings like the dickens.
Now imagine a paintball with no paint, and instead it's bigger and made of vulcanized black rubber. A hockey puck is essentially a rubber bullet, and the goalie's one job is to be a bulletproof vest for the net.
Obviously, if you're a catcher in Major League Baseball, you're occasionally tasked with stopping bullets, too. Here's the difference, though. The guy shooting the gun is on your team. He wants you to catch the ball – and you know exactly where it's going (or at least where it's supposed to go.)
The hockey goalie, though, is viewed by the opponent as an impediment to where the puck needs to go. Therefore, the opposing attackers are there to do just that – attack. They're going to blast shots in the goalie's direction, screaming missiles that would result in human-shaped shrapnel if it weren't for those blessed pads. They're trying to go around the keeper, sure, but they'll also go through him if necessary. Teeth or no teeth.
Meanwhile, the goalie not only stands there and takes it, but he'll sacrifice any body part if it means protecting the net.
Seriously, these guys twist and contort their bodies in pretzel-like ways in order to stop the puck. They'll block shots with their legs, their feet, even their groins. Heck, I've seen them belly flop and throw their face at an oncoming puck before. (Their health insurance premiums must be through the roof.)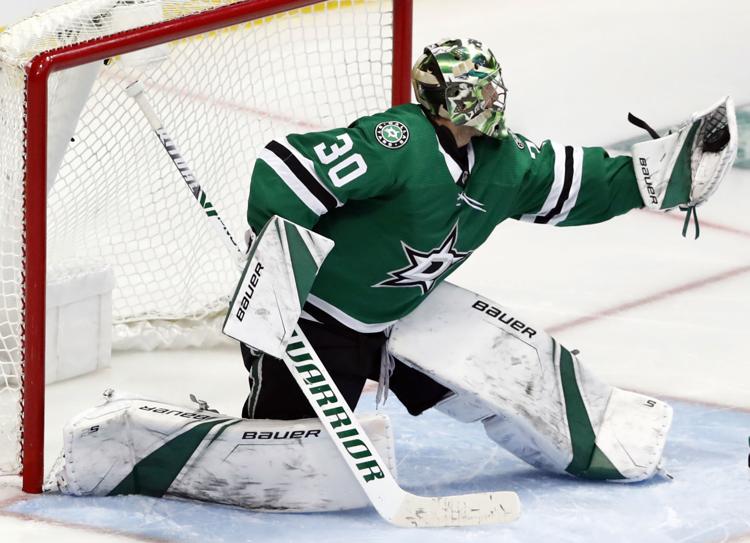 It's a dirty job, but it's also a vital one. Goalies matter. Much like an ace pitcher can emphatically put his stamp on a Major League Baseball game or a series, the NHL's greatest netminders can completely control a game (or series) in the Stanley Cup Playoffs. Really, even more so than a baseball hurler, because the goalie is available to play more often than once every four or five days.
On Monday night, I watched Game 6 between the Dallas Stars and Nashville Predators. (OK, that's not entirely accurate. I watched the game until the Rockets-Jazz NBA playoff game came on, and then flipped back every time there was a commercial or halftime break.) Anyway, even watching in fits and starts it was pretty evident that Stars goalie Ben Bishop and Predators goalie Pekka Rinne were dominating.
Time and again, the attackers blasted away, only to be denied by the goalies. Both guys let only one shot apiece slip by in regulation, and then finally in overtime the Stars' John Klingberg beat Rinne on a one-timer for the series-clincher.
But still – Rinne faced 51 shots in Game 6, and let only two get past him.
Obviously, Bishop was even better. The Stars goalie stopped 206 of 218 shots in the series. He had a high-danger save percentage of 93.9 percent. I researched high-danger save percentage in an attempt to (a) learn what it is, and (b) explain it, but it seemed too complicated to describe effectively. Basically, it's a save with a higher degree of difficulty.
Every year, it seems like the NHL team with the hottest goalie seizes hold of the Stanley Cup at year's end. When you've got a true all-timer on your side, you feel invincible, like there's a brick wall in front of the net. Ken Dryden, Martin Brodeur, Dominik Hasek, Patrick Roy – they absorbed high-velocity spatter from the best in the game, and came back begging for more.
About a dozen years ago, I visited the Hockey Hall of Fame in Toronto. I was in Canada's largest city while on vacation, so why not? When in Rome, right? (You didn't know Toronto was the Rome of Canada?)
Anyway, one of the Hall of Fame's interactive elements allowed visitors to try their hand at shooting a slapshot, or taking a turn as a goalie while a puck came whizzing at you, batting cage-style. And let me tell you – it's even harder than it looks.
Both the job and the puck.