Hi, my name is Brice, and I'm a Rocketman.
Do you know how extremely difficult it is to be a fan of the Houston Rockets? I guess you do, here at this meeting of RA — Rocketaholics Anonymous.
Being a Rocket fan means that, by default, you're also a James Harden fan, which let me tell you, may be the most confounding place in sports. Look, I've gushed over Harden over the years. I've defended him — even when most NBA defenders couldn't. (See, I'm still doing it. I have a serious problem.) I think I once wrote something about wanting to get lost in the fuzzy warmth of Harden's beard. That's how over-the-top I've been.
Even more evidence: my current computer password is Harden#13. Um, wait — control-alt-delete, change password, don't tell everyone what it is this time, confirm password. OK, we're good here.
Anyway, Harden is a walking contradiction. (Insert your own traveling joke here.) He engenders both love and hate, sometimes from the same people. I know, because I am that people.
Want to know some things I know to be true? Harden is the best ever — in the history of everything — in drawing genuine contact on his drives to the basket. Harden also flops sometimes. These facts are not mutually exclusive.
Harden's regular season scoring barrage in the 2018-19 season was incredible to witness. As a fan, you couldn't help but be mesmerized and delighted. He had 32 straight games of 30 or more points, and ended up averaging 36.1, the highest scoring average since Michael Jordan's 37.1 mark in 1987. He scored at least 30 points against all the other 29 teams in the NBA, becoming the first dude to ever do that.
Rockets general manager Darryl Morey dubbed Harden's outburst "The Unguardable Tour." Naturally, Harden was held up as a front-runner for the MVP trophy, along with Milwaukee Bucks freak Giannis Antetokounmpo.
But here's the frustrating part about the Unguardable Tour. Once the playoffs started, it became the Eminently Guardable Tour. As usual, right?
Maybe that's not completely fair. Or maybe it is. That's the dilemma Harden puts you in as a fan. You don't know if you're coming or going.
Again, here's what I know to be true — Harden's playoff numbers this year — 31.6 points per game, 41.3 percent shooting from the floor, 35 percent shooting from 3-point land, 83.7 percent shooting from the stripe, and 6.6 assists — look pretty good when taken at face value. But each of the numbers mentioned represented statistical dips from the regular season. He did slightly increase his rebounding, steals and blocks totals.
It marked the seventh time in his 10 years that Harden's scoring numbers have gone down in the playoffs. He doesn't elevate his game when it matters most. It pains me to utter that sentence.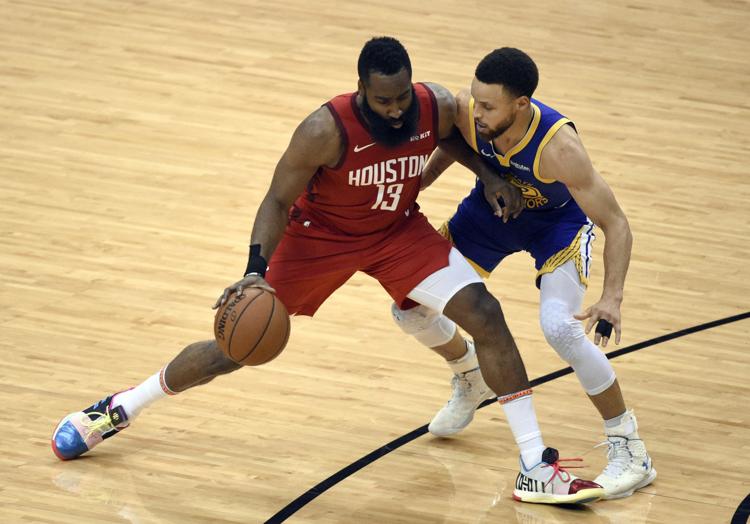 Speaking of pain, I never want to see anyone get hurt. I ached for Golden State's Kevin Durant when he left with a calf strain in Game 5 of the Rockets-Warriors series. I wanted him to return to the floor. Truly.
But that said, if that Human Mismatch goes out, you've got to take advantage. The Rockets didn't. Worse yet, they didn't seem to play with the energy and passion required to win an NBA road playoff game, with the notable exception of P.J. Tucker, the only real junkyard dog on the team.
It's a disturbing trend of passivity that has plagued the Rockets in recent seasons. And it showed up again in Game 6 in Houston. Harden gave the Rockets about 75 cents on the dollar — three quarters worth of greatness. Then, in the fourth, with the season on the line, he vanished. At one point, I texted my brother, "WHERE'S HARDEN?" (My brother's a Rocketaholic, too. I'll try to coax him to come to a future meeting, but we may have to schedule an intervention.)
Now, the guy played through a disturbing eye injury that made me turn away every time the camera showed a close-up. He's tough — and hard to keep off the court. In his entire time in Houston, he's never missed more than 10 games in a season.
But he can't beat the Warriors. Not in the playoffs, anyway. Granted, he's not exactly in exclusive company there. Golden State's been beating everyone the past few seasons. (Save for one slip-up in 2016 when LeBron made the best block of the 21st century.)
Here's the thing. I don't care about everyone else. I'm a Rocketman. Besides, it wasn't everybody else who has had a negative plus-minus in each of the past four close-out games with the Warriors. It wasn't everyone else who led Golden State, 3-2, in last year's Western Conference Finals, or who totally botched two golden opportunities in Games 5 and 6 against the Warriors this year.
At this point, I'm inclined to just press the reset button on the whole Morey-D'antoni-Harden era. Blow up the roster. Alter the game plan. Iso ball isn't working. Chucking 50 3-pointers a game isn't working. Switching on every play instead of fighting over screens isn't working.
It's not working against the Warriors, at least.
For us addicts, it'll be so disheartening if Houston comes back with the same group next year. How will that motivate a fan base? We've seen this movie before. We know how it ends.
Of course, Harden already promises that next year will be different. Asked in the post-Game 6 press conference about what has to be done to get past the Warriors, Harden answered, "I know what we need to do. I know exactly what we need to do. We'll figure it out this summer."
Oh, great. He's got the secret. Wish he would have unveiled it when it could have helped.
While Harden is whispering sweet nothings (trust me, they're nothings) into his teammates' ears this summer, I'm going to need some therapy. How does this support group work, anyway?
What's that? It's a 12-step process? Sigh. That figures.
Insert your own traveling joke here.