Brice Cherry: Getting 'posterized' not always an ugly outcome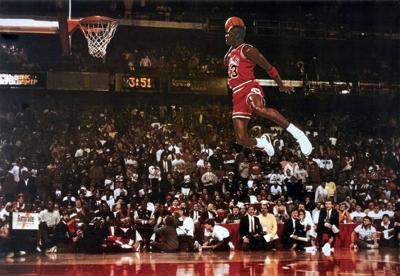 I was about 10 years old when I visited my first art gallery, and it stirred my soul in a way I've never really forgotten.
As I gazed up at those wondrous images, I knew life (or, rather, my walls) would never be the same. I didn't necessarily want to replicate the exact assortment of artwork found there – which included Larry Bird, Terry Bradshaw and Jack Lambert – but the sheer existence of the images inspired my own future decorating journey.
Oh, did I not mention that this was my friend Mark's house, and not an art museum open to the public? Also, the images weren't painted by Rembrandt or Van Gogh, but rather masters like the great photographer Walter Iooss Jr. of Sports Illustrated.
Still, it's hard to forget the first time you were posterized.
The poster, that staple of teenage bedrooms and college dorm rooms everywhere, is a work of art unto itself. The classics, like Michael Jordan's free-throw line dunk from the NBA's 1988 Slam Dunk Contest, never failed to mesmerize.
When you're young, your heroes always seem mythic, larger than life. That fact doesn't change once you thumb-tack them over your headboard, but at least they're a little closer to home. Not to mention that it's the way you marked your territory. How could any self-respecting 49er fan in the 80s not have a poster of Joe Montana or Jerry Rice in their rooms?
Often, the images inspired awe. (See that aforementioned MJ dunk, or Bo Jackson's classic "The Ball Player" poster by Nike, which featured a black-and-white photo of a chiseled Jackson wearing a set of football pads while resting a baseball bat over his shoulders.) But just as often, the best posters elicited laughter.
To that end came the Costacos Brothers, kind of the Cheech and Chong of the poster world. In the mid-1980s, John and Tock Costacos, a couple of Seattle-based entrepreneurs, took the sports world by storm with their unique, campy photo shoots of star athletes. Their posters often parodied the popular movies and TV shows of the day. Like "Mad Mac" starring Chicago Bears quarterback Jim McMahon, a play on "Mad Max," or the popular "Bash Brothers" poster featuring Oakland A's sluggers Jose Canseco and Mark McGwire dressed up like Jake and Elwood from the "Blues Brothers."
The posters would sometimes play off the athlete's nickname, like dressing up Vinnie "the Microwave" Johnson in a shirt with a heating control dial on it, or setting up a scene where Karl "the Mailman" Malone is, naturally, a postal worker knocking over a mailbox.
The Costacos Brothers posters were deliciously cheesy, a veritable waterfall of queso. If you were of a certain age, they were also incredibly cool. The 1980s were a simpler time, you see, a time when it was far easier to convince someone like New York Jets defensive tackle Mark Gastineau to strip down to his skivvies and pose in nothing but a loincloth for a "Conan the Barbarian"-inspired photo shoot.
Many of the Costacos Brothers' more memorable (and fun) images are memorialized in a new coffee table book titled "Walls of Fame." I received the book as a Christmas gift, and let me assure you, my old, scuffed-up coffee table has never looked more glorious.
Now, a great poster didn't necessarily have to feature silly puns and elaborate costumes to transform your wall. Some of the most striking images simply involved shots of the athlete in action, doing what he does best on game day. For a quarterback, that meant heaving a long downfield pass; for a home run hitter, a shot of the guy swinging for the fences would suffice.
The best basketball posters always incorporated one guy dunking over another. That's how the term "posterized" first came about. Someone like Dominique Wilkins or Shawn Kemp would cram one over a would-be shotblocker, and the play-by-play announcer would scream, "Oh, put him on a poster!"
I remember in the mid-80s, I bought a poster entitled "Sultans of Slam" that featured James Worthy, Spud Webb, Charles Barkley, Dominique Wilkins, Michael Jordan, Larry Nance, Gerald Wilkins and Clyde Drexler all in various stages of midair flight, about to wreak havoc on the rim. As a teenager, I'd sit staring at that poster in awe, hoping to one day punch in my own personal launch codes. (Alas, I was born with a condition called gravitybounditis, though my brother and I did learn how to propel ourselves off the closed garage door and rise up for performance-enhanced slams.)
That's the thing about a great poster. It could captivate you, inspire you, even transport you to another place and time. And those are just the sports-related ones. To say that a poster of Cheryl Tiegs or Farrah Fawcett or Heather Thomas from "The Fall Guy" would beautify your room would be a massive understatement.
I was certainly inspired as a 10-year-old. Not long after seeing my buddy's poster-filled room, I shed my own bedroom walls of the jungle-themed photos of lions, tigers and bears, and swapped them out for equally ferocious beasts like Clyde the Glide and Hakeem the Dream.
As masterpieces go, Da Vinci has nothing on those guys.