Brice Cherry: Can't disqualify the spirit of these Baylor runners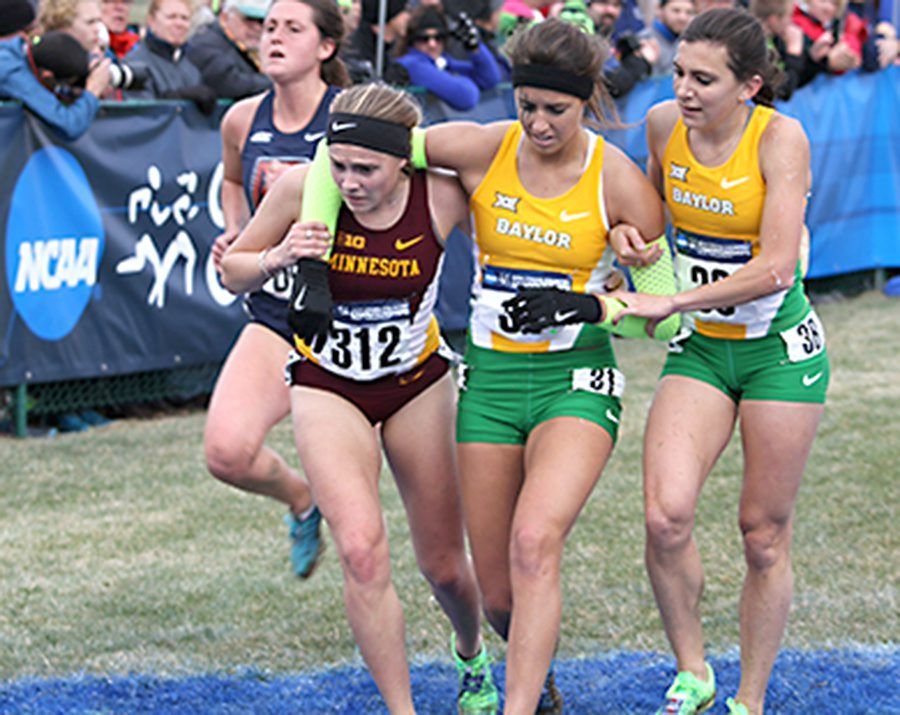 In the results, it goes down as Ann-Marie Dunlap, DQ. But that doesn't tell one iota of the real story.
If you were guessing, you'd figure that in order to be disqualified, Dunlap must have done something wrong. In reality, she did everything right.
Her body just gave out on her.
Even still, she managed to make the finish line, thanks to a heartwarming display of sportsmanship.
First, a little backstory. Dunlap is a freshman runner for the Baylor women's cross country team, and the race in question was Saturday's NCAA Cross Country Championships in Terre Haute, Indiana. Ann-Marie is known as Annie to her friends and teammates, and she's pretty well-known in Central Texas athletic circles, too. At Crawford High School, she was a gold-mining powerhouse, winning four UIL state track titles and two in cross country, and this past June she was named the Trib's Super Centex Girls' Athlete of the Year.
"Annie's fight is amazing. I remember watching her play basketball, and you could see it on the court," Baylor coach Todd Harbour said. "She's just an incredibly tough kid."
Baylor's runners were determined to prove their toughness Saturday. It marked the Bears' first trip to the NCAA meet in five years, and they had been irked all year by their place in the national rankings, which they felt didn't lived up to their season-long performance.
Dunlap was gung-ho to earn her stripes, too. She went out fast, and never really relented, pushing herself to her limits. As she made her way to the finishing stretch, Dunlap was in Baylor's No. 5 position, ready to score for her team.
But she was also laboring. She decelerated to a walk. Her legs turned to jelly. Finally, they failed altogether. With around 50 meters to the finish, Dunlap fell to the ground.
Her legs had quit. Surrendered. But her heart hadn't.
"Annie's the type of kid who just goes all out. That's her character," Harbour said. "She went for it, but her body just said, 'It's over. There's nothing left in the tank.'"
Harbour had been standing at the 150-meter mark, exhorting his runners as they passed. He noticed Dunlap slow down, saw her struggling.
But he didn't see her hit the turf. Too many people were blocking his line of sight.
"If I'd have seen her, I'd have hopped over the fence and helped her myself," Harbour said.
One person who did have a clear vision of Dunlap was Baylor's Mariah Kelly. The gritty senior from Canada was dealing with her own pain – she'd been inadvertently spiked in the leg by another runner midway through the race, and had blood streaking down her leg – but she was resolved to finish.
When Kelly saw Dunlap start to wobble, her instinct was to run and help. But she also knew that she was now Baylor's No. 5 runner, and was being counted on to score for her team. Runners are taught to plow through the pain, to scale the wall and run hard to the finish, because every point counts. So Kelly kept going.
"When Mariah was coming by, I think Annie was still weaving," Harbour said. "She was smart. She knew she was in our top five, and she thought, 'I can't stop now.'"
After her first stumble, Dunlap wasted no time pushing herself back to her feet. Wincing, with her legs shaking, she slowly plodded along a few more steps. Then she fell again.
Such scenes are not entirely uncommon at top-level cross country races. Given the frenetic pace at which the elite runners travel, the body sometimes locks up, from exhaustion or dehydration or muscle spasms or all of the above.
I've stood at the finish line at races and seen countless runners collapse just as they crossed the line. I've witnessed lots of vomiting, or runners trying to crawl because they were overcome with cramps.
Harbour has seen all of that and then some.
"It happens at every race. You're trying to run, and you're just totally physically empty," he said. Harbour remembered his old Baylor roommate Bjorge Ruud falling out during a race due to heat exhaustion. Ruud had to be rushed to the hospital and iced down until his core temperature lowered.
"That was really scary," Harbour said.
The situation with Dunlap wasn't quite so extreme. But it was still painful to watch. After her second fall, she rose to her feet again, this time less steady than before. She teetered around, trying to find her balance, then took four or five slow steps before sinking to her knees for a third time.
But after the third fall, Dunlap found some renewed strength — in the person of her teammate Madie Zimmerman.
Unconcerned about her own time, Zimmerman slid an arm under Dunlap and began guiding, almost gently carrying, her teammate toward the finish.
"Madie is a sweetheart, one of the most caring kids you'll ever find," Harbour said. "It also shows that she was smart: 'Hey, this isn't going to matter in terms of the scoring.' I think any of our girls would have done the same thing, but Madie happened to be the one in that place."
With just meters to go, another runner — Minnesota's Kate Bucknam — pulled in alongside Dunlap's right side and helped carry the Baylor runner across the line.
"I didn't know Kate, but her dad (Chris) is a men's coach at Arkansas, and what I've been told is that she's that same type of kid as Madie," Harbour said. "Honestly, I think that's the way 99 percent of cross country runners are, both women and men."
In the end, Dunlap didn't record an official time in the race. An NCAA rule prohibits runners from receiving assistance to cross the finish line, though fortunately neither Zimmerman nor Bucknam were penalized for actually offering help.
Harbour said that Dunlap is doing fine physically, just a little embarrassed about the way the race ended and some of the attention it has received.
Harbour said Dunlap shouldn't feel that way at all. As he later watched the video of Dunlap wobbling, yet fighting to continue, he was consumed with feelings of pride. That emotion only continued when Zimmerman stopped to help.
It wasn't a picture of weakness, but of strength.
"After the race, (ex-BU runner) Erin Bedell was texting me about the results, offering congratulations, and I said, 'Erin, you don't know the half of it,'" Harbour said. "It really was a war out there, just an intense knock-down, drag-out battle. To see a runner fighting like Annie did, and to see the help that Madie and Kate provided, it just makes your heart swell."