The line was sitting right there on a tee. John Morris couldn't resist the temptation, and he took a swing.
"By my count, that's two Coach Mulkeys with national championships this year," the Voice of the Bears said.
Well-played, J-Mo. But, obviously, he's right. It's enough to make you wonder if Matt Knoll, the former Baylor tennis coach who brought the school's first national championship in 2004, has "Mulkey" as his middle name.
It's such an unusual coincidence that two of Baylor's most celebrated coaches share a name. Kim Mulkey has built the Lady Bear basketball program into one of the nation's standard bearers for the sport over the past 20 years, and guided her squad to the program's third NCAA title in early April. Felecia Mulkey, meanwhile, is newer to the scene at Baylor, as the head coach of the acrobatics and tumbling program, but no less acclaimed. When the Bears won it all last weekend at the Ferrell Center, it marked their fifth straight NCATA title, as well as the ninth in Coach Fee's career.
Clearly, Mulkey is the most successful surname in the history of Baylor athletics, surpassing even Johnson (Michael, Vinnie, Niya, Gary Don), Smith (Steve, James Ray, Rodney, Stacey Bowers Smith) and Jeffrey (James, Jay, Neal).
The two women are not related, not in the kinfolk sense anyway. While they're different in myriad ways, that's not what I find interesting about this M&M coaching duo. (Hmmm, which one is regular, and which one is peanut? That's a debate for another day.)
I've covered both coaches, and have spotted several similarities, characteristics that help speak to the incredible run of prosperity they have attained. For instance: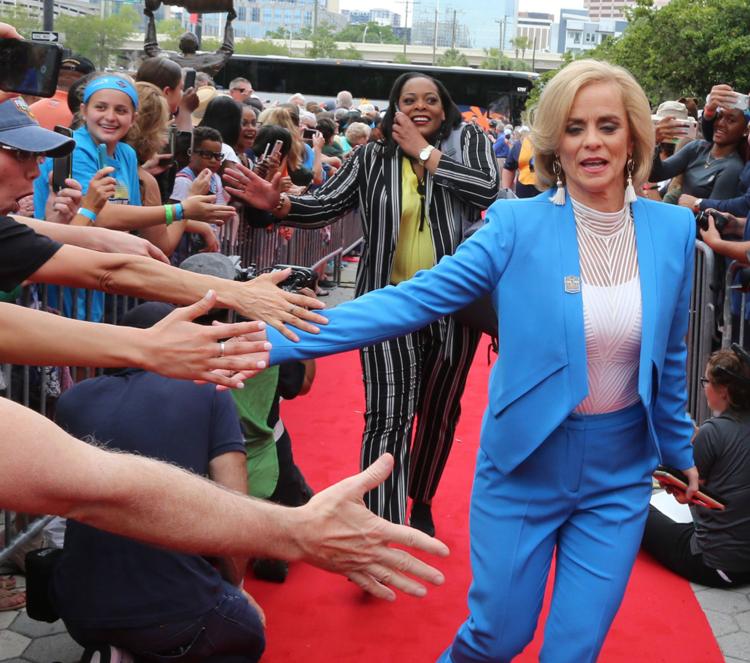 Preparation is paramount
You'll never see a Kim-coached squad that hasn't been intensely drilled on what they'll face in the next game. In the same way, Fee's A&T teams practice their stunts for hours on end leading up to meet day, seeking to sharpen up every flip, twist and detail.
A quote often attributed to Benjamin Franklin states it thusly: "By failing to prepare, you are preparing to fail."
The Mulkeys understand that. That's why you don't see their teams panic when things get a little chaotic.
Watching Kim's basketball team this year, I thought to myself, they just don't get rattled. They're desensitized to horror.
The most memorable example unfolded in the NCAA title game against Notre Dame, when the team's emotional heartbeat and defensive savant Lauren Cox went down with an injury late in the third quarter. Sensing an opening, the Irish opened the fourth quarter on a 19-5 run to crank up the drama to Oscar-winning movie level.
But Chloe Jackson and the Lady Bears answered every challenge, and you'd better believe all those hours in practice helped.
"We're always prepared for the little things," guard DiDi Richards said after the game. "Everything was foreshadowing this event."
Baylor Lady Bears win NCAA basketball title: April 7, 2019
Photos by Rod Aydelotte