Given his familiarity with Central Texas, it's no wonder that Tulsa head coach Philip Montgomery has tapped that recruiting well often.
In fact, two of Tulsa's top defenders this year figure to be Centex products.
Cooper Edmiston is a three-year starter at linebacker for the Golden Hurricane, and made eight tackles in Tulsa's season-opening 28-7 loss to Michigan State last week. That's nothing new for Edmiston, who led the team last year with 113 tackles to go with four interceptions, three fumble recoveries and three forced fumbles.
It's also no surprise to the people of Gatesville, where Edmiston dazzled as a linebacker and tight end for the Hornets before signing with Tulsa in 2016.
On the other side of the experience coin stands Jaxon Player. The sophomore nose guard made his first career start in that game against the Spartans, and represented himself well. He made four tackles, and teamed up on a tackle for loss.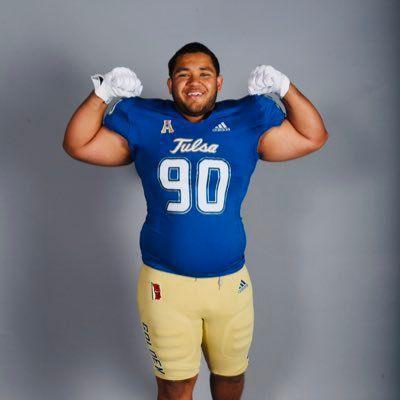 At Midway, Player was quite the player. He helped the Panthers to a 15-1 season his senior year, racking up 125 tackles and nine sacks as the district's defensive MVP and a first-team Super Centex honoree.
Last year as a true freshman at Tulsa, he played sparingly, making 14 tackles and a blocked PAT on the season. But he's definitely on the rise – Player was the only Tulsa player to make his first career start against Michigan State. The team's other 10 defensive starters had combined for 116 career starts coming into the game.
The Golden Hurricane also has a third Centex product on its defensive roster in freshman safety Jaise Oliver from Fairfield.
Hicks starts out 1-0 for Hogs
It wasn't necessarily a spectacular opening act, but it was a winning one.
Ben Hicks didn't light the world on fire in his debut as the starting quarterback for the Arkansas Razorbacks last weekend. Hicks, who joined the Hogs as a graduate transfer from SMU, completed 14 of 29 passes for 143 yards in Arkansas's 20-13 win over Portland State.
Though the Hogs' offense struggled, that wasn't all on Hicks, and head coach Chad Morris said he liked what he saw from his new QB.
"I thought Ben managed the game," Morris told the Arkansas Democrat-Gazette. "He got us in the right calls in certain situations."
Hicks, a former Midway standout, has a successful pedigree, and should put up bigger numbers in time. He left SMU as the program's career leader in passing yards (9,081) and touchdowns (71).
Dolphins' Howard is a unshakeable shadow
The Miami Dolphins have made headlines of late by trading away some of their better players. But one big Fish still remains — Xavien Howard.
Howard signed a five-year, $76.5-million extension with Miami in May, making him the highest-paid cornerback in the NFL. Numbers like this show why: Over the past two years, Howard ranks No. 1 in the NFL when playing shadow coverage, that is, moving to a certain side of the field in order to specifically to line up against one receiver. The former Baylor cover man has limited DeAndre Hopkins, Julio Jones, Brandin Cooks, Amari Cooper and Robby Anderson to only 151 yards on 125 routes in shadow-cover situations the past two years, according to data compiled by the website pff.com.
Howard and the Dolphins will open up the 2019 season at home against Baltimore on Sunday.
The 254 Report is a new weekly notebook highlighting the achievements of Central Texas football players who have gone on to play in college and the NFL. If you know of someone we should feature, contact Brice Cherry at bcherry@wacotrib.com.