Traveling can be a drag sometimes. The airports, the delays, the unfamiliar surroundings. It wears you out.
Talk to the members of the Baylor volleyball team, and you'll find that they put a whole different spin on it.
"I love playing on the road," senior Shelly Stafford said. "I just think it's really fun to have a sleepover with your best friends."
Added sophomore Marieke van der Mark, "We all love traveling because we all get to spend time together and just be together all the time. When we travel, everything is set up for us to win and to be at our best."
The No. 1-ranked Bears (13-0 overall, 3-0 Big 12) have stuffed plenty of wins into their overhead compartment this season. They are 6-0 in neutral site games or true road games this year, and three of their five victories over ranked opponents came outside of Waco.
They'll get a couple more chances for sleepovers and bus ride chats and, more importantly, road victories when they face Iowa State in Ames, Iowa, on Wednesday, followed by a match at TCU on Saturday.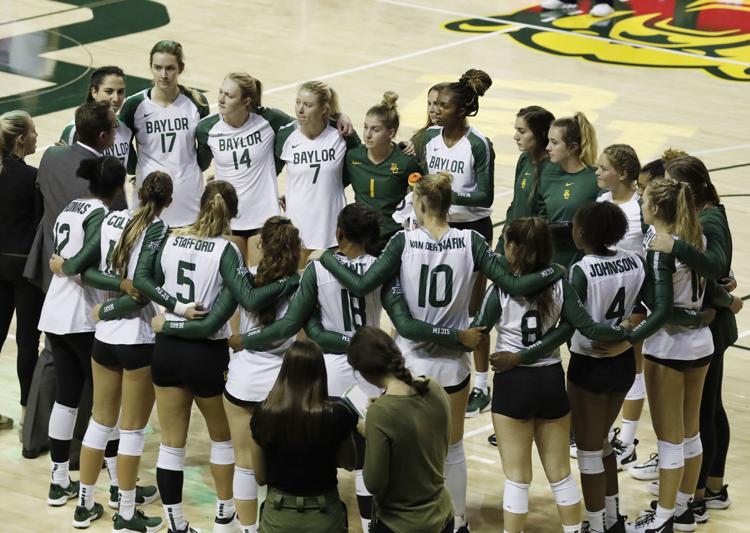 One reason Baylor has adeptly navigated any speed bumps on the road is the Bears' continual focus on the here and now. They've stayed in the moment. Even when another team puts a run together in a set, the Bears are digging in and fixating on simply the next point, the next play. That's helped them win 22 straight sets and sweep all but two of their opponents this year.
Believe it or not, they have visions of sweeping their way through the entire Big 12 schedule.
"One of our dreams is to win every set of every game, and if you don't dream it, it won't happen," Stafford said. "And it definitely in each set gives us that motivation and inspiration to want to win that set. So every set matters. It puts that emphasis on every single set."
Iowa State (11-4, 2-1) doesn't figure to tolerate a broom in its face without a fight. Since a 2-3 start, the Cyclones have won nine of their past 10 matches behind a prodigious blocking presence that ranks second in the Big 12 with 2.71 blocks per set. ISU's top blocker is redshirt sophomore Avery Rhodes, a former Super Centex wonder from Midway who has stuffed 69 spikes on the season.
"They're playing great," Baylor coach Ryan McGuyre said of Iowa State. "I think they stubbed their toe the first couple of close matches at the beginning of the year, and they played Texas really tough. They're low error, very low error, which is kind of why we were successful very early on. So we just need to be able to execute. They've got firepower at all the pins and in the middle, so there's not a glaring hole at all for them."
Whenever Baylor plays at Iowa State, it serves as a homecoming for Hannah Lockin. The junior setter's hometown is Des Moines, and she always has a boisterous cheering section waiting for her at Hilton Coliseum.
Better yet, McGuyre looks at her as the team's Hawkeye State good luck charm. The Bears have won both meetings in Ames since Lockin's arrival in 2017.
"She feels like it's a great place to play, and I feel that way too with her on the court," McGuyre said.
Bear Facts: Baylor has the reigning Big 12 Defensive Player of the Week in Lockin and the Offensive Player of the Week in Yossiana Pressley. … Baylor remains the last remaining undefeated team in Division I volleyball. … Iowa State is 0-2 against Top 10 teams this year, having lost to Penn State and Texas when both were ranked No. 6 in the country.