With a top 15 matchup against Oklahoma looming next weekend and ESPN's traveling "College GameDay" show descending on Waco, the eyes of the college football world will again train themselves on the Baylor University football team.
The pervading question is — are the Bears ready for the spotlight's glare?
"We're going to find out," Baylor Athletics Director Mack Rhoades said.
Or, as Baylor head coach Matt Rhule put it, "We have to be. I don't know how good we are, but as I said to our team, 'This is our expectation.'"
Truth is, the journey back to what both Rhule and Rhoades call "national relevance" has essentially played out at warp speed. Even the most die-hard believers did not really expect the Bears to be 9-0 at this point. The Bears beat Texas Christian University 29-23 in triple overtime Saturday in Fort Worth and are alone atop the Big 12 standings.
In Rhule's first year on the banks of the Brazos in 2017, the Bears muddled through a 1-11 season.
Yet, ready or not, here they are, 9-0 for only the second time in school history.
"I think if anybody said, 'Hey, sitting right now you'd be 8-0, I would have said, 'Wow. We'll take that. Absolutely,'" Rhoades said in an interview last week, before Baylor beat TCU. "I think there's a satisfaction that the program is on the right path and moving forward. But there's not a satisfaction that we're done, we're there. We've got a lot more growth to do."
Baylor University's success on the football field this season has the program, and the university, back in the limelight three years removed f…
Rhule had experience with building a winner. At his previous head coaching stop at Temple University, he took the Owls from 2-10 in his first season to consecutive 10-win seasons and American Athletic Conference title game appearances in his third and fourth years, respectively.
Rhule said his time at Baylor has followed a "similar three-year trajectory."
"Now when I first got here, year one, I didn't say we'll be 8-0 in three years," Rhule said. "But I think our players have done such a good job and recruits have been willing to come, that we've been able to get ourselves to be in this position. I think all the credit goes to the players."
Baylor did not fit the mold of the typical rebuilding job when Rhule arrived in Waco in December 2016. Under Art Briles, the Bears won plenty. Baylor went 65-37 in Briles' eight seasons in Waco, capturing consecutive Big 12 titles in 2013 and '14.
But the university and football program came under fire for its handling of sexual assault allegations in the student population, including those involving football players. The fallout led to the dismissal of Briles and President Ken Starr and the eventual resignation of Athletics Director Ian McCaw in the summer of 2016.
Rhoades arrived in July 2016, following a tumultuous one-year stint at the University of Missouri. The Missouri campus was a hotbed of racial unrest, head football coach Gary Pinkel resigned at the end of the season, and the basketball program announced self-imposed sanctions amid an NCAA investigation. Yet at Baylor, Rhoades stepped into a situation that was no less prickly.
"I think when I first arrived, because of what happened, that disruption, you weren't sure who's on what side, who's going to be with you as you try to forge forward," Rhoades said. "Those first four months were a tough situation for everybody involved."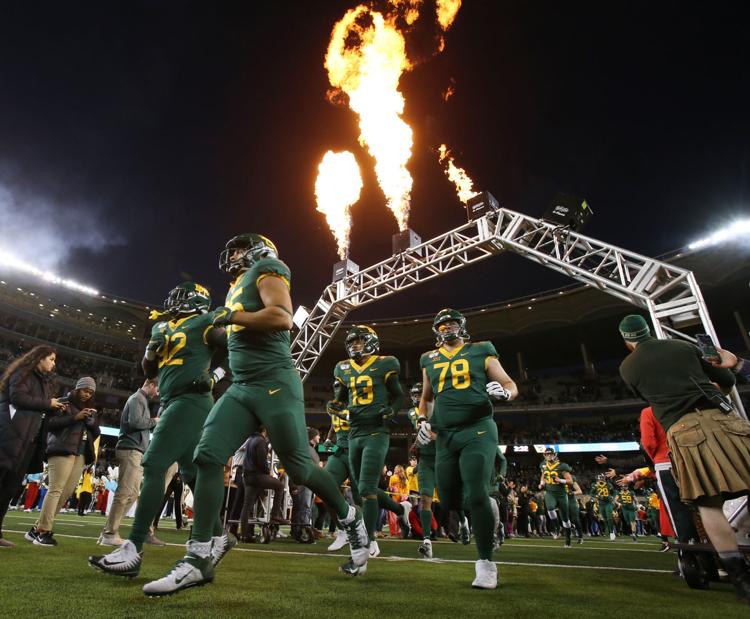 Three years later, much has changed, Rhoades said. It goes far beyond Baylor's sterling win-loss record and No. 10 coaches poll and No. 11 Associated Press national rankings before the TCU game. Yes, the cloud of an ongoing NCAA investigation into the Briles-era Baylor program still hangs over the athletics department.
"At some point and time, you want closure," Rhoades said.
He said he is not entirely sure when the NCAA will make a ruling about potential sanctions.
But his staff is on the same page in terms of building a successful athletic department that is doing it "the right way," Rhoades said.
Asked point blank if the program is clean, Rhoades said, "Yes, we are. Again it's so hard to have that conversation because people automatically say 'Hey, Mack, you're saying something about the past regime.' No I'm not. This is irrelevant to whatever's happened here or any other place.
"This is about how we are going to do things. Again, we're not perfect. We've made mistakes and we'll make some more in the future. But it's about how you handle those mistakes, how you deal with them."
Rhoades said he still considers Jim Grobe, Baylor's interim football coach in 2016, a hero of sorts. He said Grobe was not just a stopgap. He was a bridge. Rhoades was glad to honor Grobe and his wife, Julie, at McLane Stadium during Baylor's Oct. 31 game against West Virginia University.
"As long as I'm athletic director, we'll recognize him every time he comes back," Rhoades said. "Because he was such a big part of keeping the train on the tracks that allowed us to get to that next step, which was put ourselves in position to hire a really good football coach."
That coach was Rhule. Though names including Western Michigan University's P.J. Fleck, Southern Methodist University's Chad Morris and University of California Berkeley's Sonny Dykes were bandied about in the media as potential targets for Baylor, Rhoades went with Rhule, the passionate Philadelphia-bred coaching lifer who continually talked about wanting to cultivate the man as much as the player.
"I knew that he would not compromise any one of those areas and that those were really, really important," Rhoades said. "In my opinion, Matt's greatest gift — I mean, he's a heck of a football coach — but his greatest gift is developing young people in everything. I know that if one day we're 12-0 or 13-0, he'll stay true to that."
Rhule has said he felt called to come to Baylor. Some in the national media labeled the post-scandal Baylor football coaching job as "toxic." He saw it differently. He saw hope. And he thought he could help.
He still had a challenging task ahead, particularly in changing the perception of Baylor. When he talked to recruits, he kept hearing the same thing, that coaches at other schools were using the sexual assault scandal to dissuade players from going to Baylor.
"I think there are people who have tried to scare kids out of coming here: 'Hey, you know, beware of the NCAA and beware of what's going on there,'" Rhule said. "Early on, people said, 'Hey, be careful of the kids that are there.' But I think pretty quickly players recognize we have really good people."
That was Rhule's message to his assistant coaches: Get the recruits to campus and let them come see Baylor, the real Baylor. Let them meet the people, allow them to see the academic support system in place. Show them the commitment to community service. Now, when the coaches visit potential recruits, the program's reputation is "significantly better," Rhule said.
While some Baylor supporters still perceive Art Briles as the man who led Baylor to football prominence and think he got a raw deal from the u…
This year Baylor led all Big 12 football teams in the NCAA's Graduation Success Rate for the third straight year with a score of 90. That score is also the program's high-water mark for the past 15 years.
As for the community outreach, Rhule said at Big 12 media days in July that his players had performed a total of 839 hours to service projects in the offseason. And the Bears have only added to that total since. Rhule said he recently asked for five volunteers among the players to give Halloween candy to hospitalized kids. A total of 15 guys showed up, he said.
"I just think that speaks to the character of our players," Rhule said.
Baylor's players have said Rhule and his assistants constantly challenge them, but they have no doubt how much they care.
"I was 19 when I got here and I'm 22 now," offensive lineman Sam Tecklenburg said. "There's a lot of growing up that has to take place. I'm glad they were there for me those years to kind of push me and make me see the big picture in a lot of things."
Rhule said he occasionally runs into players he coached in his early stops at the likes of Albright College in Reading, Pennsylvania, or at Buffalo, UCLA or Western Carolina. Sometimes, those players went on to play professional football. More often, they took "regular jobs" and became husbands and fathers.
"I've been coaching now for 21 years and you see players later in life and you recognize for so many people this is the door to a better life," he said.
In 2013, Baylor started out the season 9-0 before losing to Oklahoma State University in Stillwater. The Bears captured the first of consecutive Big 12 titles that year and played in the Fiesta Bowl against the University of Central Florida. Three years later, Briles was out as coach, amid a "fundamental failure" in the way the university protected its students, according to an external investigation by the Pepper Hamilton law firm.
Now, Baylor is winning big again, and a Big 12 title is a possibility. Could it all happen again?
Baylor's administrators and coaches say they believe it won't. They're better educated now. They're committed to the tenets of spiritual formation and community service. Things have changed, Rhoades said.
"I think time heals. I think winning, right or wrong, heals," Rhoades said. "We have a program, a football program, speaking specifically about football, that I think does it the right way. In terms of everything from all on the football field to off the football field, there's a vision.
"Everybody is bought in, everybody is headed in that same direction. Certainly not perfect. Certainly a lot of room for growth. We've got a lot of really great people all pulling in the same direction."