Leading up to Matt Rhule's debut season in 2017, Baylor went through a mini-crisis when center Tanner Thrift went down with an injury during preseason camp.
Looking at his uncomfortably thin offensive line, Rhule came up with a solution by shifting tight end Sam Tecklenburg to center.
"No tight end ever wants to hear that he's moving to the offensive line," Tecklenburg said. "But at the time, I thought it was best for the team and best for my career as well. I had to work at it and I still am."
Tecklenburg's move has paid off for him and the Bears as he's made a team-high 31 consecutive starts over the last three years since his switch to the offensive line. His versatility is a big reason why the No. 18 Bears are unbeaten through the first six games heading into Saturday's game against Oklahoma State in Stillwater.
After playing center for two years, Tecklenburg moved to left guard last spring because the Baylor coaches felt that playing senior Jake Fruhmorgen at center would give the Bears the best combination of offensive linemen.
No complaints at all from Tecklenburg. He's just put his head down and given the team his best.
"He's a winner in every sense of the word," Rhule said. "He's a leader. He's the best of the best. He's as classy as they come. He is probably best suited at center, but to get the best five out there he goes over and plays guard, and he is playing it at a very high level. He can play tackle, he can play guard, he is an extremely versatile player."
Tecklenburg not only puts great demands on himself, he expects a lot from Baylor's other offensive linemen. Though the offensive line has shown improvement throughout the season, Tecklenburg is seeking a higher standard.
Tecklenburg wants the offensive line to pave the way for a more explosive running game and keep pass rushers off quarterback Charlie Brewer. When protection breaks down, he takes it personally.
"I always think we need work," Tecklenburg said. "I think we took a step during the past week (against Texas Tech) and did some good things in the run game. We've got to take another step this week. I'm still not quite happy with the way we're playing. I want to run the ball more and Charlie has been hit a little too much in my opinion this season. We're trying to fix those things every day."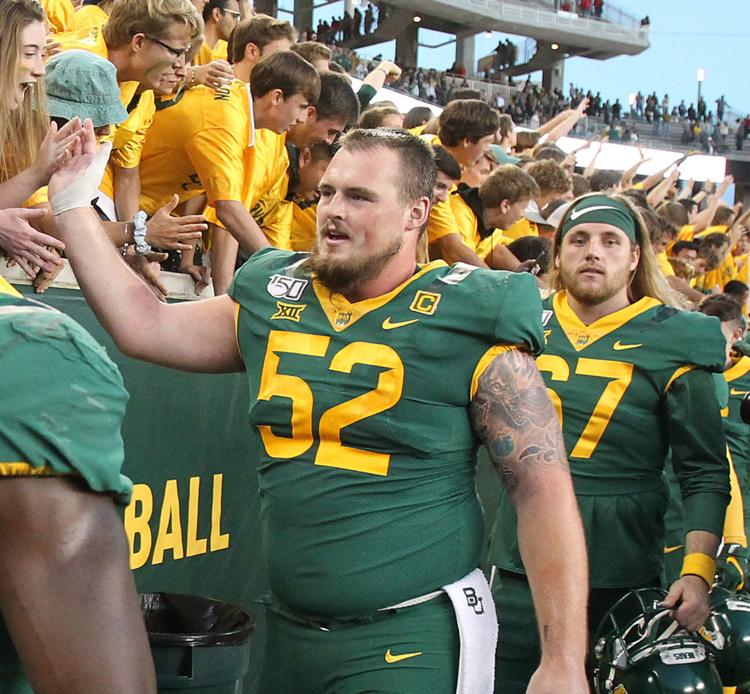 Not only does Tecklenburg want to be an example for Baylor's young offensive linemen on the field, it's important to him that they establish good work habits in the film room.
"He shows us a lot to look at, especially because he used to play tight end," said Baylor junior guard Xavier Newman. "So he knows a lot about coverages and stuff too.Teck is a very good leader. He's more of a follow me, I'm going to do all the work and show you guys how to do it. He's started to speak up more this year as a senior. So I think it shows good leadership skills and it helps me for the years coming."
Older offensive linemen like Blake Blackmar and Patrick Lawrence showed Tecklenburg how things should be done, and now as a fifth-year senior he wants to be an example for the younger linemen.
"I really needed Blake Blackmar and Pat Lawrence when I moved to the offensive line," Tecklenburg said. "They were friends, so they took me under their wing right away. Any question I asked, they were there for me. They definitely helped build me into the player I am today. So I try to teach the younger guys some things I've learned from the work I've put in, and hopefully they can take something from it."
Always seeking improvement, Tecklenburg isn't afraid to step up and ask the coaches questions. Learning the details and nuances of his position are important to him, and he'll ask Rhule or Baylor offensive line coach Shawn Bell exactly how things should be done.
"Teck is one of those guys who makes you love coaching because you pour so much into him and then he just wants more and more," Rhule said. "He demands the best out of you because he is going to ask me a real question and I can't just give him some fake answer. He makes me prepare better. He makes (Coach) Bell prepare better. When he's gone someday, he will be a great coach if he ever wants to be, and I think he has a great future in the NFL as well."
Tecklenburg is a quick learner who can make adjustments during the game. His block of a Texas Tech linebacker helped create a huge hole up the middle that allowed JaMycal Hasty to score the game-winning touchdown on a five-yard run in Baylor's 33-30 double overtime shootout against Texas Tech last weekend.
"We ran a play earlier in the game and he missed the linebacker," Rhule said. "Then we ran it again and he missed the linebacker, and on the sideline I got into him and I literally thought he was going to fight me. He said, 'I got it.' And I was kind of walking away like, 'Yeah, you better.' And that is the play we won the game on. He snapped off on the backer and we scored. And he came running at me, 'I got that backer this time.'"
The desire to excel at the game began when he started playing flag football as a kid growing up in Plano. He came from a football family since his father, Larry Tecklenburg, played linebacker under coach Jerry Moore at North Texas in 1979-80 and at Texas Tech from 1981-83.
"I'm not nearly as big as he is, and I'm not nearly as good as he is," said Kerry Tecklenburg. "He loved it from the time he started playing flag football in second grade. I helped coach a few teams he played on until he played ball at school. He was always one of the bigger kids and always worked like crazy. He was a really hard worker and still is."
Kerry was always willing to give Sam any tips he could to help him become a better football player.
"When I started getting serious about playing football, I went to him for anything I wanted," Sam said. "Can we go up to the high school today and get some extra work in? He was always there for anything I needed football-wise."
During his four years at Plano High School, he played defensive tackle and tight end. Tecklenburg loved playing defense because he could go after opposing ball carriers with complete abandon.
"I was probably better at defensive tackle in high school," Tecklenburg said. "I always loved playing defense. It's a different mentality than offense. Playing offensive line requires a lot of technique. When I was playing defensive tackle in high school, it was more of an effort position at that time. It was fun."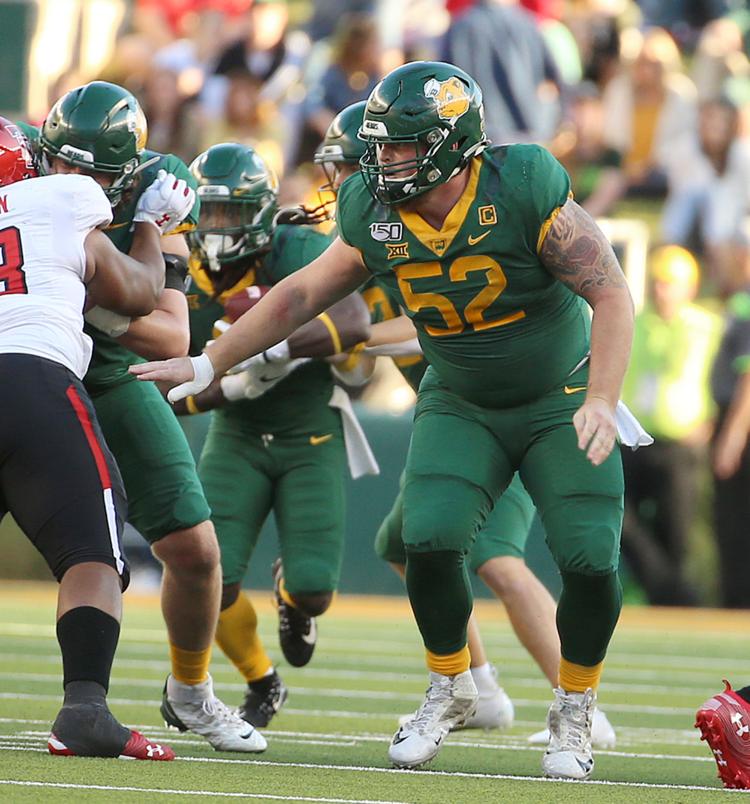 Though football was always Tecklenburg's best sport, he also played for Plano's varsity basketball team for two years before giving it up as a senior following a football knee injury. At 6-4 and 240 pounds, Tecklenburg's specialties were rebounding and defense.
"I was a power forward-center and a really good defender," Tecklenburg said. "I played hard and tried to bring the toughness from football to the basketball court. I was good for a few buckets a game. I was a decent player, kind of a hard-nosed guy. That's what I prided myself on."
Though some college football coaches saw him as a defensive player, most recruited him for his potential to transform into an offensive lineman. He chose Baylor in the spring before his senior year in 2014 when the Bears were at the height of their success under former coach Art Briles.
During his first two seasons at Baylor, he stayed at tight end and caught a four-yard touchdown pass in the season opener of his redshirt freshman year against Northwestern State in 2016.
After Rhule took over as Baylor's coach in December 2016, Tecklenburg played tight end until Thrift's injury prior to the 2017 season. Though he was already 270 pounds, he knew he needed to pack on about 40 more to play offensive line.
"I ate about everything I could find," Tecklenburg said. "I had to gain some weight quick before that first year. I put on some bad weight right away. I got up to 290 pretty quick and to 300 slowly. I'm still trying to lose bad weight and put on good weight. It's still a process to this day."
Tecklenburg started all 12 games at center in Baylor's 1-11 season, but grimaces sometimes when he looks back at the film from that season. He still had a lot to learn to play center at the major college level.
"The first year was rough," Tecklenburg said. "At the time, I thought I was doing an OK job. But when I turn on the 2017 tape, it makes me cringe a little bit. I definitely think I took a big step from 2017 to 2018. I feel like I did some good things last year, but still had a lot to improve on."
Tecklenburg improved in 2018 along with everybody else on the squad as the Bears finished 7-6 and beat Vanderbilt in the Texas Bowl.
In the spring, Rhule asked Tecklenburg if he would move again to left guard to allow Fruhmorgen to play center. It was an adjustment for sure, but a much easier transition than switching from tight end.
"Moving from tight end to offensive line was a big jump," Tecklenburg said. "This year moving from center to guard wasn't that big of a deal. I was willing to do it. I always want to be a guy who can play any position on the line. I think it's going well."
If Rhule wants to move him to tight end to surprise the defense, he still has the hands to make the catch.
"That's always any offensive lineman's dream," Tecklenburg said. "I've got the best case for it though with my history at tight end. So we'll see."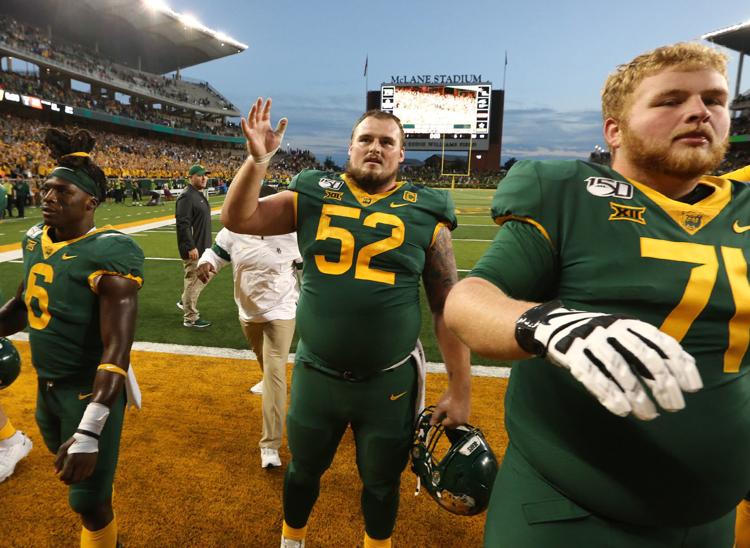 Tecklenburg likes the culture Rhule has built at Baylor. Not only does he appreciate the work the coaches demand that have made him a better player, he likes Rhule's vision of making his players see the bigger picture beyond football.
"I'd say even before they were here, I was a pretty tough kid and worked hard, but they've definitely made me take it to a new level," Tecklenburg said. "I owe that to them. They've challenged me every day I've been here and it's raised my work ethic, my toughness, and I think a lot of players can say the same.
"I was 19 when I got here and I'm 22 now. There's a lot of growing up that has to take place. I'm glad they were there for me those years and kind of push me and make me see the big picture in a lot of things. They made me tougher and hard working not only in football, but just in life."
Tecklenburg earned his degree in sociology and is working on a master's in sports pedagogy. He wants to keep playing football as long as he can, but isn't sure what he wants to do afterwards.
"I think I'd be a really good coach if I decided to," Tecklenburg said. "I love football. It would be interesting to know if I love football when I'm on the other side of it."
Off the field, Tecklenburg doesn't play video games like a lot of his peers. He enjoys piecing together jigsaw puzzles, and has gotten quite proficient at them.
"I had to figure out something to do rather than watching TV," Tecklenburg said. "I started on a jigsaw puzzle, and the first one took me a few months. Pretty soon after that, I got to the point where I could knock big ones out in a few hours. I've probably finished 20 to 25 in college and I like to glue them and hang them in my room. My walls are covered with jigsaw puzzles."
So what do his teammates think when they walk in his room and see his jigsaw puzzle collection?
"They probably think it's pretty weird," Tecklenburg said. "But I don't care."
Tecklenburg still shares football with his father, talking to him several times a week. Kerry is glad that he can still connect to the game through his son.
"He calls and I get my football fix in," Kerry said. "We talk about his games and practices and how's he feeling. It's been a blast and I cannot believe this is his senior year in college. I have a lot of fun with it."