RJ Sneed's catch looked like it was pulled from an Odell Beckham highlight reel.
Reaching for Charlie Brewer's high fade pass over his left shoulder, Sneed's right foot brushed the pylon at the front of the end zone after he hauled in the ball.
Originally ruled out of bounds, the call was reversed after the replay showed his foot was inbounds. An elated Sneed began rapidly pumping his fist as he celebrated his 21-yard touchdown catch on the opening drive of the second half against SFA.
The catch took remarkable concentration and body control, and was the most spectacular play of the night in last Saturday's 56-17 season-opening win over the Lumberjacks.
But Sneed's teammates weren't nearly as awed as the fans at McLane Stadium.
"We see that every day, every practice," said Baylor linebacker Terrel Bernard.
Sneed is finally getting a chance to show the public what his teammates have known for two years: Spectacular catches are routine for this third-year sophomore. His two touchdown catches against SFA were the first of his college career and could be the beginning of a lot of great performances.
Sneed appeared on the verge of breaking out as a freshman in 2017 before he broke his left tibia when he ran into a teammate who was returning a punt in the seventh game of the season against West Virginia.
The freak injury ended that season, but he still didn't feel completely healed last year, and asked Baylor coach Matt Rhule if he could redshirt.
Now fully healthy, more experienced and stronger from rehab and work in the weight room, Sneed is one of the leaders of a deep receiving corps.
"When you have an injury like that, people don't realize it's such a long road back," Rhule said. "It's 6 a.m. treatments, and we're very intentional about the way we do things. So what ends up happening is you go through this year of just grinding through treatment, grinding through rehab, grinding through the lifting. As we practice, those guys are over there doing extra work. And it's a chance for you to really mature and grow physically and grow mentally."
Sneed doesn't possess the speed of fellow Baylor receivers Chris Platt or Tyquan Thornton, and at 6-1 he's two inches shorter than Denzel Mims and Jared Atkinson.
But he's strong and physical and might have the best body control on the team. When a pass is headed his way, he has keen focus and good enough hands to make the catch most of the time.
"So often, young people think about what they're not," Rhule said. "Well, I'm not as fast as Platt and I'm not as tall as Mims. But RJ's a tough guy with great hands who is really smart and can run all day. His body control and ability to catch have been awesome. He's accentuated the things that can make him a really good receiver."
Rhule has been so impressed by Sneed's work ethic that he made him a team captain for the SFA game. Sneed takes his leadership role seriously and is glad he's a key element in the receivers rotation after working diligently to come back from his leg injury.
"It's been a long time since I felt I was needed and it's great," Sneed said. "My niche is to get open and catch the ball. Blocking, catching, running routes, just doing what I'm asked to do. I feel that as long as you play your role, whatever you're good at, they'll use you."
Sneed was among the first wave of players who signed with Baylor soon after Rhule arrived from Temple in December 2016.
A top 200 national recruit, Sneed had been a starting receiver at Cypress Ranch High School in the Greater Houston area since his sophomore year in 2014. He helped Cypress Ranch reach the Class 6A Division I state championship game as a sophomore.
Led by future Heisman Trophy winning quarterback Kyler Murray, Allen romped to a 47-16 win over the Mustangs for the state title.
"I saw Kyler Murray and it was pretty crazy," Sneed said. "We were a surprise to go to state. I played a little quarterback at the start of the season, but at the end I was just a receiver."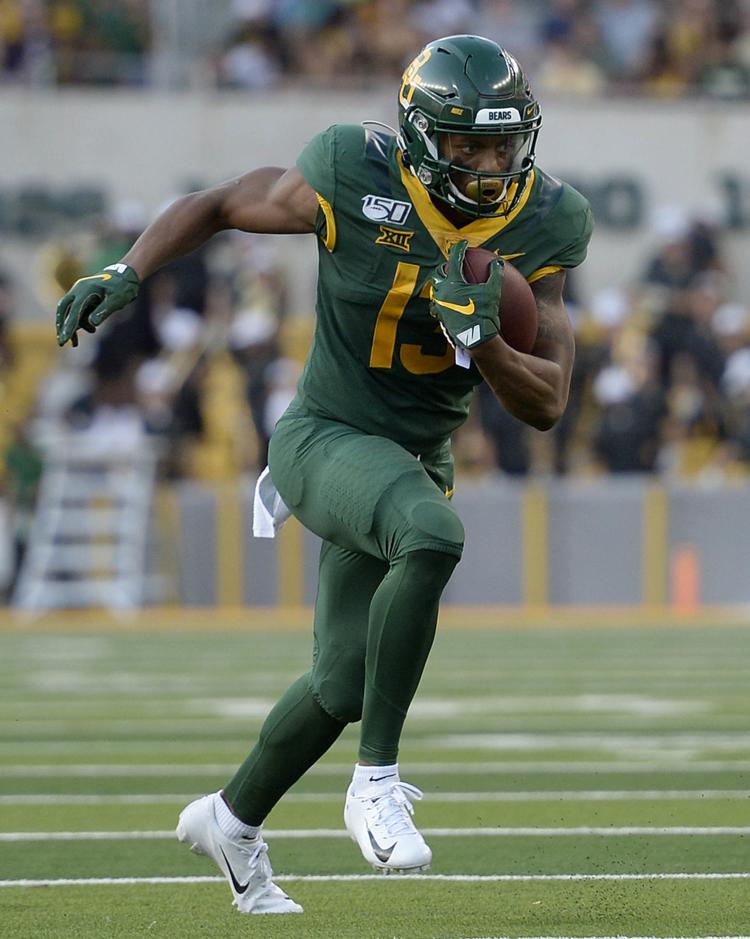 Recruiting was a hectic time in Sneed's life as he originally committed to TCU before switching to Mississippi. He graduated early from high school, but decided not to attend Mississippi after receivers coach Grant Heard took a coaching position at Indiana.
Sneed didn't know Rhule or his coaching staff very well, but Baylor was close to home and it was an opportunity to get in on the ground floor of a new program. After committing to Baylor, he enrolled for the spring semester in January 2017. When the Baylor coaches said they needed him to get to campus quickly, they meant it.
"I was packing and they told me we need you here tonight," Sneed said. "So I finished packing during the day, and I came here that night. I got here about 1 in the morning. I was here by the fourth day of class. It happened so fast, but I'm grateful for it."
Sneed adjusted to college classes and grabbed the attention of the Baylor coaching staff with his performances during spring drills. On a roster that included veteran receivers like Platt and Mims, Sneed looked like he could be a key member of the rotation as a freshman.
"It came easy because everybody was learning the same thing," Sneed said. "We all started learning the offense at the same time. Coming in early helped a lot with that. They ran a lot of plays that we sort of ran in high school because we were a balanced pro-style team."
Sneed watched his uncle, Tony Jeffery, play wide receiver for the Texas Longhorns when he was a kid. Now Sneed's dream of playing at the college level was starting to come to fruition.
Coming into the West Virginia game at McLane Stadium in 2017, Sneed was beginning to make an impact for the Bears with five catches for 53 yards through the first six games. But he knew when he went down that his leg injury was bad because he couldn't put any weight on it.
"I just laid there and I knew it was something serious," Sneed said. "As soon as I went into the locker room, I found out. Back then, I was questioning why it was happening. It was very disappointing but now it all makes sense."
Instead of feeling sorry for himself, Sneed began rehabbing with a sense of purpose following surgery. His goal was to come back stronger and more knowledgeable about what it takes to be a productive receiver at the college level.
Away from team drills, Sneed's rehabilitation time was often lonely. Platt and wide receiver Gavin Holmes were rehabbing from knee injuries, but his leg injury was different and often required different kinds of rehab.
By the start of last season, Sneed still didn't feel his leg was ready for action.
"After the spring, I wasn't as confident in my leg in making plays," Sneed said. "I didn't want to waste a year not really playing much. So I talked to Coach Rhule and asked him if I could redshirt."
By last November, Sneed felt more ready to play and returned a punt against Oklahoma State and also played the following week against Iowa State. Under the NCAA's new rule that went into effect last season, players can participate in up to four games and not lose their redshirt.
With wide receiver Jalen Hurd out of action for the Texas Bowl following knee surgery, Sneed got in against Vanderbilt and made one catch for four yards. It wasn't a significant contribution, but it gave Sneed a big boost of confidence heading into spring drills because he felt like he was ready to become a major part of the receivers rotation.
By the spring, Sneed's teammates could see he was healthy again, and that became more evident when they came back this summer for preseason drills.
"That dude's amazing and I respect him," Bernard said. "I said at the beginning of the year, he's kind of like the sleeper of the team. He's different than a lot of people. I mean just his work ethic, his mentality. Coming back from an injury a couple of years ago and really his dedication to wanting to be where he's at right now."
Sneed's spectacular catches during practices often became a topic of discussion. But all his teammates were happy for him because they knew the work it took for him to come back from his leg injury and get back on the field.
"RJ is my guy," said Baylor linebacker Blake Lynch. "I have a lot of respect for RJ. Coming back, he really just fought his way back on the depth chart. It's like every time he catches the ball, it's a spectacular catch and it's crazy to see."
Sneed led the Bears with five catches for 57 yards and touchdowns of 11 and 21 yards against SFA. But it was his journey to come back from his injury and get the opportunity to be a productive receiver that has most impressed Rhule.
Rhule sees Sneed as a driven, confident player who is now more mature and playing with a greater sense of purpose.
"His self-purpose when he came to work every day, he was very deliberate," Rhule said. "He was out there for a reason. He was no longer just kind of floating along. And I think the biggest thing is now he's a very serious, very determined young man. And at the same time, he's also way bigger, way stronger. He's doing everything he can to maximize his abilities, and he has a lot of abilities. There's no entitlement, he's just such a selfless guy, a hard-working guy."
Sneed hasn't set any statistical goals for himself this season. He's just glad he can make a strong contribution to a team that's hoping to take a step up after last year's 7-6 finish.
The view is a lot better from the end zone than on the sidelines, and he's glad he could get there twice against SFA.
"I felt like it was something you see in a movie," Sneed said. "I had never scored a touchdown in college, and it's been two years, and to have two in one game is a blessing."