Baylor defensive linemen James Lynch, Bravvion Roy and James Lockhart have spent an extraordinary amount of time in the backfield of opposing teams this season.
The Bears have amassed a Big 12-high 25 sacks in seven games, matching their season total in 13 games last season.
The pressure the Bears are producing up front is a big reason why they're ranked No. 14 nationally and 7-0. The most remarkable aspect of the Bears' sack madness is that they've done it with a 3-3-5 base defense after running a 4-3 alignment most of last season.
"It's amazing how many sacks we're getting with a three-man rush," said Baylor defensive coordinator Phil Snow. "But we've got some good players. It's a combination of a lot of things. I think we're covering better which gives them more time."
Relying on his superb quickness, strength and instincts, Lynch leads the Big 12 and ranks fifth nationally with 8½ sacks. Opponents have seen how the 6-4, 295-pound junior is destroying offensive linemen to get to quarterbacks, meaning he'll likely draw more attention as the season progresses.
"Hopefully we can help him out with the defense and the disguise and what we do, so they can't single him," Snow said.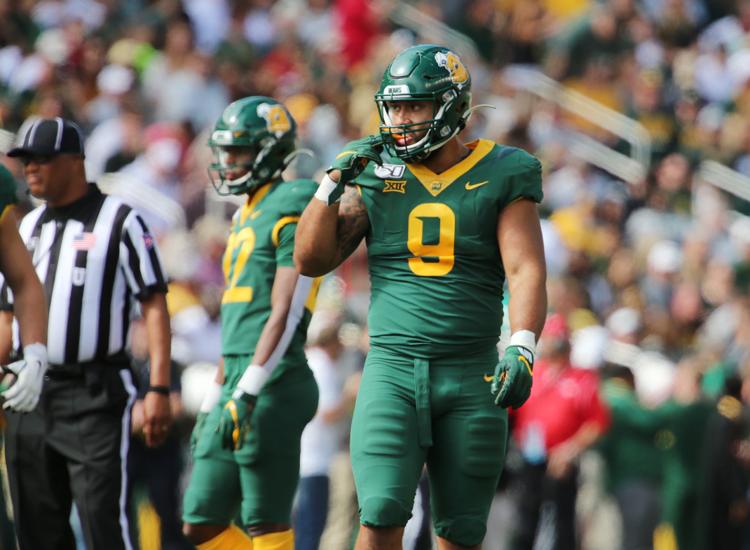 Though Lockhart doesn't get as many accolades as Lynch, he's shown major improvement as a fifth-year senior as he ranks second on the team with 3½ sacks. His most memorable play came against Iowa State when he forced quarterback Brock Purdy to fumble in the final seconds to seal Baylor's 23-21 win in the Big 12 opener on Sept. 28 at McLane Stadium.
"Lockhart's effort is unreal," Snow said. "He wins technically too, but he's just an effort guy. He now knows who he is. That's what happens to these players. They know who they are and what their strengths and weaknesses are, and they play to their strengths."
Avenues for Lynch and Lockhart to get to quarterbacks have been provided by the attention Roy draws at nose guard. The senior is such a load at 6-1 and 333 pounds that he often gets double teamed, but he still leads Baylor's defensive line with 30 tackles, including six tackles for loss and two sacks.
"Everybody is using what we call 5-0 protection," Snow said. "The center is on the nose and the other four (offensive linemen) are helping outside. He beats the center all the time."
While Lynch, Lockhart and Roy have combined for 14 sacks, backup linemen have been solid enough to give the starters the breaks they need to stay fresh.
Niadre Zouzoua has collected 1½ sacks while Chidi Ogbonnaya delivered the pivotal play in last weekend's win over Oklahoma State in Stillwater as he knocked the ball out of quarterback Spencer Sanders' hand. Linebacker Terrel Bernard picked it up for a 20-yard touchdown return to give the Bears a 38-27 lead with eight minutes remaining.
The pressure the Bears have delivered from their three-man rush has helped them force three turnovers in each of the last two games against Texas Tech and Oklahoma State. The Bears rank second in the Big 12 in scoring defense by allowing 19.1 points per game.
After Baylor's coaches preached about forcing more turnovers for three years, it's finally coming to fruition. Sophomore cornerback Kalon Barnes' interception in the end zone for a touchback late in the second quarter was another big play in Baylor's 45-27 win over the Cowboys.
"It's contagious because once you start getting them everybody wants to do it," Snow said. "Early in the season, we had chances to get three, four or five during games and didn't do it. If you do your job, all 11 guys, then the turnovers come. All the different players on our football team are starting to create turnovers, and that's nice to see."
Baylor's depth is also paying off. Even with middle linebacker Clay Johnston out for the season with a knee injury and safety Grayland Arnold missing the Oklahoma State game with an injury, the Bears played well defensively.
Stepping in for Johnston at middle linebacker, Bernard was named Big 12 defensive player of the week after collecting nine tackles and scoring on the fumble recovery.
"We talk about it all the time, football is a game of injuries," Snow said. "We don't rely on just one person out there, so we develop a lot of depth and we trust the people we coach. It's next guy up, and that's how we do our business, and I think the players adapt to it pretty well."
Snow will use this bye week to continue developing young players to get them ready for the final stretch if they're needed. Snow hopes to be near full strength defensively for Baylor's Oct. 31 game against West Virginia at McLane Stadium.
"You never know who's going to play," Snow said. "I tell the coaches all the time, coach everybody. I've seen it over the years, you've got guys playing who you never thought would play during the season. That's just the nature of our game, so we're trying to coach everybody."