When Baylor named Matt Rhule as head football coach in December 2016, one of the first things he did was dip into the Texas high school coaching ranks to hire Joey McGuire, Shawn Bell and David Wetzel.
Fast forward to January 2020.
After Baylor hired LSU defensive coordinator Dave Aranda following Rhule's departure to the NFL's Carolina Panthers, one of his first priorities was to keep McGuire, Bell and Wetzel on staff.
Aranda knew how deep their roots were in Texas high school football and the connections they had to coaches across the state.
Recruiting means everything to college programs, and McGuire, Bell and Wetzel played instrumental roles as the Bears rose from 1-11 in Rhule's 2017 debut season to 7-6 and a Texas Bowl appearance in 2018 to 11-3 in 2019 capped by a Sugar Bowl berth.
"I'm going to rely heavily on Joey's leadership and experience," Aranda said. "I really respect his ability to develop players and motivate our team. I have been really impressed with Shawn's knowledge of offensive football and his ability to recruit at an extremely high level. David has a great knowledge of Baylor and the state of Texas."
One of the first things McGuire, Bell and Wetzel did after Baylor hired Aranda on Jan. 16 was taking him on a road trip to the Texas High School Coaches Association headquarters in San Marcos to meet some of the officers of the organization.
"Knowing the area, knowing the coaches, and knowing who's out there in that time period was vital," Bell said. "Time was of the essence, so we had to hurry. If you had a whole new staff without any holdovers, I think that would have been tough. But I think it definitely helped, and hopefully moving forward I think those relationships will definitely help."
The road trip was a great bonding experience for all of them. That bond has continued to grow over the last two months despite the challenges that NCAA football teams face with spring practices suspended with the coronavirus sweeping the nation.
During that ride from Waco, they discussed their coaching philosophies and recruiting ideas for the program. Since then, the returning coaches have been impressed with Aranda's willingness to listen to their ideas and his openness in discussions about what's best for the program moving forward.
"One of the things I respect most about Coach Aranda is his ability to see what was done here, the good things that were done here," McGuire said. "Being able to build off them instead of coming in and saying 'Man, that's not the way I've done things.' You have to do it that way in some instances, but a lot of times that's the wrong thing to do because you take a step back.
"But I think a lot of our momentum comes from these kids understanding there's a standard. We won 11 games, we played in the Big 12 championship, we played in the Sugar Bowl, they don't want to take a step back."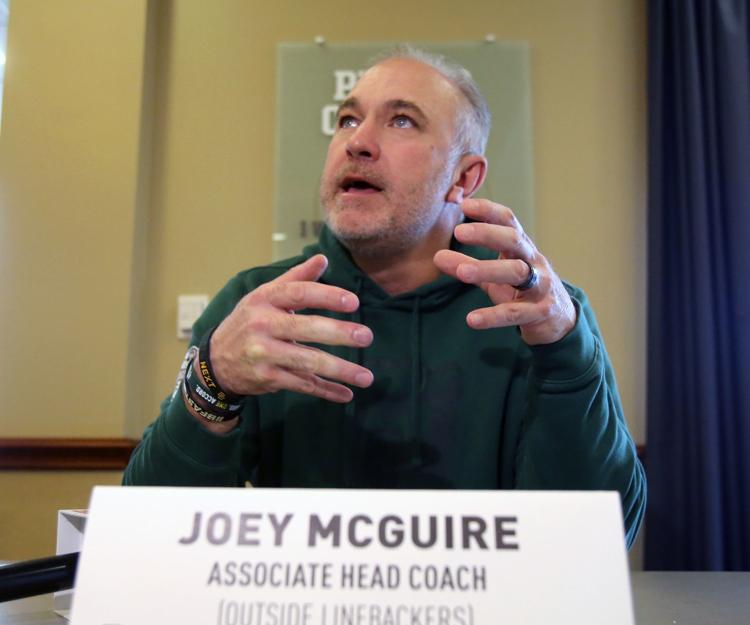 McGuire is so respected by the Baylor players that many of them campaigned through social media to promote him to head coach following Rhule's departure to Carolina on Jan. 7.
McGuire built his reputation by winning three state championships at Cedar Hill High School before joining Rhule's staff where he coached tight ends in 2017-18 before switching to defensive ends last season.
McGuire was impressed by the way Baylor athletic director Mack Rhoades kept the players informed throughout the coaching search. McGuire served as Baylor's interim coach before Aranda was hired.
"Mack was great about talking to them from the beginning," McGuire said. "It was also like let's work through the process. So we believe in the process and you've got to work through it. There is definitely going to be a process in how we win the Big 12 championship."
After working under defensive coordinator Phil Snow for the last three years, McGuire will move to outside linebackers coach this season under new defensive coordinator Ron Roberts.
Following a switch from a 4-3-4 to a 3-3-5 alignment, the Bears were able to get more speed on the field last season and thrived as they led the Big 12 by collecting 46 sacks and forcing 30 turnovers.
Roberts has indicated that he'll continue to use the 3-3-5 but also shift into other formations like the 4-3-4.
"We're going to be multiple," McGuire said. "We'll go from a four-down to a three-down to a 3-4 to an odd-stack 3-3-5 and show a lot of different things. Those inside backers are going to be pretty much what we have been with Terrel Bernard leading the way. The outside linebackers have to be a little more of a rush guy than they have been in the past."
Though Bernard and cornerback Raleigh Texada are Baylor's only two returning defensive starters, McGuire believes the Bears won't be as inexperienced as they look on paper because a lot of players gained experience in backup roles last season.
"We only have two starters coming back, but we have 10 guys on the field who have played in Big 12 football games," McGuire said. "Ten of the 11 guys played in the Sugar Bowl, so it's not like we're going out there with a group that hasn't been part of big games."
One of the biggest challenges for both the players and coaches will be learning different terminology with Roberts taking over as defensive coordinator.
"It's like we were speaking Spanish last year and now we're speaking German," McGuire said. "But a lot of the coverages are similar, the way we're going to do things are similar."
Bell knows Central Texas football as well as anybody since he was a star quarterback under his father, Mark Bell, at China Spring before playing at Baylor from 2003-06. He was an assistant coach at China Spring in 2008 before moving on to head coaching jobs at Clifton, Magnolia West and Cedar Ridge before Rhule hired him as an offensive analyst at Baylor in 2017.
After coaching Baylor's offensive line the last two seasons, Bell will coach tight ends in his first season on Aranda's staff. He respects how much Aranda values his opinion as well that of McGuire and Wetzel, who serves in an off the field capacity as associate athletic director for football relations.
"He asks our opinion because he cares and wants to keep building," Bell said. "He doesn't want to tear down and start over. From a recruiting aspect, to a relationship with the players aspect, to a Texas high school relation aspect, I think it's been pretty valuable for him and I think we'll definitely see benefits of that coming forward."
Along with McGuire and Wetzel, Bell helped keep Baylor's 2020 recruiting class intact during the transition from Rhule to Aranda. After signing 12 players in the early period in December, the Bears added five more in February.
"When that transition happened, we reached out immediately (to the recruits)," Bell said. "Through the transition, we told them as soon as we know something, you'll know something. I think it's a testament to Baylor. These guys want to be here. They didn't choose it because of me or Matt Rhule, they chose it because Baylor is Baylor. Those guys are big-time players and are going to win a lot of football games for us here."
Bell is looking forward to spending more time and sharing ideas with Baylor offensive coordinator Larry Fedora, who has experience as a head coach at Southern Mississippi and North Carolina.
During offensive staff meetings, Fedora has been open to what Bell and the other assistant coaches have to contribute.
"I've kind of known him through the grapevine and it's a guy I've always looked at from afar and wanted to be around," Bell said. "I've just been so impressed by what he did at Carolina. Sitting with him in the room every day and learning what he wants to do as an offensive coordinator and what we're going to do offensively, we've got the same belief and the same philosophy."