Down to the last four weeks of the regular season, the Baylor players can see the intensity, focus and desperation in their opponents' eyes.
Many Big 12 teams hold at least some hope of reaching the NCAA tournament, and a win against the nation's No. 1 team would light up anybody's resume.
The Bears have won a school-record 20 straight games and are 7-0 in true road games, but they've never taken any game for granted, especially when it's longtime rival Texas at 8 p.m. Monday at the Frank Erwin Center in Austin.
It seems like ages ago when the Bears (21-1, 10-0) beat the Longhorns, 59-44, in the Jan. 4 Big 12 opener at the Ferrell Center. Following consecutive losses to No. 3 Kansas and Texas Tech, the Longhorns (14-9, 4-6) badly need a win over the Bears to increase their odds of reaching the NCAA tournament.
"Anytime that you play twice like we do in the Big 12, they're a different team the second time you play them," said Baylor forward Freddie Gillespie. "They've gotten better. I got to watch a little of the first half when they were playing Tech (Saturday) and they were locked in and they were in the same flow and same rhythm. They're turning into a pretty skilled and talented team."
The Longhorns seemed like they were on their way to an important win as they opened up a 31-19 halftime lead. But the Red Raiders rallied to outscore Texas, 43-26, in the second half to pull out a 62-57 win in Austin.
"It was a tale of two halves for sure," said Texas coach Shaka Smart in his postgame press conference. "We defended so well in the first half. In the second half, they got to the foul line 21 times and got into the bonus fast. They kind of scrapped what they were doing with their offense and put their heads down and drove the ball. We knew that was coming but we didn't stand up to it enough."
The Longhorns were short-handed in the second half as freshman forward Kai Jones left the game with an ankle injury and junior guard Jase Febres suffered a non-contact injury when his left knee buckled. Neither player returned.
Texas got strong performances from sophomore guard Andrew Jones with a career-high 18 points and junior guard Matt Coleman with 17 points and seven rebounds, but they couldn't produce enough offense in the second half to beat the Red Raiders.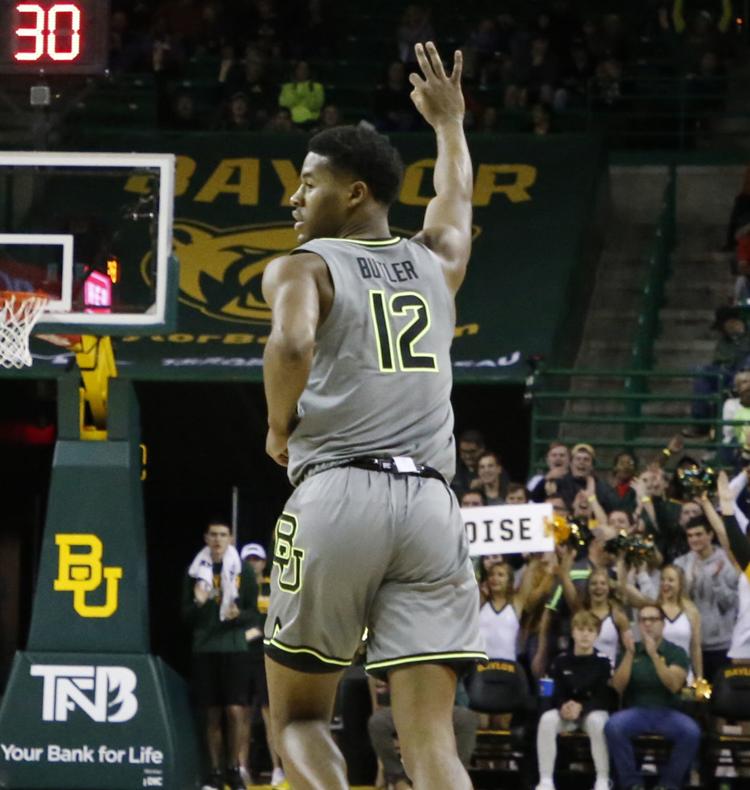 In the first game against Texas, Baylor guard MaCio Teague came up big as he scored 21 points while guard Jared Butler hit 13 points and Gillespie grabbed 12 rebounds and blocked four shots. The Bears managed to win by 15 points despite shooting just 31.3 percent from the field.
Defense was the difference as the Bears held Texas to a 34.6 shooting percentage while dominating the boards, 48-35. The only two Texas players to score in double figures were forward Jericho Sims with 13 points and guard Courtney Ramey with 11.
Poor free throw shooting could have derailed the Bears as they hit just five of 15 against the Longhorns. Free throws almost cost Baylor again in Saturday's 78-70 win over Oklahoma State at the Ferrell Center as the Bears hit 20 of 33.
But Teague hit six free throws in the final 14 seconds, including four after Oklahoma State coach Mike Boynton was ejected from the game after getting two technicals for protesting after four of his players fouled out.
Drew credits his team's depth for surviving a foul-plagued game in which the Bears were called for 20 fouls and Oklahoma State 31.
"I think that's why we've been able to be ranked No. 1 is because of our depth and because we have different guys step up," Drew said. "That's one thing is you're going to have some nights when there's more fouls. And if you don't have depth, it's really tough to win on nights when there are more fouls called."
BEAR FACTS -- Baylor is the unanimous No. 1 overall seed by the NCAA Division I men's college basketball selection committee through Friday's games. The top four seeds are Baylor in the South Regional (Houston), Kansas in the Midwest (Indianapolis), Gonzaga in the West (Los Angeles) and San Diego State in the East (New York City).