Looking for his best route to the NFL, Denzel Mims thought the time might be right for a position change soon after Matt Rhule arrived at Baylor.
Though he played wide receiver during his freshman year for the Bears in 2016, Mims felt he had the athleticism and skill set to play cornerback.
Standing 6-3 with a set of wheels that made him a Class 3A 200-meter state champion, Mims was confident that he could do the job since he starred in the secondary at Daingerfield High School.
But after Mims practiced a few days at cornerback in the spring of 2017, Rhule and his coaching staff decided to keep him at receiver.
"I knew they had a defensive mindset, and I felt it was my chance to show myself," Mims said. "I honestly felt I could have been a high pick at corner. They saw me practice a few times the first few days, and they were like, 'No, we want you at receiver.' So they saw what I could do at receiver, and we just took it from there."
Mims has proven he's a natural at receiver as he's led the Bears with 177 catches for 2,797 yards and 27 touchdowns over his four seasons. He ranks sixth in Baylor history in both catches and receiving yards and is tied for fifth in touchdowns.
When the Bears face a critical moment, Mims is often quarterback Charlie Brewer's go-to receiver. That's been especially apparent during November as the No. 11 Bears made their surge to clinch a berth in the Big 12 championship game against No. 7 Oklahoma on Dec. 7.
Mims came through with a pair of touchdown catches in the Bears' 29-23 triple-overtime win over TCU, including a stretching, leaping 20-yarder over the middle in the second overtime. Looking up at a high pass from Brewer in the end zone, Mims pulled out his high school basketball jumping skills for the four-yard game-winning touchdown in the third overtime.
Mims followed that game with another two touchdown performance in a 34-31 loss to Oklahoma. In last week's 24-10 win over Texas, Mims shined again as he made seven catches for 125 yards, including a 12-yard touchdown catch late in third quarter that helped seal the win.
For the season, Mims leads the Bears with 57 catches for 892 yards and 11 touchdowns.
"Anytime I get the ball thrown to me, I'm excited about it," Mims said. "But especially when we get in the red zone, I know I need the ball. I just know when they throw me the ball, I've just got to make the play or someone else is going to get the touchdown."
While Mims might be best known for using his height and leaping ability to make touchdown catches over smaller cornerbacks, he's just as adept catching balls over the middle, knowing he's going to be drilled by a safety as he's hauling it in.
"To be a receiver, especially a big receiver like me, you've got to be fearless," Mims said. "Especially going across the middle, they're going to see you. You know you're going to get hit, so why not catch the ball? If I get hurt, we've got a lot of other receivers who can replace me."
Mims has learned to play through pain more effectively this year than his previous three years. Despite nagging injuries that have sometimes made him questionable to play, he's started all 11 games and has been instrumental in the Bears' 10-1 season.
"The biggest challenge from last year to this year was being able to play when you don't feel 100 percent," Rhule said. "Sometimes, a guy who's a track guy, you're used to, 'Hey, I've got to feel primed up and ready.' This is a game of attrition, it's a war of attrition. Who can play when they don't feel 100 percent. And he's been proof positive of that, from training camp to the thumb surgery to all the way through the year, he's played through everything."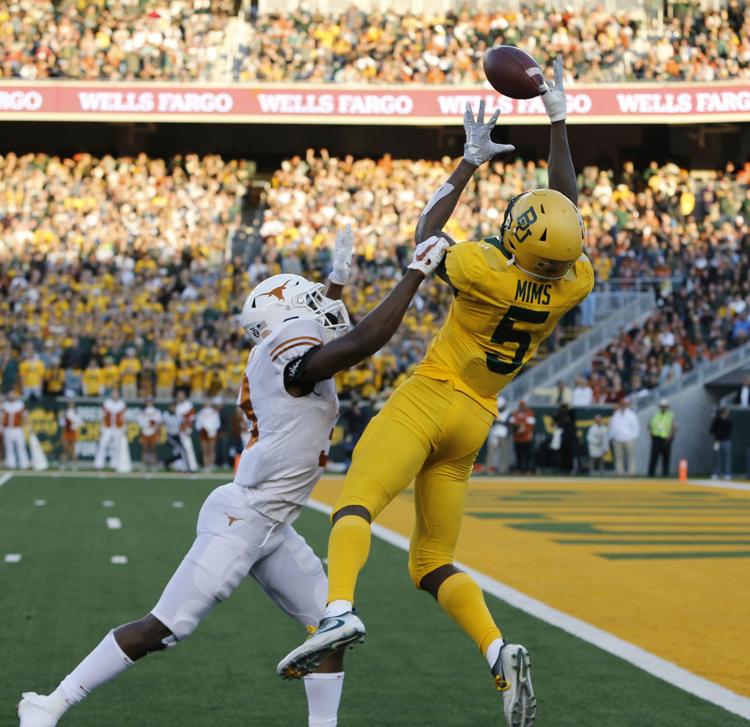 Mims has accepted the fact that as the seasons grinds on, he's probably not going to feel his best physically. But he wants to be there for his teammates, and is glad he's been able to be dependable each week and contribute in a major way.
"I've been battling injuries, and it's kind of been hard, but that's part of playing football," Mims said. "I know I need to be there for my team, so I'm going to do everything for them and get myself ready to play. It has been nagging stuff, but it's nothing that can't be fixed. By the time I get to the game, I'm ready to go."
Except for sixth-year senior Chris Platt, Mims is the most experienced receiver on the Baylor squad. He likes being a mentor to younger players like sophomores Tyquan Thornton and RJ Sneed, and doesn't hesitate to correct them if the situation calls for it.
"I knew I had to show the way for them for us to be a good team," Mims said. "Sometimes it's fun and sometimes it isn't. They don't want to hear me yell at them all the time, but they know it's all love at the end of the day. I can say I have fun with those guys. Every time they score a touchdown in practice, I'm running down the field to celebrate with them."
But Mims has never felt he always has the answers. Going into this season, he knew he needed to improve in certain areas, and has made a dedicated effort to become a complete receiver.
That meant becoming a more precise route runner, using his physicality to make tough catches, and blocking more effectively for his teammates.
"Every year, we've challenged him," Rhule said. "There was a time where we said, 'Hey, you're not very good versus 50-50 balls, you know, jump balls.' And as you could see, he's become one of the best 50-50 guys around. We challenged him to get better at getting in and out of his breaks. Not just be like a deep, run-by-you guy, but a guy who can run all the routes. He's definitely done that. I challenged him earlier this year to be a better blocker, and he's definitely done that."
Blocking might be the area where Mims has improved the most. He enjoys laying out a defender to spring a teammate for a big play.
"One thing I do different from other receivers is I block my tail off," Mims said. "I'm not a selfish guy. I want to knock somebody's head off when I'm blocking. So I feel like I bring that to the table more than other receivers do."
Playing with Brewer the last three years, Mims has learned to improvise his routes. If Brewer is flushed out of the pocket and forced to create a play, Mims has learned his quarterback's tendencies so well that he can still find ways to get open.
"When I see Charlie breaking, I know it's time for me to scramble to get into his vision," Mims said. "I pretty much know Charlie like the back of my hand. I know exactly what he wants and he knows exactly what I'm looking for. On certain plays, I know what he's thinking. I do have a lot of respect for Charlie. That's a grown man right there, and that's a good thing about him."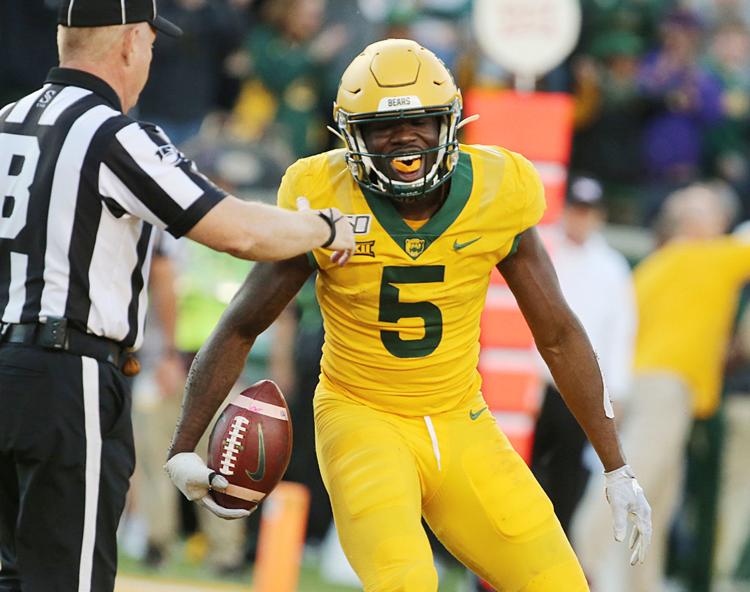 Choosing Baylor wasn't a hard decision because he had heard good things from his older cousin, David Mims, about his experience as a versatile running back under Grant Teaff from 1989-92. When Mims signed in February 2016, Baylor had gained a reputation as Wide Receiver U. under Art Briles with talents like Corey Coleman, Kendall Wright and Terrance Williams coming through the system.
When Mims arrived at Baylor, he thought he would redshirt his first year to gain strength and learn the college game. But Baylor interim coach Jim Grobe, who took the reins after Briles was fired in May 2016, and his staff needed him to play, and he made just four catches for 24 yards.
"Honestly at that age, looking back I feel I wasn't ready," Mims said. "I tried to redshirt, but they felt I was ready to go and I felt like I wasn't. But it was good for me to play because I got the experience. To come in next year, I was ready to go right off the bat."
In his first season under Rhule in 2017, Mims emerged as one of the most productive receivers in the Big 12 as he made 61 catches for 1,087 yards and eight touchdowns. The Bears used three quarterbacks that season, including Brewer, Anu Solomon and Zach Smith, and Mims clicked with all of them.
A preseason all-Big 12 pick in 2018, Mims still put up solid numbers as he made 55 catches for 794 yards and eight touchdowns, but he didn't play at the level that he wanted.
Tennessee transfer Jalen Hurd emerged as Baylor's leading receiver as he made 69 catches for 946 yards and four scores before becoming a third-round pick by the San Francisco 49ers.
"I knew we had two good receivers in the room and we needed to share the ball," Mims said. "They can't double two receivers, so I had that mindset. It turned out pretty good, but I didn't have the season I wanted to have due to injuries."
Determined to deliver a lights-out senior year, Mims dedicated himself to getting stronger, improving his diet, and fine tuning his receiving and blocking skills.
He was also convinced that Baylor would improve on its 7-6 season that ended with a 45-38 win over Vanderbilt in the Texas Bowl. Seeing the experience this year's team was bringing back and the bond in the locker room, Mims made a suggestion at the Big 12 media day in July that has proven prophetic.
"I don't know if anybody remembers, but I said at the Big 12 media day that we've got a good chance of playing in the Big 12 championship," Mims said. "I really believed that just based off the spring and being with my brothers every day and how hard they worked. I had a good feeling we'd be here and have a good season."
While Mims' most immediate focus is to help the Bears finish strong, he's looking forward to completing his Baylor degree in May. He's also got an eye on his future in the NFL. He has been invited to play in the Senior Bowl in Mobile, Ala., on Jan. 25, where he can show his skills to NFL scouts.
For a guy who briefly thought his best chance to play in the NFL was at cornerback, Mims will likely get a shot to play receiver following a tremendous career at Baylor. He's stayed in touch with Hurd to get an idea of what to expect in the NFL.
"He says it's all about business up there," Mims said. "He told me how it was up there, you've basically got to be serious and you fight for the job every day. That's the thing about me, I'm all about business too."