Grayland Arnold plays football with the exuberance of a kid who just picked up a ball for the first time and a deep sense of joy that resonates with his Baylor teammates.
After playing cornerback for three years at Baylor, Arnold graciously shifted to safety this season because coach Matt Rhule thought that's where he could best benefit the team. With more room to roam at safety, Arnold relishes chances to get involved in more plays.
When Arnold got a shot to return punts this year, he didn't balk. It was another way to impact the game, something he did in Baylor's 63-14 win over UTSA two weeks ago when he returned a punt for a 73-yard touchdown.
It was his first touchdown since his senior year at Kountze High School in 2015, where he played quarterback, receiver, running back, safety, cornerback, kick returner, and even kicked and punted.
"It brought back memories," Arnold said. "I used to score just about every time I touched the ball. Life is good right now. I get to go out there and show my real ability to play football with no injuries, no setbacks. I get to go out there and have fun with my teammates."
Showing the multiple ways he can help the Bears means more to him now than ever.
He's been on the other side of joy, missing 14 games over his first three seasons due to injuries ranging from a bad ankle sprain in 2018, to a broken arm in 2017, to a scary incident against Texas as a freshman in 2016 when he was carted off the field on a stretcher at DKR-Texas Memorial Stadium in Austin after taking a knee to the head.
Arnold took advantage of the NCAA's new redshirt rule last year by playing four games before sitting out the rest of the season with the severely sprained left ankle. Sitting was hard for a guy who never likes to leave the field, but it gave the fourth-year junior two more years to hone his skills at Baylor before taking his shot to play in the NFL.
"I talked with Coach Rhule, and he probably felt he could use me some last year, but for the sake of my future he said we could give you this redshirt," Arnold said. "I thanked him a lot for that because I got to grow. But it was definitely hard to sit. It's just a blessing to go out there and compete and actually have another year of eligibility left."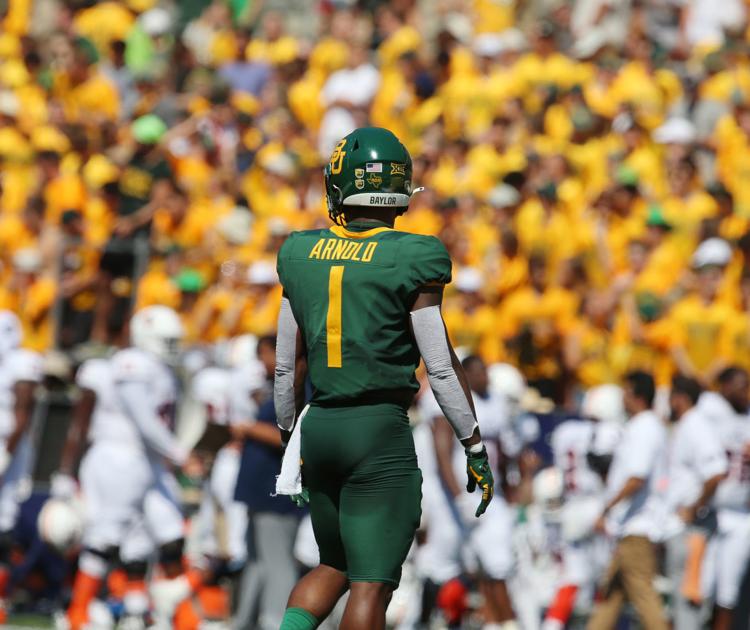 Rhule is thrilled to have Arnold back on the field this year because he knows the impact he can have on the game and as a veteran leader in the locker room.
With the Bears shifting from a 4-3 to a 3-3-5 defense, Arnold has adjusted from the isolation of playing cornerback to safety where he has the freedom to get involved in more plays. He's made seven tackles in Baylor's blowouts of SFA and UTSA.
"No one has had more of an impact on the culture of our team in the last year than Grayland Arnold," Rhule said. "He is one of our best players. The game makes sense to him. He has been unselfish in that he has been willing to change positions to help the team. He plays on special teams, and his work as a punt returner has been special. He is a guy the team just listens to. When he speaks they listen."
It's no surprise that Arnold has earned one of Baylor's coveted single digit numbers for the third straight year. The Baylor players vote on the single digits and see how hard No. 1 works at every practice and how much the game means to him.
"He's such a great mentor because he leads by example and he leads vocally too," said Baylor sophomore safety JT Woods. "He's someone I look up to definitely because he goes and gets the ball in practice. When the ball's in the air, it's his. It's something I've been trying to copy from him."
While Arnold's performance on the field speaks loudly, he's also not afraid to express himself vocally to his teammates. He remembers how former Baylor linebacker Taylor Young gave him advice and encouragement when he was a freshman, and Arnold wants to be the same kind of mentor.
"My freshman year, Taylor Young would take me under his wing," Arnold said. "He was a real leader to me. I've been the younger guy and I know what it's like to need that leadership from an older guy. Whenever you're tired and you don't want to go, you need someone to tell you 'C'mon let's get it going.' When the tone isn't being set or the energy isn't there, you need that from a leader, so I don't mind that role."
Arnold is dialed into his teammates' personalities so instinctively that he knows how each one needs to be handled. Some need more encouragement, some might need more motivation.
"Sometimes you can't always lead by example, sometimes you have to vocally tell everybody to get going," Arnold said. "Sometimes you've got to pull guys to the side and talk to them because some people don't really know how to handle saying it out loud in front of everybody. You just have to know who you're dealing with as a teammate."
Woods appreciates the thought and effort that Arnold puts into his leadership role, and has benefited from playing in the secondary and sitting in position group meetings with him.
"He's almost like the big brother you wish you had but never had," Woods said. "He's serious when he needs to be serious. But he's very loving, he's joking, he's funny. He's someone you can be around all day and not get tired of him."
Team chemistry is important to Arnold, so it's not unusual to see him bonding with players from all position groups. Though the defensive backs and wide receivers compete and often jaw at each other every day in practice, Arnold lets go of the tension off the field and hangs out with both groups.
At 5-10 and 190 pounds, Arnold looks tiny among the offensive and defensive linemen, but those behemoths love being around him. Sophomore tight end Rob Saulin, who has played on both the offensive and defensive lines, quickly saw how Arnold made him feel welcome when he arrived at Baylor by cracking a joke or making a funny observation.
"I will say right now this is a team," Arnold said. "It's a true brotherhood, and I believe that. It's not like I walk by somebody and don't know his name. I actually know where he's from and his birthday is coming up."
For Arnold to switch so seamlessly from cornerback to safety came naturally because he's used to playing a lot of positions. He rarely came off the field at Kountze High School, a Class 3A school in southeast Texas, because the team needed him to play everywhere.
"I always knew I was good in football because I never really got tackled," Arnold said. "I played everything but the defensive and offensive line. When you're playing football, it's fun. You don't really think about it."
In an era when high school athletes often specialize in one sport, Arnold participated in everything he could in high school, including basketball, baseball, track and tennis.
Basketball was his favorite sport early in his high school years since it ran in the family. His older sister, Gabriell Mattox, was a 5-11 forward who lettered for the Texas Longhorns in 2006-07. Arnold developed into a Class 3A all-state guard who helped Kountze reach the state semifinals as a junior in 2015.
"Basketball was my favorite sport," Arnold said. "It was a family thing. I scored a lot of points every game. I probably worked the hardest at basketball growing up. There were a lot of late nights shooting in the gym. I'm still the best basketball player on the football team, though a couple of guys probably won't agree with that."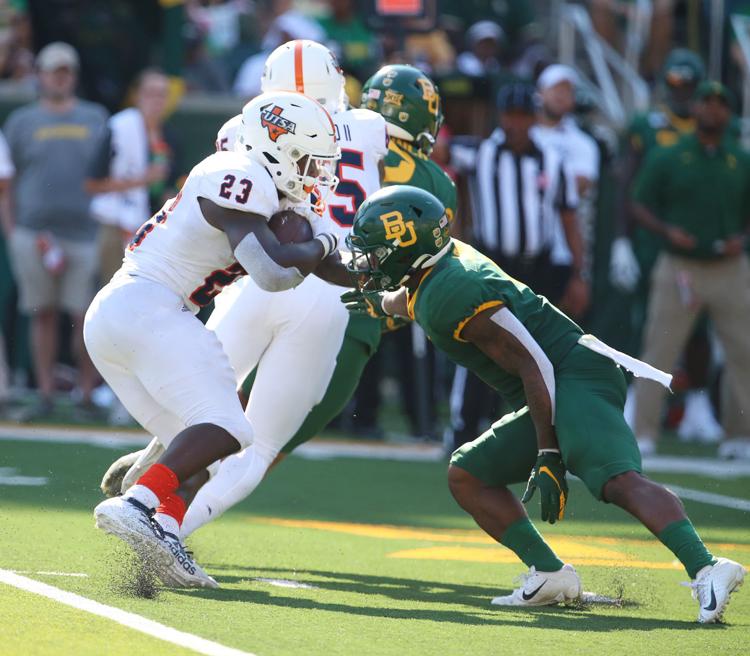 By his junior year at Kountze, Arnold was getting a lot of attention from college football coaches and became a top 200 national recruit in the 2016 class. When he committed to Baylor as a junior in November 2014, he thought he could play both offense and defense at the college level.
"I knew I was going to play defense here," Arnold said. "But the plan was for me to play both, quarterback in the wildcat and slot receiver. I didn't even have that much defensive film. Everything I had, the ball was in my hands. The only time they saw me on the defensive side was when I came to camp to get a workout."
With the Bears winning back to back Big 12 championships under Art Briles in 2013-14, recruits were flocking to Waco. Arnold signed with one of the most acclaimed recruiting classes in school history, but everything changed in May 2016 when Briles was fired amid the university's sexual assault scandal.
Some of the top recruits from Baylor's 2016 class bailed out as running back Kam Martin signed with Auburn, wide receiver Devin Duvernay signed with Texas, and La Vega defensive back Parrish Cobb signed with Oklahoma.
Arnold thought about leaving, but decided to stay at Baylor after discussing it with his father.
"I understood Coach (Jim) Grobe was coming in and he was a good guy," Arnold said. "But who was it going to be afterwards? So me and my family prayed over it. My dad said calm down and let's talk about it tomorrow. He said he prayed about it and I just think it's best that you stay. He was really the only reason I stayed. Whenever things were rough and I was in a tough situation and I didn't know what to do, I always took his word."
Playing with skill and confidence from the moment he stepped on Baylor's campus, Arnold made an immediate impact for the Bears as a true freshman in 2016.
Though he lined up against some of the best receivers in the country in the Big 12, Arnold didn't back down and played like a veteran as the Bears won their first six games. But when he took a blow to the head against Texas in the seventh game, he wondered if he would play again that season as he was carted off the field on a stretcher.
"I'm not going to lie, that was one of the scariest moments of my life," Arnold said. "When I went down, my body locked up and I was out of it for a bit and I didn't really know what was going on. Then when I finally came to my senses, I was strapped up to the stretcher and I couldn't move.
"I started crying because I thought I was paralyzed and had hurt something really bad. I cried until I could feel my legs move again. I went through concussion protocol, and I found out I was OK. Two weeks later, I was back playing. Surprisingly, I wasn't even nervous."
After missing Baylor's game against TCU, Arnold was back for the last five games. He ended the season with one of his best games as he collected nine tackles in the Bears' 31-12 win over Boise State in the Cactus Bowl.
After Rhule became Baylor's coach in December 2016, Arnold enjoyed a great preseason camp as a sophomore in 2017 before he broke his left arm. But he was back in the lineup by the fourth game and finished the season with 35 tackles, seven pass breakups and an interception in Baylor's last nine games.
Eager to build on his sophomore season, Arnold was highly disappointed when his ankle injury kept him out of Baylor's last nine games last season. But he always believed that he would come back and make an impact, and maintained his focus as he rehabbed and learned the intricacies of Baylor's defense.
Hoping to glean any bit of information from Rhule and his experienced staff, Arnold takes copious notes during team meetings and film sessions.
"His level of work ethic and dedication has just skyrocketed," Rhule said. "We have tried to convince our guys, and it's hard in the age of cell phones and iPads, that being an avid note taker is one of the best things you can do to be a good football player. Grayland sits there every day with (cornerback) Jameson Houston in the second row and writes down everything that is said in the team meeting."
Arnold's teammates often see him put in time on his own outside of practice to improve different aspects of his game.
"The best thing about him is what you guys will never see," said Baylor defensive lineman James Lynch. "You'll see him on Sunday or Monday or whenever we'll have a day off, and he'll be out here catching punts and working on his footwork. It shows the young guys the way that if you want to be good and have your name in the paper, you've got to put in the work and put in more than you think you have to."
Arnold believes he's not only developed as a football player since Rhule arrived, but the junior defensive back has also grown as a person. Rhule has helped Arnold see that football is part of a bigger picture.
"As a coach, it's so easy to be selfish and just use the players for what you can get them for those four years," Arnold said. "But he's really trying to develop real, grown men. He's worried about 10 or 15 years later down the road. When a man has that much care and interest about you, he obviously has a big heart. If you have to trust in anybody, you trust in him."