Brian Stewart defines the nomadic football coach as he's served as an assistant for 10 colleges and five NFL teams over 27 years.
During his many stops, Stewart has drawn knowledge from some of the best football minds in the business.
Stewart loved to pick the brain of then-Dallas Cowboys head coach Wade Phillips when he was the team's defensive coordinator in 2007-08. Phillips built his reputation as a gifted defensive coordinator, most recently for the Los Angeles Rams.
"Wade is awesome," Stewart said. "He's like my dad, we've always talked. So I had a great experience, he has a great football mind. I like to be around great football minds."
As Baylor's cornerbacks coach, he's looking forward to spending more time discussing ideas with head coach Dave Aranda. Though the 55-year-old Stewart is 12 years older than Aranda, he respects his defensive acumen and the results he produced during his recent four-year stint as LSU's defensive coordinator.
Though this is the first time they've worked on a coaching staff together, Stewart has talked to Aranda over the years about defensive philosophies.
"I'm with the Dallas Cowboys and he comes by and wants to talk about stuff," Stewart said. "I'm at the University of Maryland and he's at Utah State and we kind of talked about things. I've been at different places and we've had opportunities to talk football, talk scheme, talk footwork, talk things. To be with someone that loves football and respects football like Dave is a great opportunity."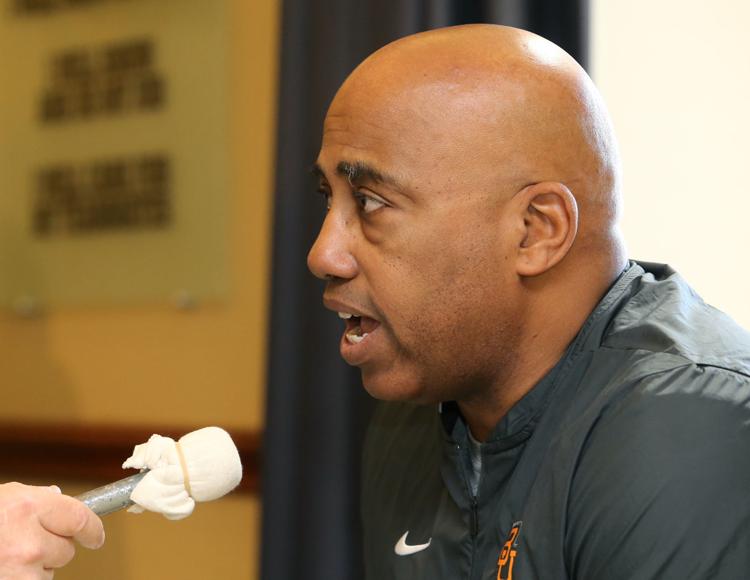 Stewart is returning to college football after coaching defensive backs for the NFL's Detroit Lions for the last two seasons.
Before his stint with the Lions, Stewart spent the previous eight years coaching college football, serving as defensive coordinator at Houston in 2010-11, Maryland in 2012-14 and Rice in 2017. He was also Nebraska's defensive backs coach in 2015-16.
Stewart is looking forward to spending more time sharing ideas with Baylor's defensive coaches, including defensive coordinator Ron Roberts, defensive line coach Dennis Johnson, outside linebackers coach Joey McGuire and safeties coach Matt Powledge.
"I think Ron is smart, he has a strong defensive acumen," Stewart said. "I think Meatball (Johnson) is a great D-line coach, he's very technically sound. He's like myself, I like to demonstrate and talk about it. I look at Matt Powledge, I think he does a good job. I'm excited to get to work with these guys because the level of energy is just phenomenal."
With its switch to a 3-3-5 defense last season, Baylor put more speed on the field as the secondary emerged as one of the best in the Big 12.
But cornerback Raleigh Texada is the only starter returning in the secondary, which means younger players like Kalon Barnes, Byron Hanspard Jr., and Mark Milton will have to step up at cornerback.
"Just looking at the guys that I've seen on tape, I think they play the ball well," Stewart said. "As the defensive backs coach, I just want them to play their best. That's measurable by not missing tackles and being able to attack the ball."
Though Big 12 defenses have been trending upward, the league is still defined by explosive offensive attacks. Stewart is anxious to devise defensive schemes to stop some of the most dynamic offenses in the country.
"I just think if you're excited about the game and if you're excited about playing defense and stopping, when you've got opportunities to stop Oklahoma's offense that would be pretty exciting," Stewart said. "It doesn't matter who's been put in front of you. It's just that opportunity to test what you've got with your thought process versus the other guy on the other sideline that's awesome to me."
During his time with the Cowboys, one of the biggest things Stewart learned from Phillips was to instruct players but ultimately trust their abilities.
"The biggest one is don't over-coach," Stewart said. "We had DeMarcus Ware. I'm the coordinator, and our linebackers coach is saying, 'OK, when you drop (in pass coverage), I want you to pin your chin, put your toes to the sideline.' Coach (Phillips) looked at me and he said, 'Go tell him, just drop to the numbers, and let him figure it out.' You want DeMarcus Ware chasing the quarterback. If you've got him worrying about how he's going to drop, he'll be worried about getting his feet right and all that."