There's no question junior Charlie Brewer is Baylor's starting quarterback, but one of Matt Rhule's most pressing needs is to develop backups Gerry Bohanon and Jacob Zeno.
While Brewer has 16 college starts under his belt and has thrown 594 passes, Bohanon threw just one pass as a freshman last season while Zeno joined the Bears in the spring from San Antonio Jay High School.
Getting them ready for the Aug. 31 season opener against SFA will be vital because they'll be needed if Brewer goes down with an injury.
"I'm really pleased with both of them," Rhule said. "From where Gerry started from until now, his pocket presence and his ability to sort of handle what he sees in front of him, has really made a big jump. I think as we get through the scrimmages we'll have a much better feel for how close those guys are to being ready to go in the game."
Bohanon retained his redshirt last season because he played in just three games. He only saw limited action as he ran twice for five yards against Oklahoma State and missed his only pass attempt in the Texas Bowl against Vanderbilt.
Like Bohanon in the spring of 2018, Zeno got a jump start on his career by graduating from high school in December and participating in this year's spring drills. Zeno is a dual-threat quarterback who can pass and run like Brewer and Bohanon.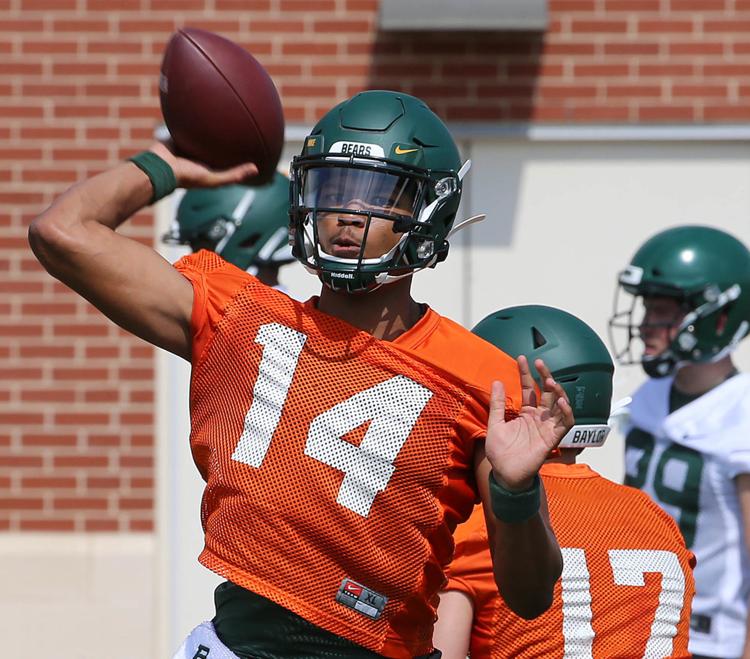 "The hard thing for Zeno is he's back there behind the third offensive line," Rhule said. "In the first week, a lot of times those are young guys who are trying to learn what the play is and who to block and how they do it. But he was here this spring and we got a chance to see him a lot."
Rhule and his staff have pushed the Bears hard since preseason camp opened Friday as they've had five straight practice days, including the first two with no pads, the next two with partial pads, and Tuesday night with full pads.
Rhule likes the passion and commitment he's seen from his team, which he expected with a lot of veteran leadership.
"We have a veteran group that knows what to expect, and they're practicing at a high level," Rhule said. "So I'm really pleased with the mindset, the physicality and the work ethic, and most importantly the attitude. We have a lot of older guys leading the way."
Rhule believes his younger players are learning from the examples set by the veterans, and is pleased with their progress.
"I think our older guys are doing a good job of helping them," Rhule said. "We had a practice yesterday where we kind of stopped and had the younger guys play for a while and the older guys coached them and pushed them. It's always great to see guys step up with the pads on and show what they can do. It's really good for our older players to have that big brother, 'Let me coach you' type of mentality."
The first week of practice is always an important time for Rhule since that's when he and his staff can teach the most fundamentals to get the players off to a good start that they can build on.
"To me the most coaching is done early," Rhule said. "You're trying to make them understand how hard we want to play and how physical we want to play. You want to get that stuff down early and start to polish and improve from there."
The Bears will hold their first intrasquad scrimmage Saturday and hold another the following Saturday. While Rhule wants his best players to rise to the top, he doesn't mind if there are heated position battles heading into the season.
"I would love it if they didn't separate because that means we have a lot of depth," Rhule said. "Just kind of push each other neck and neck. I think this scrimmage just say to yourself, 'Hey do we have the guys in the right places?' Another week they'll kind of get their legs under them, and I think that second scrimmage you feel good about that."
Rhule expects some sleepers early in the year to become key players as the season progresses.
"I remind our guys there's a new guy every year since I've been a head coach that starts the year on the scout team that ends up starting at the end of the year or helping us," Rhule said. "That's always going to happen. Charlie (Brewer) was scout team quarterback our first year, and by week 7 he was starting."
One of Baylor's deepest positions is running back with veterans JaMycal Hasty, John Lovett and Trestan Ebner returning. Last year, the Bears averaged 169.1 yards rushing per game and scored 25 touchdowns, but they'd like to improve to 200 yards per game.
"When we've been able to get 150 to 175 yards, we've won, so 200 yards is the goal," Rhule said. "We have good backs and our offensive line has come a long way. Our tight ends, we need them to be difference makers for us. We need quarterbacks who can run to help the run game."
BEAR FACTS – Not only did the members of Baylor's 2018 squad receive rings after a 45-38 win over Vanderbilt in the Texas Bowl, the seniors on the 2017 squad will receive them too. Rhule's first team at Baylor finished 1-11, but he saw the players as instrumental in building the program to last year's success. Those seniors included current Baylor graduate assistant Taylor Young and assistant director of football operations Brian Nance.
"We said that year when we go to a bowl next year, we'll get you guys rings," Rhule said. "So what does this mean to them? Hopefully it means that they stood in the gap in a hard time."