FORT WORTH — For years now, Baylor fans have been clinging to "61-58" a little too tightly.
Every year whenever the Baylor-TCU game rolled around, they'd bring it up on social media and in general conversation. I've seen it on tattoos and in ticket prices. (Hey, Mr. Frog Fan, want a McLane Stadium seat? It'll set you back $61.58.) In 2015, the year after that classic comeback, Baylor even trolled TCU by positioning jersey numbers 61 and 58 next to each other in the team photo. Coincidence? Not a chance.
Now, there's a new locker combination to remember. It's 29-23.
Critics will label this one unattractive, and I get it. But the key word in the phrase "winning ugly" is the dubya word.
"Winning is never ugly," Baylor coach Matt Rhule said. "I've lost a lot, and I'll take this any day of the week."
Who wouldn't? The No. 11 Bears are now 9-0, still all alone atop the Big 12, undoubtedly rising into the Top 10, and should have the eyes of the college football world on them next week when they host four-time defending conference champion Oklahoma.
OK, Baylor's triple-overtime takedown of the Frogs isn't likely to be a finalist in the Miss College Football beauty pageant. At this point, who cares? Instead, this game should serve as an emblem of Baylor's place as the ultimate "find a way" team.
These guys never take the easy route. They're the kind of adventurers who would encounter El Capitan and decide that famed climber Alex Honnold's free solo ascent was too simple, then make the same climb upside down.
Do the Bears just enjoy stressing out their fans?
"Yes and no," said linebacker Terrel Bernard, when asked if such wins are better than blowouts. "It's fun, because you battled to the very end. It took every single play, every single player, to win this game. And then it's also really, really nerve-wracking. Throughout the whole game, you have that stuff built up inside of you."
Fortunately for Baylor, these guys seem to muster up the right stuff whenever the emergency level reaches Defcon 1.
"We're a tough team," said defensive back Grayland Arnold, echoing a description mentioned by several of his teammates.
Tough teams go through tough times. And let's be honest, the locker room doesn't always resemble a pot luck dinner in the fellowship hall. Rhule said that at halftime, with the Bears trailing 9-0 and the offense going nowhere, tensions reached a boiling point. "They started to fracture a little bit with each other, defense was yelling at the offense," the coach said.
So, he brought the team together and asked a simple question — "Do you trust each other or not?"
Smart move. The question re-focused the players on the task at hand. The other wise halftime decision made by Rhule was putting the blame for the first-half offensive breakdowns at the feet of the coaches. "Here's what we're going to do, we're going to go out on the first drive and be really aggressive," Rhule said, repeating what he told the team.
That seemed to settle the nerves of the offensive players. And in the second half, the Bears — all of them, not just one particular unit — went out and made plays when it mattered.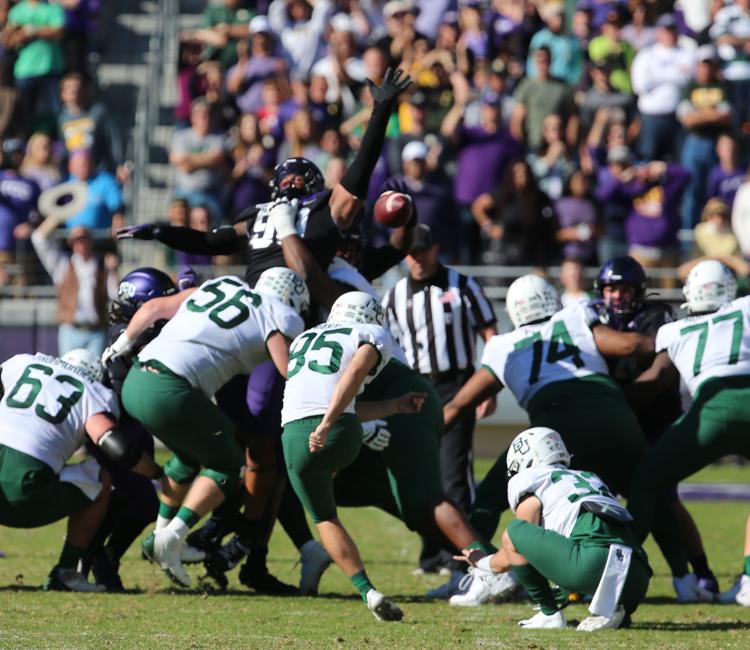 Give Terrel Bernard and John Mayers a truckload of game balls. Mayers overcame an early doinked field goal to thump through three critical kicks. None, of course, any more gigantic than his 51-yarder with 36 seconds left in regulation. That baby was bigger than the imagination of the late, great Dan Jenkins, the namesake of TCU's press box.
Bernard swooped around like some spawn of Mike Singletary. The sophomore linebacker made enough tackles (19) to fill three box scores. His interception of TCU's Max Duggan late in the third quarter preserved the Bears' one-possession scoring gap.
Those guys kept Baylor in the game. Then in overtime, Charlie Brewer and Denzel Mims went out and won it. It's weird how Brewer can look so shaky throughout some games, only to flip the switch if the game is close late.
"If we have the ball and a chance to win the game, I think we're extremely confident," Brewer said. He's not the most orotund of orators, but ol' Chuckie Comeback said a mouthful there.
So, the few hundred folks in green left Fort Worth in a pretty giddy mood, while the several thousand in purple groused and grumbled their way back to their parking spots. It was an ugly game that somehow transformed itself into a great game in the overtime periods, filled with incredible plays on both sides. For Baylor fans, 29-23 is one they'll likely remember for a while.
As for the Baylor team, they left the Metroplex pretty happy, too. Rhule described the mood in the locker room as "joyous."
Joyous, but not contented. Happy, but not satisfied.
"We're not satisfied at all," Rhule said. "You can ask Mack (Rhoades). He was in the locker room. They don't seem satisfied. They're proud of the accomplishment but they're not satisfied at all. They understand there are things we can do better. ... I think that is what's cool about our guys. The reason why they keep finding ways to put wins together is they're very honest with themselves."
Honestly? Next week will be the toughest test yet.
But if any team can find a way even when it might look like they're lost, it's these Bears.