Perhaps it was the bonding from their trip to Italy this summer or the experience they gained from scrimmaging Texas A&M and LSU this fall.
Whatever it was, it's a vibe Baylor doesn't want to lose.
Shooting out of the tunnel playing energetic, cohesive basketball, the No. 16 Bears stormed to a 19-0 lead before romping to a 105-61 win over Central Arkansas in Tuesday's season opener at the Ferrell Center.
"I think it was a combination of things, the Italy trip and the experience," said Baylor sophomore guard Jared Butler. "But we were definitely locked in on defense and that was one of our points of emphasis going into the game. We try to get three stops in a row every time, and that's what we did."
Butler picked up where he left off from his dynamic freshman season as he hit a career-high eight of 12 3-pointers and scored a game-high 30 points while dishing out five assists. He finished a point shy of his career-high 31 against Kansas last season.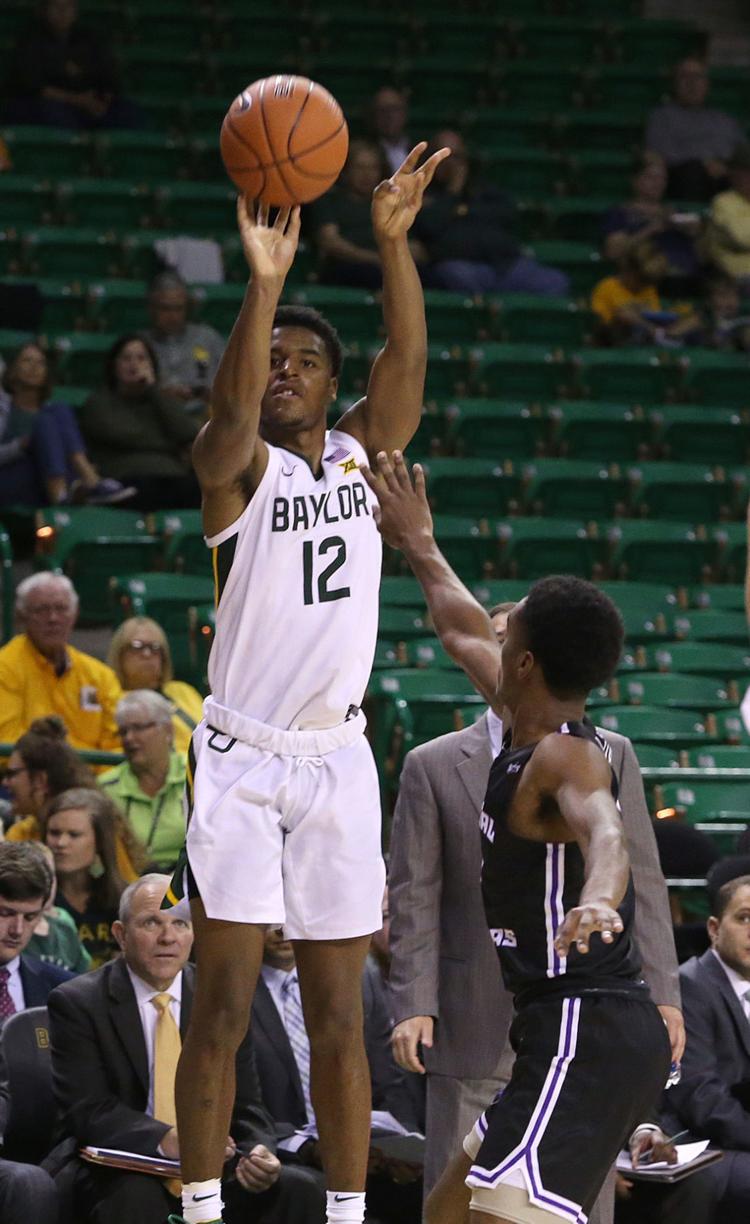 Though Butler had the hot hand, he wasn't the only one as the Bears set the program's Ferrell Center-record by draining 18 of 33 3-pointers. MaCio Teague nailed four of six 3-pointers while Devonte Bandoo hit three of four.
"It just so happened that I got the lucky bounce and the lucky kick-out 3s from offensive rebounds," Butler said. "Next night it might be MaCio, next night it might be Davion (Mitchell) or it might be Bandoo. It's just the combination of how well we put time in the gym and how well we share the ball. When we know someone's got it going, we try to get them the ball too."
Playing his first game for Baylor after transferring from North Carolina-Asheville, Teague delivered a double-double with 18 points and 10 rebounds. After sitting out last year due to NCAA transfer rules, the junior guard was ready to hit the floor.
"I was pretty anxious going into the game," Teague said. "I had a little bit of trouble sleeping last night. But it felt great to go out there and join the team, join my brothers and play against a different team."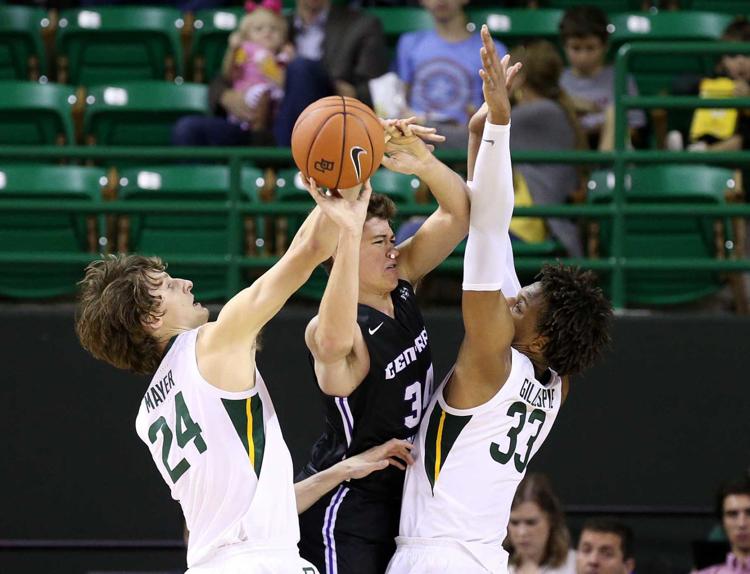 Nearly everybody who stepped into the game for the Bears played at a high level as they shot 56.3 percent and dominated the boards, 51-30. Senior forward Freddie Gillespie collected 14 points and seven rebounds while Bandoo came off the bench for 15 points, seven rebounds and three assists.
Making his first appearance since going down with a season-ending knee injury last season in early January, Baylor junior forward Tristan Clark picked up two first-half fouls and finished with three points, four rebounds, two assists and three turnovers in 16 minutes.
Though Clark is still trying to return to form following his knee injury, Central Arkansas still had to pay a lot of attention to him because of his potential.
"We've seen in practice, he's had moments where he was the Tristan of old and then he's had moments where he's still getting the rust off," said Baylor coach Scott Drew. "And that's why I think it's important, we all know he's just coming back. When you train for a marathon, you don't train for a couple weeks and run it. It's a long process. He will keep getting better and better with time."
Despite the 11 a.m. tipoff, there was a spirited crowd with high-pitched screams from children from Waco schools getting out of class for "I'm Going to College Day."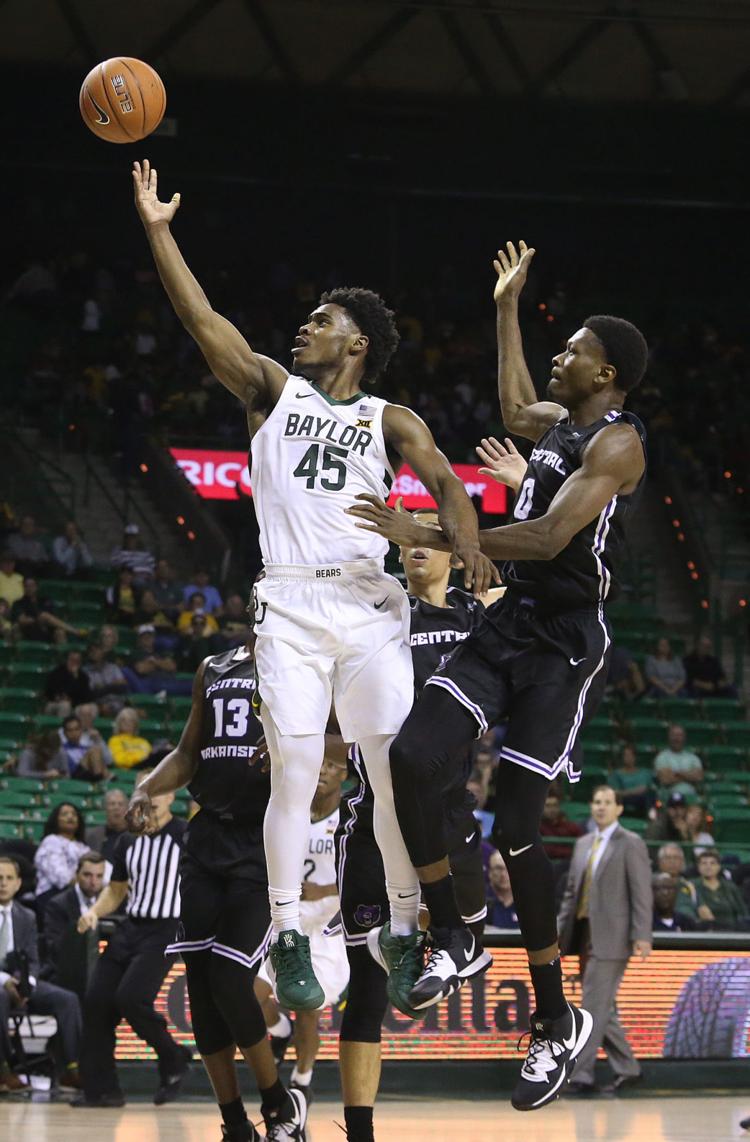 Baylor's starting lineup featured returners Clark, Gillespie and Butler who were joined by Teague and Auburn transfer point guard Mitchell, who finished with seven points and five turnovers with one assist in 24 minutes. Bandoo and forward Mark Vital were the first players off the bench.
Opening with a three-guard lineup, the Bears were way too quick and athletic for Central Arkansas as they appeared in midseason form from the opening tip to jump out to a 19-0 lead in the first six minutes.
"When we came out aggressive and we were able to get in transition, that really helped us offensively to get some of those jitters off," Drew said. "And then when you're playing defense and you're into it like that, that allows the other nerves to settle quicker."
Mitchell showed his ability to drive to the basket in the opening minutes as he scored inside and drew a foul from Hayden Koval. Though he missed the free throw, Gillespie grabbed the rebound and scored to give BU a quick 4-0 lead.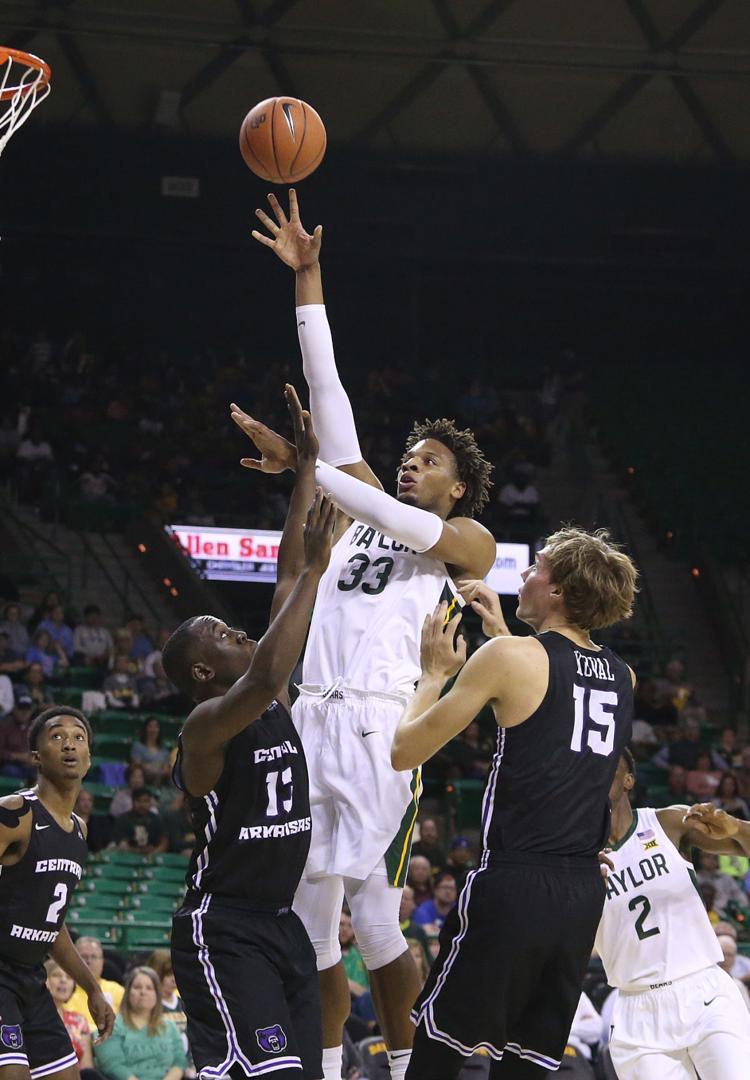 Butler drained a 3-pointer before Teague drove for a basket. After Gillespie blocked Jared Chatham's shot, Bandoo came off the bench to drive for a basket.
That was the first of 10 straight points for Bandoo as he took a bounce pass from Mitchell on a fast break for a slam. Then he stepped outside to hit a trey to push Baylor's lead to 19-0 with 14:06 left in the first half.
Central Arkansas finally scored when Eddy Kayouloud slipped inside for a basket, but Bandoo answered with his second 3-pointer.
Though Central Arkansas finally got some offense going, the Bears couldn't be stopped as they built a 53-32 halftime lead and stretched their lead throughout the second half.
Butler was glad the Bears didn't start out like last season when they opened with a 72-69 loss to Texas Southern.
"It's a great feeling despite last year and what happened and how we felt going into the locker room after the game," Butler said. "Man, it's great that we got off to a great start. I think it's really important."
The game marked just the second time the Bears have played Central Arkansas after rolling to a 107-66 win in 2017.
"We were here two years ago, and I thought Baylor was really good then," said Central Arkansas coach Russ Pennell. "I told Scott (Drew), I think the team currently, and again it's the first game and time will bear this out, but I believe the squad he has now is better than that team two years ago."