Baylor has been one of the most intriguing stories in college football with its rise to a No. 18 national ranking and a 6-0 start that has been fueled by its knack for pulling out tight Big 12 games.
But the Bears know Stillwater is still Stillwater.
Regardless of how well or poorly the Bears have played since the inception of the Big 12, Oklahoma State's home has been an absolute nightmare.
The Bears are 1-11 in Big 12 games in Stillwater, and most haven't been close. Baylor's only win in the last two decades was a 45-35 decision in 2015, but the Cowboys bounced back with a 59-16 blowout in Baylor coach Matt Rhule's first season in 2017.
Baylor hopes to keep its composure when it faces the Cowboys at their homecoming at 3 p.m. Saturday at Boone Pickens Stadium.
"It's just a great college football stadium, great venue, the crowd's on top of you," Rhule said. "It's tight quarters. You run a corner route in that one end zone, and you're a couple feet from the wall. But I think that's what makes college football great. You're supposed to have home-field advantage. Everything at Oklahoma State is that."
The Baylor veterans who experienced the Stillwater madness two years ago know how loud their fans get and how suffocating the stadium can feel with the crowd so close to the sidelines.
"Their fans are there and they got the paddles banging on the wall some games," said Baylor senior offensive lineman Sam Tecklenburg. "It's a cool place to play. I've only been there once and it didn't go so well for us last time. I'm looking forward to going back and trying to right the wrong from a couple of years ago."
The Baylor veterans have tried to relay to the younger players just how difficult it is to play at Boone Pickens Stadium, and the focus they need to have a chance to win.
"I heard it's a hostile environment, big crowd, they get rowdy," said Baylor sophomore receiver Tyquan Thornton. "I heard the stands are actually like three feet away from the benches. It will take a lot of focus. We're just locking in this week and doing our little details and getting better and watching film and knowing everything about them just so we can get there and make it about nothing but football."
The Bears (6-0, 3-0) will likely have to play mistake-free football against the Cowboys (4-2, 1-2) to have a shot.
That means quarterback Charlie Brewer will need to revert back to the way he performed in the first five games when he threw 11 touchdown passes with no interceptions. In last weekend's 33-30 double overtime win over Texas Tech, Brewer uncharacteristically threw three interceptions as he forced numerous passes into heavy coverage.
Thornton has seen how intense Brewer has approached practice this week.
"Charlie is taking a different approach," Thornton said. "He's more locked in. We were in the walk-through in practice, and sometimes guys joke around and play around and get off task. He was like 'C'mon guys let's go, we need these reps.' So I'm expecting a big game from him this week just by the way he's approaching it."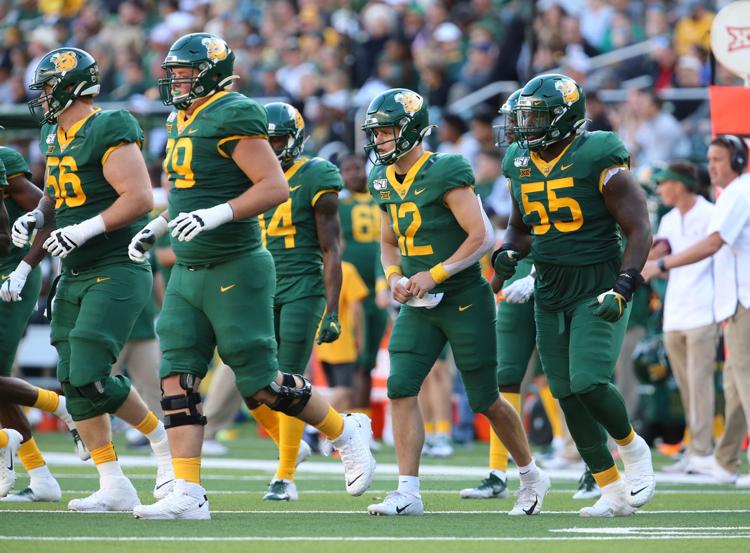 The biggest challenge for Baylor's defense will be slowing down Oklahoma State running back Chuba Hubbard, who leads the nation with 1,094 yards rushing with 13 touchdowns.
With all-Big 12 linebacker Clay Johnston going out with a season-ending knee injury against Texas Tech, the pressure will be on Baylor's other defensive players to raise their games. Sophomore Terrel Bernard, who has started three games for the Bears this season, will replace Johnston and join senior linebackers Jordan Williams and Blake Lynch in the lineup.
"Terrel is a very unique player," said Baylor safety Henry Black. "He's a baller. He's going to make all the plays. There's no replacing Clay. We just have to step up as a whole unit because we've been messing up the last few weeks, and we're trying to correct our mistakes."
Hubbard is far from the Cowboys only major threat. Redshirt freshman quarterback Spencer Sanders has passed for 1,333 yards and 10 touchdowns and has rushed for 426 yards and two scores while wide receiver Tylan Wallace ranks second in the Big 12 with 39 catches for 703 yards and seven scores.
Baylor hopes to continue to get great pressure from its defensive line, which leads the Big 12 with 23 sacks. Junior defensive lineman James Lynch was named to the Associated Press midseason All-America team as he ranks second in the country with 8½ sacks.
Oklahoma State should be well prepared coming off a bye week following its 45-35 loss to Texas Tech in Lubbock two weeks ago.
"They're coming off a bye week and we're going to their homecoming," Rhule said. "There are a lot of things that are stacked against us and we'll do our best just to try to play football and try to have fun doing it."