Third team All-America defensive end Shawn Oakman and safety Orion Stewart will be back in the lineup when No. 4 Baylor faces Lamar in Saturday night's home opener at McLane Stadium.
Those are two faces the rest of the Baylor defense can't wait to see.
"It will be a big lift," Baylor cornerback Ryan Reid said. "Those guys are going to bust their tails. They're leaders of the defense. We feed off them and it's going to mean a lot to get them back."
Oakman is the Big 12's preseason defensive player of the year while Stewart is a preseason all-conference safety.
"Oakman and Stewart, the thing that they bring to the table is just energy and excitement," Baylor coach Art Briles said. "They're great locker room guys, they have a lot of energy, they've got a lot of experience and they're really good football players. So that will be the biggest key for them and for us."
But Briles didn't blame the defense's struggles early in the game on the absence of the two players. The Bears missed too many tackles and had trouble containing SMU quarterback Matt Davis, who hit 16 of 23 for 166 yards and two touchdowns and ran for a game-high 115 yards on 24 carries.
Davis was the catalyst for the Mustangs as they played within a touchdown of the Bears until the middle of the third quarter. The Bears finally broke it open by scoring four unanswered touchdowns in the second half.
"A lot of times when you start a game, start a season, it's a feeling-out process," Briles said. "And then, we knew Davis was going to make plays. We knew the guy was good. There's a reason that when he came out of high school he was considered the No. 1 quarterback in the state at the time. So he's a good player and he poses some problems for you defensively. I just think we settled down and played."
While Baylor's offense amassed 723 yards and set a school record by averaging 10.48 yards per play, quarterback Seth Russell described his first game as the No. 1 quarterback as subpar. Though he threw for 376 yards and five touchdowns, he wants to improve his completion percentage after hitting 15 of 30 against the Mustangs.
"In a big game 50 percent is a big deal," Russell said. "I have to be more consistent so we can move on and get better."
Though no Baylor player rushed for 100 yards, the backfield showed great balance by rushing for 300 yards and averaging 8.1 yards per carry. Shock Linwood rushed for 75 yards on eight carries, Terence Williams picked up 73 yards on eight carries, Devin Chafin rushed for 71 yards on 12 carries and Johnny Jefferson added 28 yards on two carries.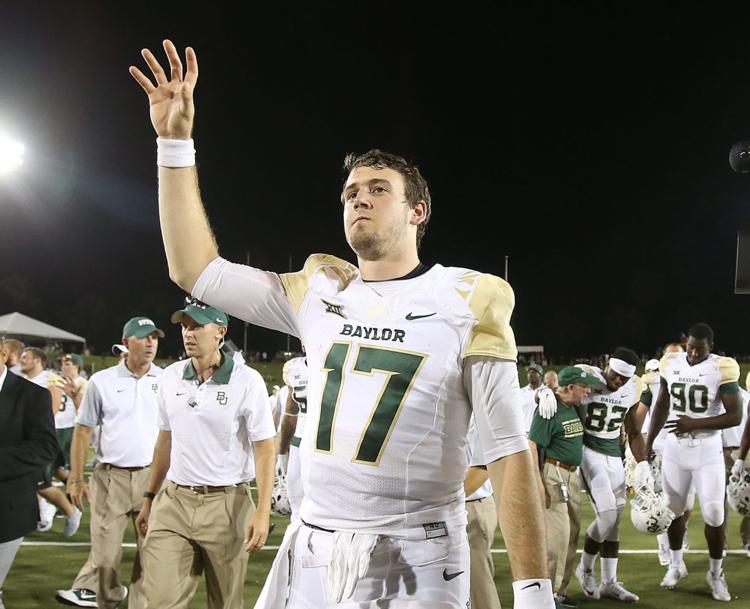 Russell showed off his running skills with 59 yards on six carries and would have had more if a 65-yard touchdown hadn't been called back. Briles plans to keep sharing the load among his running backs.
"We think we have three guys who can really do a lot for us," Briles said. "Terence is still an unknown but those other three guys we really feel good about what they bring to the table. Our main objective right now is to keep them healthy. So we'll try to limit carries throughout the games when we can because we know down the stretch run we're going to have to have those guys healthy and able to really bang it up in there and make some quality yards for us in critical situations."
The Bears will face a Lamar team that plays in the Football Championship Subdivision in the Southland Conference. The Cardinals opened the season with last Saturday's 66-3 win over Bacone College, a NAIA school in Muskogee, Okla.
With Joe Minden hitting 16 of 20 for 170 yards and three touchdowns, the Cardinals piled up 525 yards total offense. The defense also performed at a high level by holding Bacone to 82 yards.
Though this is the only non-FBS team on Baylor's schedule, Briles expects his team to approach this game like any other. After dropping football for 20 years, Lamar began playing again in 2010.
"They went 8-4 last year, so they're a good football team," Briles said. "I think you can look across the country and see everybody's got good players, anything can happen. So our job, our motto, our motivation this week is to be better. We've got to get better, we've got to play better, we've got to play smarter, we've got to be more intense."