With NCAA football teams primarily featuring spread offenses, the tight end has become the invisible man.
While most teams have at least one tight end on their roster, they're overshadowed by speedy wideouts who can break loose deep and little slot receivers who catch passes in the creases of defenses.
But at Baylor, tight ends are still valued.
Though the Bears mostly operate out of the spread, coach Matt Rhule also infuses power-style football in which tight ends are used as blockers and occasionally as pass receivers.
"Tight end is fun because they have to do a little bit of everything," said Baylor tight ends coach Marcus Satterfield. "They have to catch the ball, they have to block, they have to pass protect. So they have to know the run game and the pass game. They've really enhanced their football IQ, and it's a nice group to coach."
Baylor's tight ends are led by Austrian Christoph Henle, a native of Innsbruck who began playing football in Europe before moving to Texas as a high school sophomore. Henle developed his skills at the Oakridge School in Arlington during his last two years of high school.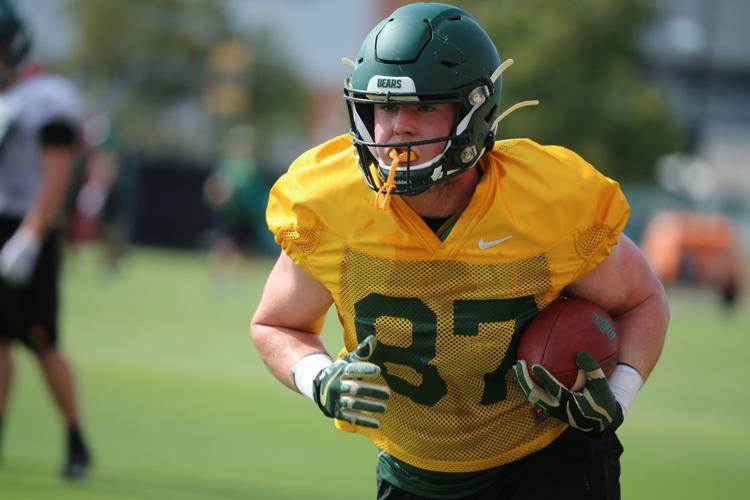 When projected starting senior tight end Jamie Jacobs went out with an injury last year, Henle was pressed into action as a true freshman. He made seven catches for 58 yards and used his 6-6, 259-pound frame to become an effective blocker.
Now he's passing his knowledge along to redshirt freshman tight end Ben Sims and true freshmen Logan Compton and Sam Snyder.
"When you just look at them, they're so young, but their talent is amazing," Henle said. "Sam and Logan both are extremely athletic, they're extremely willing to learn the offense and they just want to get better. It's just awesome for us to see how they're pros at it. Not every freshman comes in with an attitude that I just want to get one percent better every day."
Compton made 32 catches for 512 yards and two touchdowns for Tomball High School last season. At 6-3 and 218 pounds, Compton was also recruited as a linebacker, but has been a valuable addition for the Bears at tight end.
The 6-5, 209-pound Snyder made 18 catches for 505 yards and six touchdowns at Fleming (Fla.) High School and was rated the No. 13 tight end prospect in the country in the 2019 class.
In 2017, Sims made 24 catches for 444 yards and seven touchdowns as a senior for San Antonio Clark High School before redshirting for the Bears last year. Sims brings tremendous potential with his speed and 6-4, 256-pound frame.
"He's come a long way, he's gotten better," Satterfield said. "We've challenged him. He's a tremendous athlete and he's got unbelievable size and speed, and he can catch the ball. His thing is he's got to prove that he can do it from a physical standpoint on the line of scrimmage, and he keeps getting better every single day. He's got a commitment to the game that's going to allow him to be a really good player one day."
Satterfield likes the leadership Henle brings to the group, but the coach sometimes has to be reminded that he didn't arrive in the United States until high school.
"I'll use slang phrases that I take for granted, and he would look at me like, 'What does that mean?'" Satterfield said. "I think it's amazing how far he's come. Like Ben (Sims), he's just committed to football and learning the game and he wants to learn all the positions. He wants to learn what the quarterback is reading. It's awesome to watch him work and watch him grow and see where he was in the spring until now."
During the offseason, Henle mostly focused on improving his blocking to become the physical presence that's needed at tight end.
"I just think it's blocking, getting my feet in the ground," Henle said. "That's one big issue we had last year in our whole position group, especially me, was just having really good footwork, hat placement, my hands. We know that if we don't block, we're not going to catch the ball. So that was kind of our mentality is we have to block to get open."
Baylor has been able to attract highly rated tight ends because they know they'll be utilized. While they likely won't have starring roles, they have a chance to develop their skills in Rhule's pro-style formations and perhaps have a shot to play in the NFL down the road.
"There's no reason why we shouldn't be the best tight ends in the nation and in this league," Henle said. "For us, it's just to execute our assignments as well as we can and really find the niche in our offense because I really think our offense peaks whenever the tight ends are on the field and whenever we can block and catch. So it's extremely motivating for us but also hard."
BEAR FACTS – Baylor has added two more single-digit numbers for players who have shown outstanding leadership and work ethic: senior safety Chris Miller will wear No. 3 and senior wide receiver Denzel Mims will wear No. 5. They'll join safety Grayland Arnold (No. 6), linebacker Clay Johnston (4), running back JaMycal Hasty (6) and safety Henry Black (8).