It was the November when everything fell together for Paul Jobson's Baylor soccer program.
After missing the NCAA tournament four straight years, the Bears won the 2017 Big 12 tournament and then rolled to the Elite Eight for the first time in school history.
At the heart of that surge were junior midfielder Julie (James) Doyle, senior midfielder Aline De Lima and senior defender Precious Akanyirige. The impact they made signaled a turning point in the Baylor soccer program and provided the impetus for the Bears to win the 2018 Big 12 regular season title and advance to the Elite Eight for the second straight year.
That trio's contributions were reflected on Baylor's all-decade team as Doyle was named the top overall player, Akanyirige the top defender and De Lima the top offensive player. The voting panel was a joint effort by the Tribune-Herald and Baylor athletics.
"Julie was extremely athletic, tough as nails and willing to sacrifice herself for anybody," said Baylor coach Paul Jobson. "Precious was truly a great defender and a real leader back there. Aline was absolutely determined to be the best she could be. She is definitely one of most skillful players we've had at Baylor."
Though the Bears were competitive throughout the 2017 regular season, they were having difficulty pulling out close games. But that all changed when Doyle took a pass from De Lima and blasted the ball through the goal to give Baylor a 2-1 overtime win against No. 14 Texas in the first round of the Big 12 tournament.
Next it was De Lima's turn to star as she punched in two goals in a 3-0 win over No. 16 Oklahoma State in the semifinals. Baylor went on to win the championship with a 2-1 overtime win over TCU.
"Before the Big 12 tournament began, Paul (Jobson) sat us all down and reminded us of our goals," Doyle said. "He was honest with us: We had to win the Big 12 tournament to make the NCAA tournament. So we just went to work every day. We wanted to keep playing for each other, so we beat Texas and then kept taking it one game at a time. It meant getting the chance to play together another week."
Making the NCAA tournament for the first time since 2012, Baylor rolled past Rice, USC and Notre Dame before finally losing to Duke in the Elite Eight.
Doyle was a first-team all-Big 12 choice in 2017 as she collected three goals and four assists. But she became a bigger scoring threat as a senior in 2018 as she punched in nine goals and collected three assists to make first-team All-American.
"A lot of the culture we built the previous season carried over to 2018," Doyle said. "We rode that wave. I don't think I had a huge mental shift that I had to score now as a senior. I just wanted to win. I wanted to make our team win, no matter who scored."
Memorable isn't a strong enough adjective to describe the 2010s in Baylor athletics.
Blessed with size and strength, one of Doyle's best attributes was winning one-on-one battles with opponents. She had the versatility to score and defend while also inspiring her teammates with her aggressive style of play.
"She could attack the goal, run back defensively and was great in the air in the middle of the field," Jobson said. "The midfielders can often dictate what we need from the other players. Everybody heard her voice and she would sacrifice her body to make big plays. Everyone rallied around her. We've never had a more consistent player and that made it easier to build a team around her."
Doyle played one season of professional soccer after she was picked in the second round of the National Women's Soccer League draft by the Sky Blue club in Piscataway, N.J.
She lives with her husband, United States Naval Academy graduate Connor Doyle, in Norfolk, Va. A second-team Academic All-American who graduated from Baylor with a business degree, Doyle is employed by Full Armour Ministries which teaches young athletes how to be warriors for Christ.
But she'll never forget the remarkable bond those 2017-18 Baylor squads formed to raise the soccer program to an unforeseen level.
"We weren't always the better team on paper," Doyle said. "There were teams that it looked like we wouldn't match up against. But our culture and the closeness we had the last two years separated us. We served each other on and off the field. When those moments came, we had girls who were willing to run through a brick wall for each other."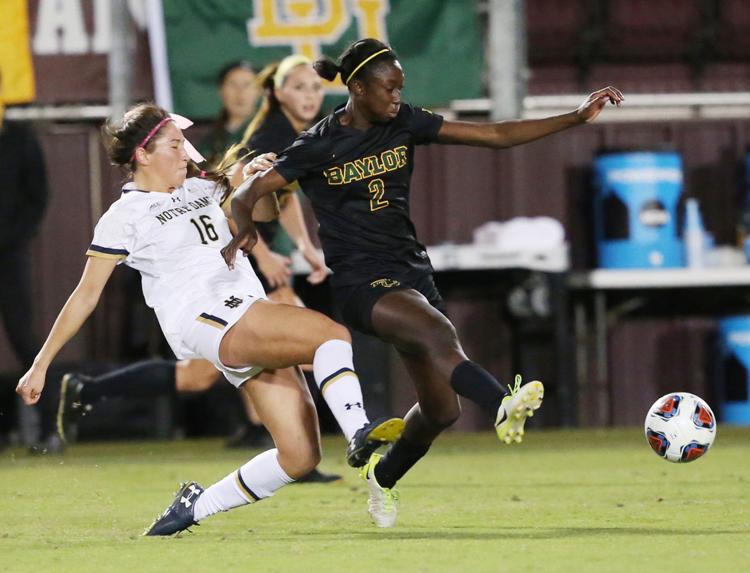 Like Doyle, Akanyirige was an outstanding student who was named Big 12 scholar-athlete of the year and is now a third-year student at Northwestern University's Feinberg School of Medicine in Chicago.
During her four seasons at Baylor, she played at different positions all over the field. But ultimately, she ended her career as a defender because of her ability to shut down the opponents' best scorer.
"She truly was a great defender and a great leader back there," Jobson said. "Nobody got by her as our last point of defense. She was super fast and could jump through the roof. Since she was so athletic, we had used her at midfielder and as an offensive weapon, but she thrived as a defensive player."
After playing on three Baylor teams that didn't reach the NCAA tournament, Akanyirige felt grateful to finish her career on a team that won the Big 12 tournament and reached the Elite Eight.
"I could see the progression the program made in my four years," Akanyirige said. "We finished in a completely different place than where we started. After so much uncertainty, we had never gotten the result we wanted before, so it was incredible to win the Big 12 tournament."
Jobson's teams have always had a strong defensive focus, and Akanyirige loved the feeling of shutting down an opponent.
"I had been a defender most of my soccer career, and that was really the place I felt more comfortable," Akanyirige said. "What I like about defense was that I had to practice analyzing things and apply the things I had worked on while cultivating strength. I loved the feeling of saving something from breaking down."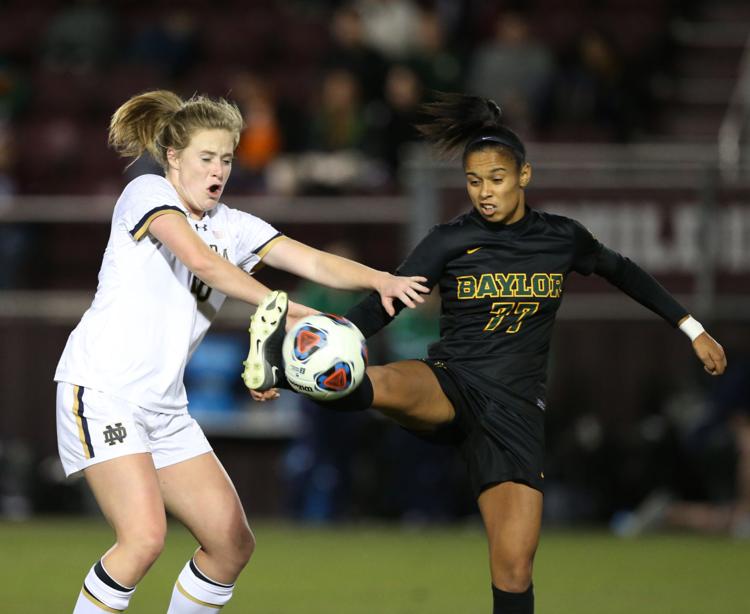 A native of Brazil, De Lima played two seasons at Baylor after transferring from Monroe College. Following an injury-plagued junior season, De Lima emerged as a second-team All-American as a senior in 2017 as she amassed a team-high seven goals and eight assists.
"Aline was absolutely determined to be the best she could be," Jobson said. "She is definitely one of most skillful players we've had at Baylor. She was so good on the ball and could create things on offense and attack, and she could read the game."
De Lima's skills caught the attention of her teammates the first time she stepped on the practice field.
"No one knew who she was after she had transferred in," Akanyirige said. "Then she tried to bicycle kick in the first couple of minutes, and everyone looked around like 'Who is that girl?' She came in with a very soccer focused mind. It was what she loved. She grew a heart for leadership."
James, Akinyirige and De Lima highlighted Baylor's 13-player all-decade squad. Here is the rest of the squad:
Defenders
Sarah King (2015-18): There was never a more dependable player for the Bears as King holds the school record with 89 games played. She quickly showed her ability by earning all-Big 12 freshman team honors in 2015 and ended her career in 2018 by making first-team all-Big 12 on both the regular season and tournament teams.
Carlie Davis (2009-12): A second-team all-Big 12 pick as a senior, Carlie helped the Bears reach the NCAA tournament in each of her last two seasons, including a Sweet 16 berth in 2012.
Lindsay Burns (2013-16): An anchor for Baylor's defense, Burns recorded the fourth-most minutes played in school history with 6,470 over 79 games.
Midfielders
Bri Campos (2012-15): Contributing from the moment she stepped on the field, Campos made the all-Big 12 freshman team before earning first-team all-league honors as a sophomore in 2013 and second-team honors as a junior. During her career, she collected 19 goals and 13 assists and punched in seven game-winning kicks.
Kat Ludlow (2010-13): One of the most consistent players in Baylor soccer history, Ludlow ranked fourth all-time with 87 career games. She made second-team all-Big 12 and was named to the conference's all-tournament team in 2012.
Forwards
Dana Larsen (2009-12): Larsen was one of Baylor's major offensive threats as she amassed 10 goals as a junior in 2011 and 11 goals as a senior in 2012. In her final season, she made third-team All-American and was the Big 12 tournament offensive MVP for the champion Bears. She also excelled in the classroom as she was named Academic All-American of the Year.
Raegan Padgett (2016-19): Padgett began her career by making the all-Big 12 freshman team and ended it by making second-team all-Big 12 as a senior. She played the second-most games in school history with 88 and finished with 18 goals and 12 assists.
Lisa Sliwinski (2009-12): Sliwinski became a bigger offensive threat every season as she scored four goals as a freshman, seven as a sophomore, eight as a junior and 10 as a senior. She made the all-Big 12 tournament team in 2012 and was a second-team all-region choice that year.
Hanna Gilmore (2009-12): Gilmore was a prolific scorer throughout her Baylor career as she scored 22 goals, including seven in both 2010 and 2012.
Goalkeeper
Courtney Seelhorst (2008-11): Playing in 58 career games, Seelhorst ranked among Baylor's career leaders with 159 saves and 17 shutouts.