Julian Lenz could have eased into his first spring playing college tennis at Baylor if he'd wanted to take that route.
A former junior national champion in Germany, Lenz battled through ankle and knee injuries during the fall of his freshman year in Waco as he also attempted to learn a new culture and speak English almost exclusively.
But when former Baylor coach Matt Knoll broached the subject of where the freshman thought he fit in the lineup for his first dual match, Lenz never flinched.
"He asked me, 'Hey, Lenz, what position do you want to play this weekend?' I just answered straight away, no thinking, I said, '1,'" Lenz recalled. "He said, 'OK.' So he put me right at 1 and I started to grow into a leading position."
Lenz thrived in the spot and carved out one of the top runs of any Baylor tennis player in program history. A three-time All-American in singles and a standout on the doubles court as well, Lenz posted a career record of 114-33 in singles play, 93-26 in doubles and led the Bears to the NCAA Tournament semifinals in 2015.
For that he has been chosen as the Baylor Men's Tennis Player of the Decade.
Not only that, Lenz teamed with Diego Galeano to form the season-ending top-ranked doubles pair in the nation in 2015 and they are the Bears' Doubles Team of the Decade.
Memorable isn't a strong enough adjective to describe the 2010s in Baylor athletics.
Lenz admitted that the psychological transition from his home in Germany to Central Texas was difficult and took more than a year for him to really feel comfortable. But that part of the process was key to the way Baylor's team developed for a fantastic campaign in 2015.
"We had a bunch of seniors that year. We were a very international team. Lots of Latinos and Europeans," Lenz said. "We loved spending time with each other. That's kind of strange to hear because if you spend this much time together, you don't want to spend extra time with those people. We actually did want to spend extra time together. We went to Cameron Park, we played Frisbee golf, we had barbecues. We really grew as a team and that actually translated over to the court."
In particular, Lenz and Galeano formed a bond that helped them scored valuable points as the Bears marched through the NCAA Tournament in 2015.
But it was a connection they had to carefully nurture. Lenz said he learned how to motivate or soothe the fiery Galeano, depending on what each situation dictated, and Galeano returned the favor.
"We started off horrible," Lenz recalled. "We lost to the second team of Tulsa. I'm like, 'How is this happening?' I sat down with Galeano and we came up with a very, very clear game plan of the next matches. I think we did not lose a single match until the semifinals of the NCAA Tournament in the doubles tournament at the end."
Along with Lenz and Galeano finishing atop the rankings in doubles in 2015, Lenz matched his highest season-ending singles ranking at No. 4 that season. He also finished at No. 4 in 2014 and ended at No. 11 in 2016.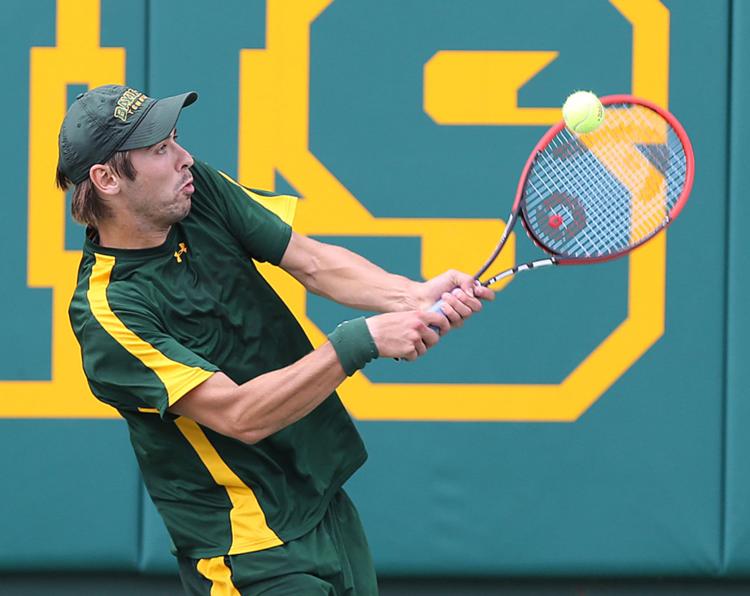 During Lenz's Baylor career, he regularly drew large crowds to watch his matches on the No. 1 court. He deflected some of the glory, saying that fans are naturally inclined to watch the No. 1 court because it's in the middle of the stadium.
But there's no denying his aggressive playing style caught spectators' attention.
"I like to watch players who have flashy shots," Lenz said. "When I watch pro tennis I want to watch (Roger) Federer because he's doing some ridiculous stuff with his forehand and with his serve. My game style is built more on those kinds of flashy shots. I like to be very aggressive. I'm a pretty high speed server, I would like to think. My forehand is pretty heavy also. I'm hitting a lot of winners, trying to get free points here and there. I'm not so much of a grinder. Sometimes I have some cool shots that are fun to watch. I think that's why people would come over to watch me play."
Within the team during the 2015 run, Lenz said the Bears were competing as much with each other as with the opponents.
Foes outside of the top 5 in the team rankings struggled to score dual match points against Baylor, which had five players finish in the top 102 in the singles rankings that season.
So the Bears knew they had to win singles matches quickly if they wanted them to count.
"I was always kind of stressed that I (wouldn't be able to) finish my match," Lenz said. "I was always scared that I won't get that W. Everyone had that feeling. 'If I don't perform really well and be quick with my win, then I'm not going to get that W.' There was a lot of competition going on between the guys. We always made fun of people that didn't get to finish their matches."
The 2015 Bears' season culminated with the NCAA Championships on their home courts at the Hurd Tennis Center. That was a particularly fond memory for Lenz, because his family was able to travel to the United States and watch him play in the event in Waco.
Ironically, the Virginia team that defeated Baylor in the semifinals that season was coached by current Bears director of tennis Brian Boland. The Cavaliers went on to claim the national championship that year.
Although the Bears fell short of adding another national title trophy during Lenz's career, he values the time invested and relationships formed in Waco.
"I sometimes ask the question myself. Why Waco, Texas, right?" Lenz said. "Coach Knoll goes back a long way with European and German players. We were always saying there was a pipeline going straight from Germany to Waco, Texas. … There wasn't really any debate on where I was going to go if I (went) to college."
---
Baylor Men's Tennis All-Decade Team
Player of the Decade: Julian Lenz
Doubles Team/Pair of the Decade: Julian Lenz/Diego Galeano
Julian Lenz (2012-16) – Bears Player of the Decade earned All-American honors three times in singles play, teamed with Diego Galeano to finish the 2015 season ranked No. 1 in the nation in doubles. Played a leading role as Baylor advanced to the NCAA Tournament semifinals in 2015.
Johannes Schretter (2015-19) – Earned All-American honors in singles in 2019. Posted outstanding career records of 51-30 in singles and 52-28 in doubles. Led the way as the Bears reached the NCAA quarterfinals last spring.
Denes Lukacs (2006-10) – A three-time All-American in singles (2008, 2009, 2010), Lukacs began the decade with a stellar season as he finished the campaign ranked No. 15 in singles and teamed with Roberto Maytin to be ranked No. 22 in doubles.
Patrick Pradella (2012-14) – Had two outstanding seasons at Baylor, finishing in the top 30 in the nation in singles in both years. Earned All-American honors in 2014 when he posted a 21-10 record in singles, finished ranked No. 18 in singles, No. 28 in doubles with Mate Zsiga.
John Peers (2010-11) – Played just one season at Baylor, but made the most of it as he finished 2011 ranked No. 21 in singles and No. 5 in doubles with partner Roberto Maytin. Went on to win Australian Open doubles title with partner Henri Kontinen.
Mate Zsiga (2011-15) – Played a key role on 2015 team that advanced to NCAA semifinals. Zsiga posted a career record of 106-37 in singles and earned All-American distinction as a freshman in 2012.
Dominik Mueller (2006-10) – Won six Big 12 titles including 2007 and 2010 Big 12 singles positions championships. Finished at No. 3 in all-time singles wins in program history with 120.
Max Tchoutakian (2014-17) – Made immediate impact as he was the Big 12 Newcomer of the Year in 2015 and helped Baylor reach NCAA semifinals that season. Earned All-Big 12 in singles in 2015, 2016 and 2017.
Roberto Maytin (2009-13) – Outstanding doubles player is No. 5 in program history in doubles wins (96), which also led the decade. Finished 2010 season ranked No. 22 with Denes Lukacs and 2011 campaign ranked No. 5 with John Peers.
Diego Galeano (2012-15) – One half of the Bears' Doubles Team of the Decade, Galeano teamed with Julian Lenz to form the season-ending top-ranked doubles team in the nation in 2015. They earned All-American honors and helped Baylor reach the national semifinals.
Will Little (2015-19) – Finished on a high note as he went 23-6 in singles and 14-8 in doubles as a senior when he helped Bears reach the NCAA quarterfinals. Finished 2019 season ranked No. 17 in singles.
Jimmy Bendeck (2015-19) – Earned All-American honors in doubles in 2019 after posting a career best 29-8 record that season. Finished ranked No. 2 in the nation in doubles with partner Sven Lah.