The NCAA has proposed a plan to allow college athletes opportunities to earn money for endorsements and other activities involving personal appearances.
But college coaches don't want the new legislation to give some schools greater advantages in attracting recruits or open the door for boosters or agents to have a major influence.
There are many key details that must be worked out before NCAA membership votes on legislation in January 2021.
Baylor is like most schools in that coaches are working with compliance officials in seeking details on the parameters that this new NCAA proposal will entail.
"I think anything that benefits the student-athlete generally would be the thought," said Baylor football coach Dave Aranda. "But there's still a lot that has to be worked out. I know that I've got questions. A lot of it is kind of conceptual right now. So now it's the ability to move to the next phase with real pointed questions in terms that there are some tentacles that go different varying ways."
Under the proposal, athletes will be able to earn money on their names, images and likenesses. Ohio State athletic director Gene Smith, who led the group that produced the recommendations approved by the NCAA Board of Governors, said there will be no cap on what athletes can earn but he does believe the NCAA should determine fair market values for various opportunities to earn compensation.
There's not much question that high-profile athletes like Heisman Trophy winning quarterback Robert Griffin III or NCAA women's basketball player of the year Brittney Griner could have made considerable revenue off their images while still at Baylor.
But Baylor athletic director Mack Rhoades said guardrails need to be in place to ensure competitive equity among the schools.
"I think that's everybody's question: What are the guardrails?" Rhoades said. "How do we protect the collegiate model and how do we protect competitive equity, particularly when it comes to recruiting. When I think about competitive equity, all of a sudden the student-athlete receives compensation for a personal appearance. Does the school have a donor who says 'I'm going to pay this amount.' How do you regulate that? There is still so much detail to work out."
The money athletes can earn under the new proposal won't come from the NCAA, the universities or conferences. The athlete will not be allowed to use their school logo or brand in their personal deals such as autograph signings and endorsements.
The plan is to allow athletes to make deals with third parties, but require them to disclose those agreements with their schools. The NCAA and the universities want to regulate for potential improprieties so payments aren't recruiting inducements or pay-for-play schemes.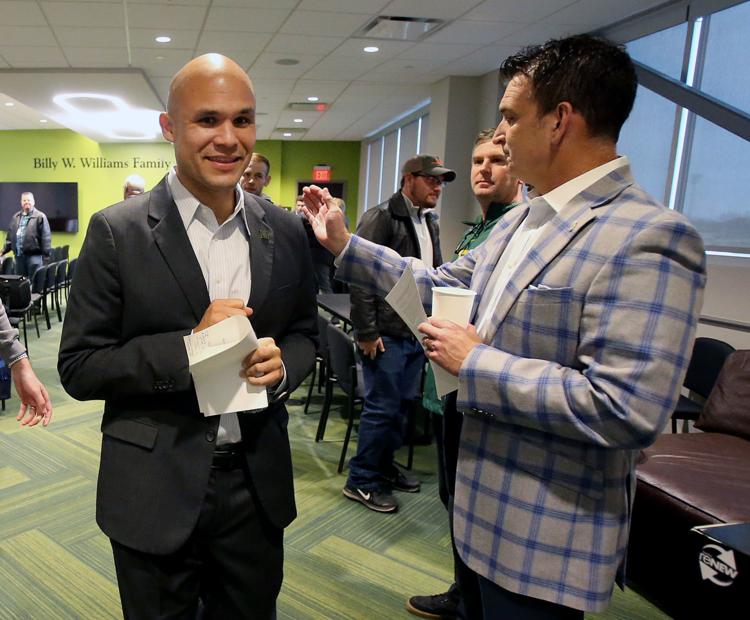 Todd Berry, the executive director of the American Football Coaches Association, said coaches are concerned that boosters for schools will get too involved, and athletes would be attracted to the schools willing to pay the most money for their personal services.
"We're not against modernizing," Berry said. "But if you go down this road, you have to recognize there would be significant involvement from boosters. Putting boosters on top of it makes it difficult, so I'm worried about the guardrails. How do you create guardrails for outside entities?"
Berry doesn't want NCAA teams to go down a treacherous road that turned football and basketball recruiting into the wild west in the 1970s and '80s.
Cheating was rampant during that era as top athletes often went to the schools that paid the most money for their services. Though the new legislation would make it legal for athletes to profit off endorsements, high-paying boosters at schools could still have a major impact.
"The rich are always going to be richer," Berry said. "There's no question that it wouldn't come down to the university's commitment. It would come down to the boosters' commitment. Sometimes it's good to have outside influences, but the reality is they do it mostly to make money off of it. It could lead to some really bad advice."
Since some players would be earning more money than their teammates from outside interests, Berry is concerned that it could lead to dissension and fractures within teams.
"Some players potentially have more value than others, but everyone basically is going to want it," Berry said. "There was division on teams (in the 1980s) because this person was getting more than another person."
With the NCAA making great strides over the last two decades to improve student-athlete graduation rates, Berry wants education to continue to be emphasized and athletes to value their scholarships over potential endorsement opportunities.
"How much am I getting outside the scholarship can start to mean everything," Berry said. "Based on past history, students can go by the wayside in a hurry. What if you have an autograph signing and that means more than being a student? History already shows what can happen. Kids could say I don't want to go to practice or class, and it would be hard to enforce it."
Berry doesn't want to see coaches who entered the profession to teach and develop student-athletes to be repulsed by an atmosphere where players' priorities are making money off outside endorsements instead of working toward the best interests of the team.
"A lot of coaches got into this because they were influenced by their coaches," Berry said. "I think you could have some very prominent coaches who wouldn't want to be in college football anymore. Ninety-five percent of college coaches don't make a million dollars. They're in it because of the impact coaches had on them."
Despite the potential problems, some schools are already making the next step to prepare for the new era.
West Virginia football coach Neal Brown announced that the Mountaineers' program has formed a partnership with brand marketing consultant and author Jeremy Darlow to educate players and develop their skills in growing their personal brands that will take them beyond sports.
"Our football players will be learning how to build their own brand from a person who wrote the book on the subject and is an individual who has worked with some of the biggest names in sports and entertainment," Brown said. "We're excited to provide that level of expertise to our players."
Rhoades said federal legislation will likely need to preempt NCAA legislation to provide more uniformity. California started the movement last September when Governor Gavin Newsom signed into law the Fair Pay to Play Act that allows college athletes in California the ability to profit off of their name and likeness.
Numerous other states are considering similar legislation.
"I would think the federal legislation will be the framework and the NCAA would be the detail within the framework," Rhoades said. "I think there is going to have to be some uniformity where there will not be competitive inequity."