When a tumbler rushes across the mat, flips and flies through the air, then ultimately sticks the landing, it's a sweet feeling.
When Kiara Nowlin nailed the landing on the final tumbling pass she ever made at Baylor, it was more than that. It was the culmination of years of work. It was sublime.
"I landed it the way I wanted, and in that moment I was just so proud," Nowlin said. "I was honored to be on Baylor's team, I was proud of how far I came, and my whole athletic career kind of came to that moment. The best way I can describe it was that it was the perfect moment.
"There's a picture of it — I kind of clapped my hands together. I think it became this moment for me and my family and the coaches that had coached me my entire life. My career was over, and it was this perfect moment. Then when I turned around, my team was waiting for me."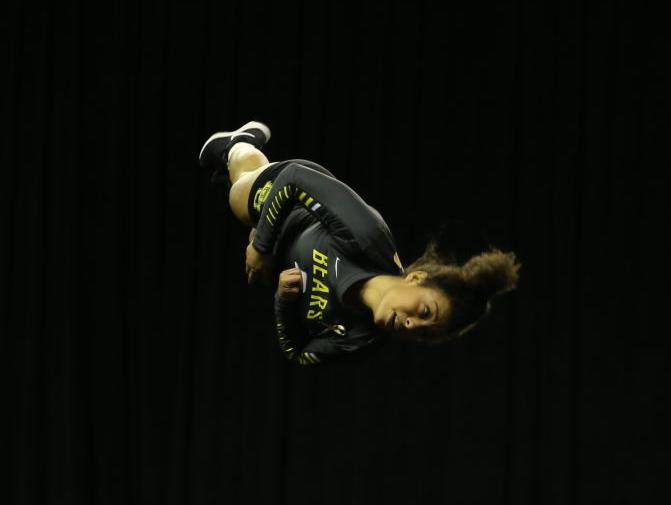 Nowlin demonstrated unparalleled excellence during her sterling four-year run for Baylor's acrobatics and tumbling team from 2014-17. She was a celebrity in the gymnastics world before she ever stepped foot on Baylor's campus, yet never carried herself as bigger than the team. It's that blend of greatness and grace that made Nowlin the natural choice as the Athlete of the Decade on the Baylor Acrobatics and Tumbling All-Decade Team for 2010-19.
Meanwhile, similar qualities can be found in the person of Ceara "CeCe" Gray, the Specialist of the Decade.
"That is what connects both of them in my mind," Baylor A&T coach Felecia Mulkey said. "They were so ridiculously talented, but they made everyone else around them better. They were very selfless with their knowledge and their leadership, and just wanted everyone around them to excel as well. That goes for both Kiara and CeCe."
Nowlin will tumble for ya — she's been bouncing off the walls her whole life. Seeing her boundless energy, Kiara's parents enrolled her in gymnastics at the tender age of 18 months old.
"I did my first back handspring at 21/2. The coaches were like, that's not exactly normal," Nowlin said. "My parents were like, I'm sure they're just saying that, I'm sure it's normal. And then as I started getting skills quickly, more quickly than the other kids in my gymnastics classes, they started thinking that maybe I had some talent."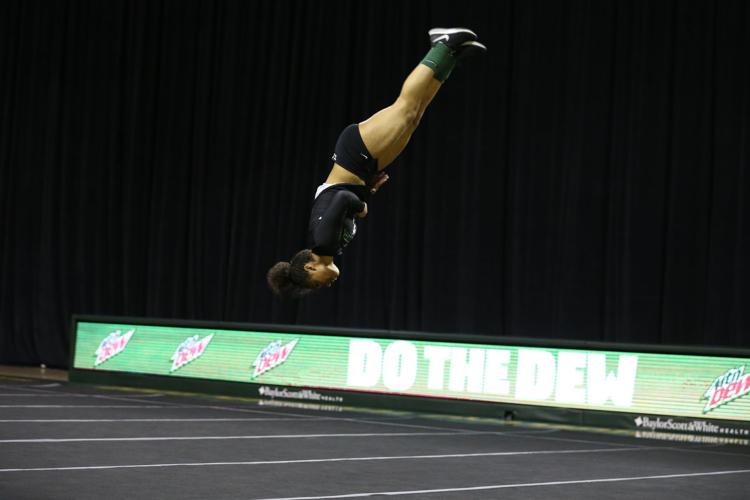 Not just talent, but championship-level talent. Nowlin won her first world championship at age 11 in power tumbling. A year later, she appeared on the Ellen Degeneres Show, displaying her incredible ability for a national audience. She continued to stockpile trophies and medals in the ensuing years in gymnastics and cheerleading.
Nowlin hadn't heard of acrobatics and tumbling until a couple of months before Baylor approached her to see if she'd be interested in competing on the college level. The more she learned, the more it sounded like the ideal setup.
"It just combined all of the aspects of power tumbling that I loved," Nowlin said. "It focused on the execution of the skills and the technique of the skills. It was judged very similarly to power tumbling, so it just made sense to me. It just seemed like the perfect channel for me to continue to compete."
Nowlin enrolled at Baylor in the fall of 2013, preceding Mulkey's arrival as head coach by a year. She turned in a strong debut, including winning an individual national title in the six-element tumbling pass with a perfect 10.0 score. But the best was yet to come.
Memorable isn't a strong enough adjective to describe the 2010s in Baylor athletics.
Mulkey – Coach Fee to her players — came in from Oregon before the next season, bringing with her an infectious enthusiasm for the burgeoning sport and an unrelenting diligence. It was a match made in heaven for Nowlin, who exhibited the same qualities.
"She was fantastic," Mulkey said. "I think what happened is that when we came in we implemented a strength and conditioning program that would really play well into our sport. They were doing that prior to – we tweaked it up a little bit when our staff got here. But I think that played a role.
"She already had the skills, but just how much easier and better she could implement those skills. … She just has a fantastic work ethic, too. That's the other thing. Give her an opportunity to work and she was going to work."
As a sophomore, Nowlin became the driving force behind the top A&T program in the country. She had no rivals as a tumbler. It's one thing to be able to perform some of the flips and twists that Nowlin could – it's quite another to go out and do them flawlessly, time after time.
"You have people that can do the same passes that Kiara could do, but very few could do them with the same level of execution, and that's what set her apart," Mulkey said.
Baylor won its first NCATA national championship in Nowlin's sophomore season of 2015. That remains a priceless memory for her, as it reflected a 180-degree pivot for the program.
"I don't know, as cliché as it sounds, if it was about the trophy," Nowlin said. "It was about how we overcame adversity and really changed our season around completely. The year before we were not the team we were that next year, winning that national championship title. I don't think it was about the talent. I think it was more about the mindset change under Coach Fee's leadership that really took us to winning that national championship."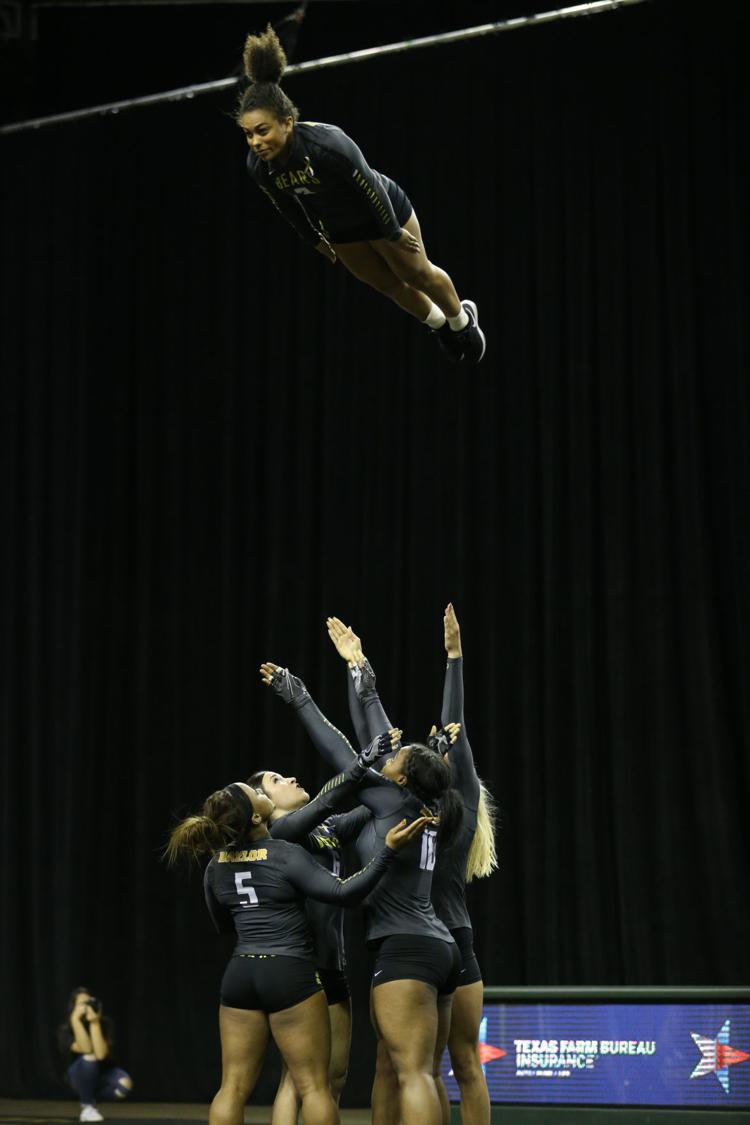 With that mindset in place, Baylor built a pyramid to stand the sands of time. They won two more team national titles to close out Nowlin's tenure. She was a three-time All-American and twice was selected as the NCATA's Athlete of the Year. Yet even as skilled as Nowlin was, perhaps her greatest contribution came in the fun spirit she brought to the team. Mulkey described her as "still the silliest person I know."
"Kiara is a one in a million type of person," Ceara Gray said. "She's not only an outstanding athlete, but she is just a great human being. She just radiates positivity throughout the team, she's always making people laugh. She's always dancing, always doing something crazy. Just knowing how good she is, her humility in it all is admirable."
After Baylor, Nowlin followed a dream by heading to Hollywood. She worked for a year as a stuntwoman, appearing on shows like "NCIS: Los Angeles." That was fun, but she also thought it would be a good idea to put her degree to work. She's currently working as a communications specialist for the City of Temple while simultaneously pursuing her Masters degree in business administration.
"A full-time employee, a full-time student, very busy, but I'm loving it so far. It's incredible," Nowlin said.
She makes it to one or two A&T matches a year, and is amazed at the way the sport and its athletes continue to evolve. Her own time at Baylor still provides her with some of the best memories of her life, punctuated by that exclamation point of a final solo pass in 2017.
Nowlin had made that pass – three whips to a one-and-a-half – her signature routine. To nail it one last time gave her such joy and peace.
"Everyone was crying. I was trying not to cry, because we still had team routine," Nowlin said. "Shayla Moore, she did the thing where she lifts me up, and she's sobbing. I'm tearing up just talking about it – 'But, girl, we have to do the team routine. We're trying to win this national championship, this is not over. You're going to make me cry right now.'
"But especially with Shayla Moore, because she was the class under me. For me, it kind of felt like I'm handing this over to you and your class. In that moment, it was all my hard work and dedication and the sacrifices my family made to get me to that point, the hard work my coaches put in to get me to that point, it really culminated into this perfect moment."
Specialist of the Decade: Ceara Gray
Believe it or not, the first acrobatics and tumbling match that Ceara Gray ever witnessed was the first one in which she competed.
"I think that if you don't try something, you'll never know if you can succeed in it. If you never try, you never know," Gray said.
Gray's step of faith led her great distances in the sport of A&T. She grew into a sturdy pillar, the best base in the country, able to hoist people over her head with a single hand. (No, really.) She became a two-time NCATA All-American and the 2018 Most Outstanding Player, and she's now Baylor's Specialist of the Decade.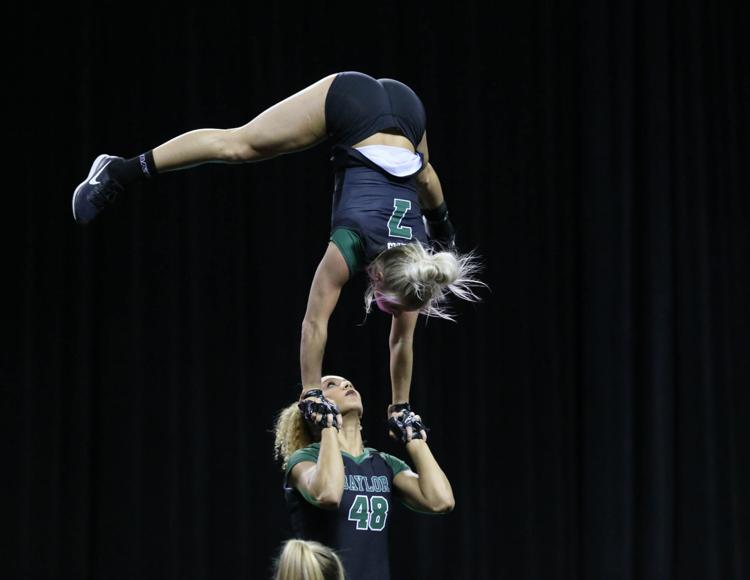 Gray grew up in Birmingham, Alabama, where she participated in gymnastics. When she started looking at colleges, she wanted something that would fit her competitive drive.
"For me, I knew that I didn't want to do school cheer, didn't want to wave pompoms around. So I wanted to do something a little more competitive," Gray said.
Her coach at the time had been a college roommate of Felecia Mulkey, who was in the process of transitioning from being Oregon's A&T head coach to Baylor's. Gray started researching the sport, and the skills she saw piqued her interest.
"I had no idea what the sport was, what it was about, how competitive it was. I just knew the pictures I saw, I was like, this is really cool," Gray said. "Girls lifting girls, like, why not? That was the whole thing that drew me in."
She signed with Baylor, but still had a long way to go. With a nod to Meghan Trainor, she was all about that treble rather than the "base" when she was a rookie in the sport.
"For me when I came in as a freshman, I was super skinny, I had no muscle to me whatsoever," Gray said. "Being a base, you have to be able to lift people."
Mulkey said that Baylor's strength and conditioning program transformed Gray into a powerhouse.
"We brought her in for her height and her potential in basing," Mulkey said. "It's fun to look back at early videos of her. She's always been really talented, but that strength and conditioning piece really played in to her success as well. … She was a skinny, little tall kid, but with so much potential. The strength piece was what really got her going."
As Gray built up her power in the weight room, she developed into a cornerstone of Baylor's national title-winning program. When watching an A&T match, it's natural to fix your eyes on the smaller acrobats tiptoeing at the top of the tower. But they can't do their thing without a sturdy foundation.
"From her freshman year, you recognized that she's a different kind of athlete. She's a different kind of strong," said Kiara Nowlin of Gray. "What I recognized in her early on was that she was an athlete in our sport that was helping it evolve skill-wise and really taking that acrobatics piece of the sport to the next level. At practice and in meets, she was doing skills, and I'm like, 'How is this even possible that a human can do this?' This should be impossible. … She was a perfectionist in the best way possible. She would always do her best. I felt as a top, you're up in the air, the words 'stable' never really enter the vocabulary, but I always felt so stable."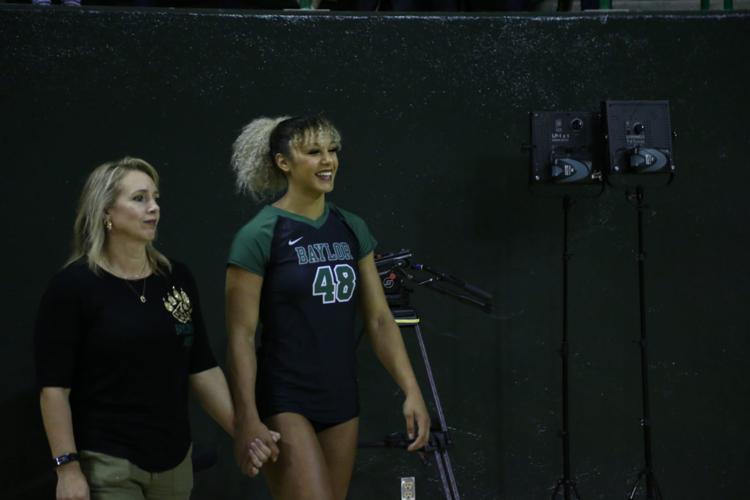 Mulkey said that Gray's strength set the standard for all of Baylor's bases to come.
"There still isn't anyone in the country in our sport that has the skill set that she had and could do the things she did," Mulkey said. "A lot of individuals will have the strength to hold the person up there. She had the strength to hold them up and the technique to keep them there and make them feel stable."
Bases don't typically get the glory. They're the offensive linemen of the A&T world. Nevertheless, Gray's contributions were so potent that as a junior in 2018, she was honored as the NCATA's Most Outstanding Player.
"I was honestly super surprised, because most of the time the Most Outstanding Player is someone who is all-around," Gray said. "And I didn't have the tumbling piece at the time. To receive that award was shocking and exciting all at the same time. It made me feel like I was a part of something bigger than myself."
Following a four-year run at Baylor that she dubbed "magical," Gray decided to start over again as a rookie in another sport. She competed in a Team USA Pro Day in the spring of 2019, and she impressed enough in that event to earn an invitation to participate in the television program "The Next Olympic Hopeful" in weightlifting.
Gray ended up winning on the show and is now training with Team USA in Suwanee, Georgia, with hopes of making the Olympic team.
"Weightlifting is a very humbling sport, in that it's really all about technique and growing throughout the year," Gray said. "That's basically what I'm doing right now. I'm willing to try anything. If I succeed at it, great, if I fail at it, great. Because at the end of the day, I can at least say I tried."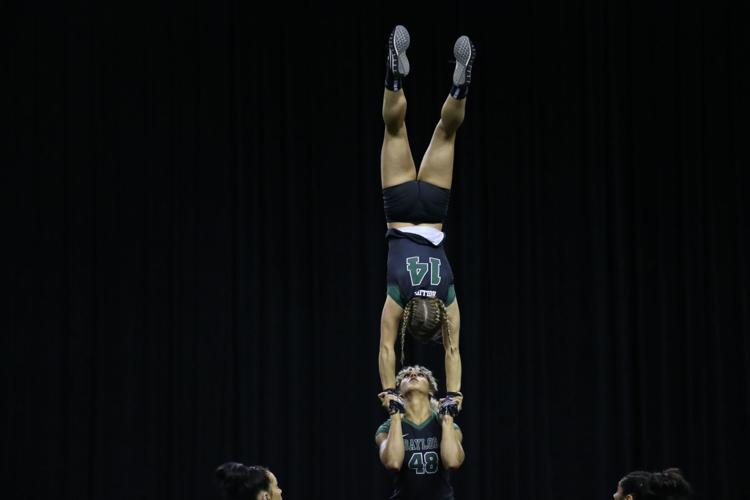 Here's a rundown of the rest of the All-Decade first team:
Kaylee Adams: China Spring product developed into two-time NCATA All-American and the Specialist of the Year in 2018. She was a four-time national champ in duo tumbling, and a buoyant presence on four straight national championship teams. As a senior she averaged a ridiculous 9.90 score on the six-element tumbling pass over nine meets.
Ashley Echelberger: Always a valuable team member, Echelberger climbed to greater heights as a senior in 2019. She was named the NCATA's Most Outstanding Athlete while helping the Bears to their fourth straight national title. A versatile athlete who competed in 12 different heats as a senior, she won individual national titles in six-element acro, 450 salto toss, synchronized toss and quad tumbling pass heats that year.
Shayla Moore: Moore burst onto the mat as a rookie in 2015, winning NCATA All-America and Freshman of the Year recognition. She repeated as an All-American the next season and over the course of her career won individual national titles in seven-element acro, pyramid, trio tumbling and quad tumbling.
Lauren Sturm: Twice an NCATA All-American, the tall, graceful Sturm won the national title in duo tumbling all four years of her career, once with Courtney Pate as her partner and three times with Kaylee Adams. She also won a national title in acro seven-element as a senior.
---
Baylor Acrobatics and Tumbling All-Decade Team (2010-19)
Athlete of the Decade: Kiara Nowlin
Specialist of the Decade: Ceara Gray
Top/Base Kaylee Adams 2016-19
Top Ashley Echelberger 2016-19
Back Base Ceara Gray 2016-19
Top/Base Shayla Moore 2015-18
Top/Base Kiara Nowlin 2014-17
Back Base Lauren Sturm 2015-18
Back Spot/Tumbler Hailey Cowan 2011-14
Base Kaelyn Cowan 2014-17
Top Bailey Hollier 2016-19
Base Courtney Pate 2013-16
Top/Base/Tumbler Lori Williamson 2011-14