Devonte Bandoo is 1,500 miles away from his home in Mississauga, Ontario, and he misses the snowy winters, skiing, and his beloved Toronto Raptors.
His mother, Dawnette McCreath, is a longtime season ticket holder for the Raptors. So when they won their first NBA championship last June, she and Devonte celebrated.
"I've never seen my mom so happy," Bandoo said. "She's a big Raptors fan. Just to see her be so excited was phenomenal."
For the last six years, Bandoo's opportunity to play basketball has taken him on a long and winding journey to high schools in Michigan and Georgia, a two-year stop in Kansas at Hutchinson Community College, and finally to Baylor.
Canada will always be home to Bandoo, but it doesn't get much better than playing for the No. 1 team in the nation.
"It's almost surreal," Bandoo said. "Playing for the No. 1 team is something everyone dreams about. It's a great feeling. Sometimes you just don't believe it."
Baylor's quartet of guards is a big reason for their 20-1 record and school-record 19-game winning streak. While Jared Butler, Davion Mitchell and MaCio Teague start, Bandoo gives the Bears instant production as the first player off the bench.
Microwaves never go out of style.
"Devonte is someone I'm sure is in everyone's consideration for sixth man of the year," said Baylor coach Scott Drew. "A lot times, teams when they go to the bench the energy goes down. But with us we're blessed that it hasn't. Devonte is somebody when he comes in we expect him to do what he does. It doesn't matter who starts, it matters who finishes."
For some players as talented as Bandoo, coming off the bench would be an ego crusher. He would start for most Top 25 teams across the country. But he relishes his role and understands the impact he can have on the game with his long-range shooting ability, passing skills and his knack for battling bigger players for rebounds.
"Definitely I feel when I get going it opens up the game a lot," Bandoo said. "When Jared, Davion and MaCio get going, you have someone off the bench and gets going it's very tough to guard. I try my best to get on the court and get going as quick as possible."
Bandoo is one of the best 3-point shooters in the Big 12 with a 42.9 percentage while averaging eight points in 24.8 minutes per game. He also has the quickness to get downcourt to finish off fast breaks.
"He kind of gives us that instant offense," said Baylor forward Freddie Gillespie. "When we need big shots, he is not afraid to shake them or to take them. He works in the gym a lot. I see him up here all the time. He is up there working on those same shots that he takes in games. So it is good to see his work coming out on the big stage."
Becoming a better all-around player was one of Bandoo's goals coming into this season after a junior year in which he averaged 8.4 points and shot 39.5 percent from 3-point range and 90.7 percent from the free throw line.
While instant offense is what he's known for, he's become a better defender and ranks fourth on the team with 4.3 rebounds per game. He has developed his complete game by improving his passing skills.
"I don't want to be a one-dimensional player," Bandoo said. "I spent all summer working on my craft because I wanted to become a better passer. Last year, I was a shooter. I wanted to elevate my game day by day. I worked all summer working on my playmaking because I wanted to get better."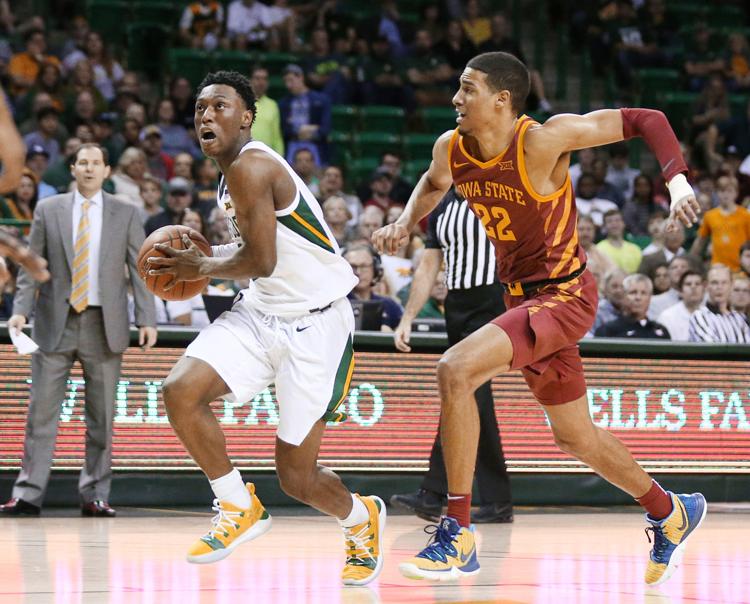 Growing up a Raptors fans who loved to watch Vince Carter and Tracy McGrady do their thing, Bandoo began playing basketball when he was 10. Coaches quickly began noticing his athletic ability as he developed his basketball skills by playing on travel ball teams.
"I played really well, so they said you should just try for the fall and winter basketball and that's when we traveled," Bandoo said. "We'd travel all over Canada, mostly in Ontario, and we'd have one or two tournaments in America in Michigan and Indiana, states that are pretty close to the border."
When he entered high school, he tried out for the football team without his mother's knowledge. But his football career ended abruptly after just one game when she found out.
"She wasn't too fond of football," Bandoo said. "As soon as she found out, she came to the coach and said I don't want my son in this uniform, he's not going to be on this team anymore. And that was it. She hates seeing contact. Whenever I fall to the ground, she wants to scream because she hates seeing stuff like that."
Hoping to take his basketball skills to a higher level, Bandoo traveled across the border to Michigan to Mount Clemens High School as a junior. He immediately knew that he needed to become more focused and disciplined.
"Getting used to America was different because sports are at a totally different level from Canada," Bandoo said. "You practice every single day. In Canada we practice three or four times a week. Weights and practicing every single day were new to me but I adapted."
After a year in Michigan, Bandoo was on the move again as he transferred to Faith Baptist Christian Academy in Ludowici, Ga. In Georgia, he met former NBA player Jerry Stackhouse and played on his AAU team.
"He was one of my mentors," Bandoo said. "I grew a great bond with him. He helped me through thick and thin. He'd train me and pick my brain. I experienced the pro aspect of basketball players. Being with him really elevated my game to another level to take basketball more serious."
Short on credit hours, Bandoo started his college career at Hutchinson Community College where he became the sixth man for the 2017-18 NJCAA championship team.
Playing 22 minutes per game, Bandoo averaged 13.2 points and 4.2 rebounds and was at his best in the national championship game when he erupted for 22 points in a win over Eastern Florida State College.
Like his experience at Baylor, Bandoo had the talent to start but didn't complain when Hutchinson coach Steve Eck brought him off the bench.
"He handled it like a man," Eck said. "Obviously he wanted to start but he played the same amount of minutes off the bench. He would have started anywhere else but we had sophomore guards. He could shoot and handle the ball pretty good, he was easy to coach and had skills."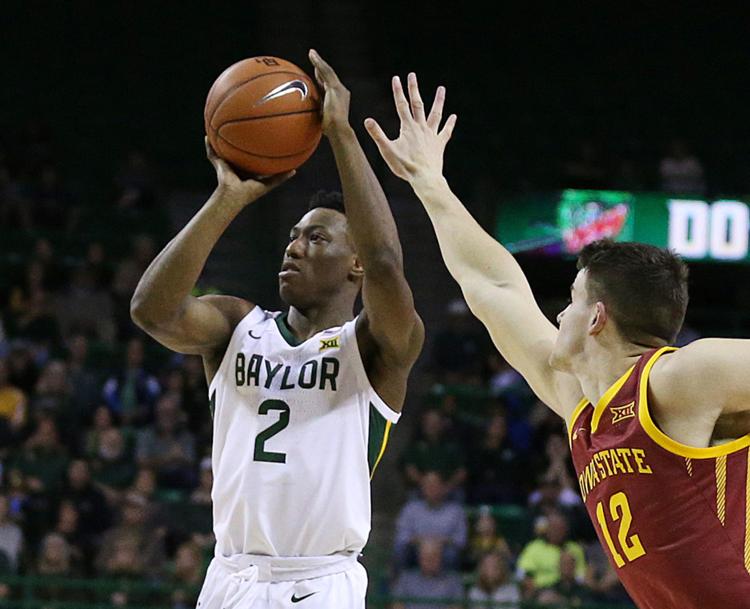 Moving into the starting lineup as a sophomore, Bandoo averaged 16.6 points and 5.8 rebounds while shooting 43.8 percent from 3-point range. Occasionally, the 6-3 Bandoo cut loose for a breakaway slam.
"He was known for his one-hand tomahawk," Eck said.
Bandoo's skill set attracted a lot of attention from major colleges in 2018. Stackhouse knew Bill Peterson, a special assistant to Drew, from when the veteran coach was an assistant during his playing days with the NBA's Milwaukee Bucks.
Bandoo said he decided to sign with Baylor after Stackhouse recommended him to Peterson. Stackhouse became Vanderbilt's head coach this season.
"He said Coach P is a coach who can really help you develop your game," Bandoo said. "That was my main priority. I was really focused on developing and being the best basketball player I can be. This is a guy I can trust and push you to your limit, and I'm happy I made the decision."
Drew already had a history of coaching Canadian players since Ontario native Brady Heslip played for the Bears from 2012-14 and Quebec native Kenny Chery played in 2014-15. Bandoo is one of the quieter Baylor players, but his actions speak loudly.
"He's more reserved, but when he opens up he's really funny," Drew said. "He's got a great heart. On the court, you want everyone to be vocal and great teammates. I think he's improved on being more vocal on the court since he's been here. You can be quiet off the court, but on the court it's really important to be talking and communicating and letting the team know what you're doing."
Not only does Drew admire Bandoo's ability, his teammates appreciate his selfless attitude. They know how important he is to the nation's No. 1 team.
"It saves my butt a lot, it saves our team's butts a lot," Butler said. "He is just a product of staying patient, a product of believing in himself, a product of hard work, and you know I am glad he is on our team. I just love seeing guys that put the work in and have success."
Bandoo hopes this season ends with Baylor's first national championship. He experienced that feeling in junior college at Hutchinson, but winning at the highest level of college basketball would be an even greater way to finish a journey that has taken him from Canada to places all over the United States.
Like his Baylor teammates, Bandoo wasn't a five-star player coming out of high school. They win because they work so well together and put their egos aside for the good of the team. Nobody has embodied that attitude better than Bandoo.
"We don't have that ESPN lottery player," Bandoo said. "But it's great to have similar stories and work really hard to get to where we're at. I feel like all of us play with a chip on our shoulder like we belong here. I think that's why we're such a great team."
BEAR FACTS – Baylor guard MaCio Teague caught a lot of negative and inappropriate comments on social media from bettors who picked the Bears to cover the 6.5-point spread in Monday's game against Kansas State. After Teague missed two free throws with six seconds remaining, the Bears won 73-67 and didn't cover the spread.
"It caught me by surprise from the standpoint the things today's youth have to deal with," said Baylor coach Scott Drew. "Back in the day, kids didn't have to worry about that obviously. Coaches always want to protect their players and you really feel for them. After you get a win, it should be a good moment and you're getting chastised and cursed out because you missed free throws."