At our heart, we're all fans.
Oh, our allegiances may differ. One person may whoop over the Aggies, the next might fling their green and gold for the Bears. But we all enjoy seeing great ballplayers and athletes achieve feats that mere mortals only dream about. We marvel at their strength, their talent, their grace.
For me, though, you know what's as good as the game itself?
A Dave Campbell game story.
Let's play two? Shoot, let's read it twice.
Since 2015, Baylor University — in conjunction with the Baylor Alumni Network — has hosted a monthly "Lunch with a Legend" series. It sells tickets, it feeds the guests, and it invites some former Baylor athlete, coach or related person of interest to come and share stories. John Morris, the "Voice of the Bears," serves as moderator, and the events have proven a popular draw. Former Baylor passing combination Don Trull and Lawrence Elkins made up the initial legendary tag team. Other past guests have included Grant Teaff, Cotton Davidson, Jason Jennings, Clyde Hart and Sanya Richards-Ross, and former Lady Bear radio team Rick May and Lori Scott-Fogleman.
When they told me they were honoring Dave and invited me to attend, I couldn't say yes fast enough. Um, my favorite legend in Waco? The sportswriting savant? Just tell me when to show up.
At 93, Dave Campbell still spins a phrase like Kyler Murray spins a spiral. He's the best — period. He commands universal respect, and brings considerable sway and expertise to any conversation, but especially when it comes to (A) football, and (B) writing about football.
Put it this way: If you're a basketball player, you want to soak up everything Michael Jordan has to say about playing basketball. College football coaches speak with unending reverence about Bill Snyder. For sportswriters, any afternoon spent with Dave is an irresistible opportunity.
And they're going to feed us barbecue, too? So, let me get this straight, first we gobble up all manner of smoked meats, and then we get to the heavenly manna served up by God's favorite sports scribe? Yes, please. (Hey, there's a reason his magazine is called the Bible, you know.) Sounds like the perfect day.
Even when you've heard some of the stories before, they're worth retelling. Jerry Hill, editor of the Baylor Bear Insider and a former Tribber, joined Morris on stage to coax stories out of Dave, who never needs much coaxing.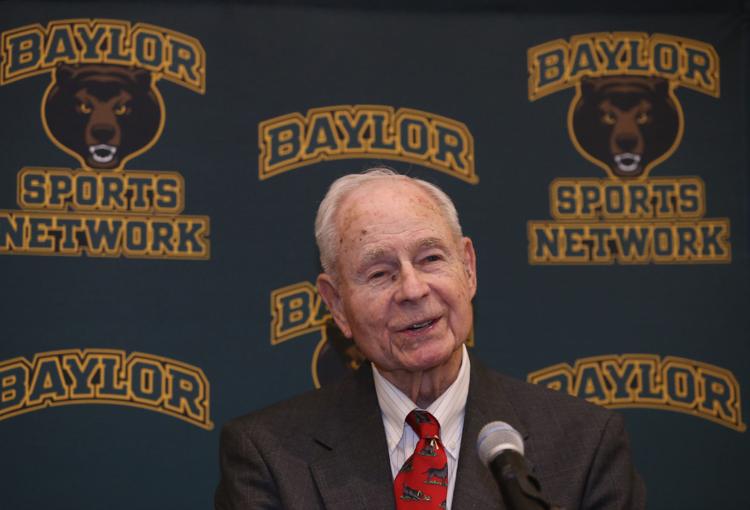 Did you know he considered becoming Dave Campbell, the chemist? When he first enrolled at Baylor, Dave chose chemistry as his major. But the amount of studying required and the time he had to spend in the lab quickly made him reconsider that path.
"I noticed all my friends were out playing tennis," Campbell said. "Then my time at Baylor was interrupted by World War II, and I went off to serve, and while I was there I resolved that when I came back I was going to major in journalism. It was a lot more fun — and no lab work."
After joining the Tribune-Herald and eventually getting a chance to go on the Southwest Conference press tour, Campbell never gave chemistry a second thought. Joining journalism giants like Denne Freeman, Mickey Herskowitz and Blackie Sherrod on a criss-crossing journey around the state to interview the SWC's football coaches seemed like the best way to earn a buck ever.
"That convinced me I'd made the right choice," Campbell said.
From bowling pins to end-zone pylons
It could have been Dave Campbell's Texas Bowling magazine? Did you know that?
In the early 1960s, Campbell had come to the conclusion that a magazine would be a sensible venture for him to earn some supplemental income. He toyed with the idea of a bowling magazine, but inspiration struck when he was thumbing through some of the national college football annuals and could find little to no information about Baylor and the other SWC schools.
In that moment, Dave Campbell's Texas Football magazine was born. (Let us pause and have a moment of silence. Either that or cue the Hallelujah chorus.)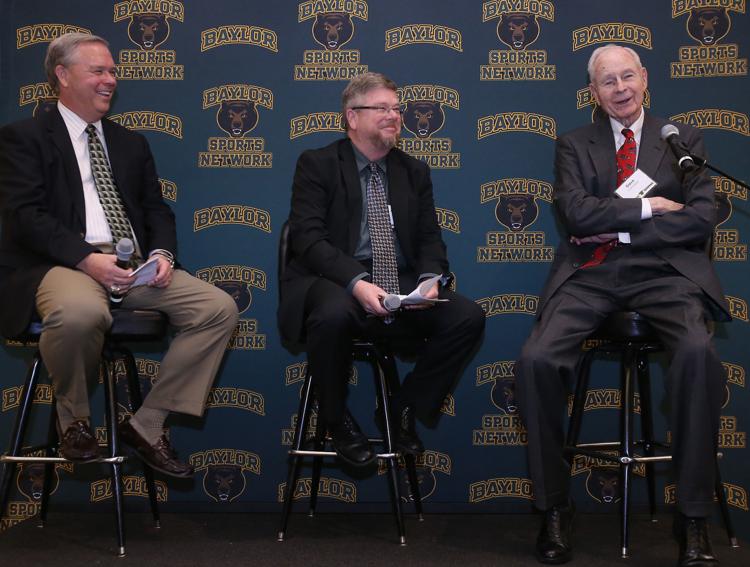 It wasn't exactly a gold mine right away. Though the inaugural publication was well-received, Campbell still lost $5,000 the first year. But after a couple of years, he was turning a profit. Now, DCTF is a successful staple of summer, not to mention the company's significant web and television presence.
With Morris and Hill leading the way, Campbell pontificated on how the magazine cover subjects were chosen and reminisced about some of the greatest players and games he'd ever witnessed in his sportswriting career of some 70 years (and counting).
Almost 45 years later, he still recalls the Richter scale-tipping magnitude that Baylor's 1974 "Miracle on the Brazos" win over Texas wreaked on the college football landscape. Though he did shoot down the myth that he spent the night in the press box after the Bears' breakthrough win, their first over Texas in 17 years.
"That was just speculation," Dave said, chuckling.
As Campbell approaches his mid-90s, his sportswriting prowess hasn't slowed. He still attends Baylor games and press conferences on a regular basis, still crafts beautiful prose coming out of those events. Best of all, he has a book coming out in early 2019 that will be published by Texas A&M University Press — God bless those Aggies — entitled, "Dave Campbell's Favorite Texas College Football Stories." It will include some of his favorite columns and stories from over the decades.
So, it's not in time for Christmas. No worries — just give it to yourself as a belated holiday gift. I know I'll hunt down a copy (or three).
For when it comes to Dave Campbell, I'm just a fan, man.