Someone always has a one-liner holstered and ready.
That's just the way it is when you get a bunch of sports columnists and other sports media folks together. You'd better come prepared. It's zing or be zinged.
That's not to say the members of the Texas Sports Hall of Fame's selection committee consider our task as some big joke. Quite the contrary. I'd contend that every single member takes his or her role seriously. But a little levity makes the process more fun.
Allow me to take you inside and show you how the sausage is made. (Fear not — I doubt you'll swear off sausage, or visiting the Hall of Fame.)
For the past eight or nine years (I can't remember exactly), I've served on the Hall of Fame's 22-member selection committee. In a lot of ways, I'm still one of the new kids on the block, as some on our committee have been members for decades. I consider it an honor to serve, and have great respect for so many titans of Texas sports journalism who also comprise the group. From Craig Way to Charean Williams, from Kirk Bohls to Kevin Sherrington, it's an illustrious group rife with knowledge and experience. (That's a nice way of saying we're all old.)
For many years, Waco's own Dave Campbell acted as committee chairman. But then he passed that baton to Denne Freeman, who worked as sports editor of the Associated Press in Texas for 31 years before retiring in 1999. Denne deserves hazard pay for putting up with the rest of us. (Nobody is paid, it's a volunteer gig.)
Though there are subcommittees that complete various assignments throughout the year, the entire selection committee gets together just once a year, in early June, to nominate people for the annual Hall of Fame ballot.
We had this year's meeting last week, and as always, passionate debate and sarcastic smack talk proved abundant. (And that was even with John McClain bowing out with an excused absence, as the longtime Houston Chronicle NFL writer had some Texans' interviews to attend.)
This year we were joined by four members of the Hall of Fame's board of trustees – Tom Hill, Bland Cromwell, Lee Fischer and Bob Woodard. There has been a certain amount of consternation in recent years about how best to give the board of trustees a say in the ballot process, but I think we've worked through that now. Everybody seemed happy to have those gentlemen in the room. Let's be real — it's not like the media has a monopoly on all the good ideas.
(In fact, Lee "stole" my primary ballot nominee when he put up Teresa Weatherspoon for nomination. And Bob later put up Chris Bosh, a guy I nominated two years ago. Great minds, I guess.)
Everyone in the room has their own agendas. Check that — that's not the right word. Let's say everyone has their own perspectives. We don't tend to be dismissive of one another's nominations (not rudely, anyway), but we all want our voices heard. We all have someone (or multiple someones) who we are championing for consideration.
Once we've gone around the room and stated our cases, we start the paring process. Each year, the primary ballot consists of 20 people, who are either still active as athletes, coaches or administrators, or they've wrapped up their careers within the past 20 years. The veterans ballot includes 12 people whose careers date back two decades or more.
From the jump, three spots on each ballot are already taken, as the top three vote-getters who fell short of induction from the previous year are held over. On the primary ballot this year, that trio was former Packers receiver Donald Driver, former Texas A&M football coach Jackie Sherrill, and former Baylor Lady Bears basketball standout Sophia Young. The veterans ballot hold-overs were former Oiler great Robert Brazile, former University of Texas and NFL lineman Jerry Sisemore, and the late Judge Roy Hofheinz, who helped bring to life the "Eighth Wonder of the World," the Houston Astrodome.
In order to whittle down our list, we debate the credentials of the various candidates. Sometimes, a committee member might fall on his or her sword and remove a name from the list, knowing that it often takes a few years to get a candidate elected. If we still have too many names (and we usually do), we cast a silent ballot to knock the list down to the right amount.
I can't speak for everyone, but here's what I'm looking for when I'm both nominating, and then later in the summer, voting, for inductees to the Texas Sports Hall of Fame.
They've got to have some Texan-ness
For me, that's big. Your Texan ties should run deep.
There are all manner of people in the Texas Sports Hall of Fame. Some were born and raised here, went to college here, and even played at least some of their pro ball here. That's the trifecta. Think Earl Campbell or Clyde Drexler. How Texan are those guys? They're George Strait drinking a Shiner Bock at a rodeo. They're asking Whataburger for an extra scoop of Blue Bell in your Dr Pepper shake. They're Texan, man.
The Hall of Fame also has numerous inductees who were born here or raised here and maybe played college here, but their pro careers played out elsewhere. Waco's LaDainian Tomlinson fits that mold. Then you've got people who didn't grow up in Texas at all, but made themselves a Lone Star fixture by excelling for one of the state's pro teams. Troy Aikman, Hakeem Olajuwon, George Gervin, Pudge Rodriguez.
For me, all those categories are fine. I wasn't born in Texas either, but that "I got here as fast as I could" bumper sticker wouldn't look out of place on my rear end.
What I don't want from my inductees are tenuous Texas ties. You shouldn't have to squint to look for them.
For instance, I didn't vote 2019 inductee Nancy Lieberman high on my ballot last year. That's not meant to disparage Lieberman, one of the most accomplished figures in the history of women's basketball. But she was born and raised in New York and made her name as a college basketball star at Old Dominion. While Lieberman did have a short pro stint with the Dallas Diamonds and a similarly short run as a coach with the Texas Legends, and now calls Dallas home, I prefer deeper roots. But that's just me.
Who is fine, as long as there's a why
It certainly helps if the person has name recognition. When I say "Dirk Nowitzki," you don't have to consult Google. That guy's a no-brainer Hall of Famer.
(Oh, by the way, if you happen to scan the Hall of Fame induction list and you don't see Dirk's name, it's not a misprint. Several big namers, like Dirk, Tim Duncan, Gregg Popovich, Justin Leonard and a few others, have been voted in, but have yet to be officially inducted because of schedule conflicts in attending the banquet. It's only a matter of time.)
Now, I feel like I know sports, especially Texas-based sports, pretty well. But every once in a while, I might think, "Who?" when a nominee is proffered.
And that's OK. You don't have to be on a first-name basis with every inductee in the Hall of Fame. But their credentials should be Hall of Fame-worthy.
Take someone like Sandra Haynie. If you don't follow golf closely, you might not have ever heard of Haynie. But this 1995 TSHOF inductee has an impeccable resume, including two wins at the Texas State Amateur and 42 victories on the LPGA Tour. She absolutely belongs in the Texas Sports Hall of Fame.
One of my favorite personal nominees in this realm is Zelmo Beaty. Now, with a name like Zelmo, he's a lock for the all-time All-Name Team. But this basketball big man and native Texan was overlooked for the TSHOF for roughly 40 years, despite scoring more than 15,000 points in his NBA and ABA career. Zelmo may not have been as well known as David Robinson or Shaquille O'Neal, but he was no less deserving of Hall of Fame status, and he was finally rewarded in 2015.
In the end, there is no imperfect ballot
It's all subjective. In both my nominations and votes, I make personal decisions over who to rank higher on my ballot (we number our choices from 1 to 20 on the primary, and 1 to 12 on the veterans), and it's not a highly scientific process.
I don't nominate a lot of football players. I like football as much as the next guy (which is to say, I love it), but our ballots and the induction classes themselves tend to be pretty football-heavy every year. Sure enough, when we got around to the veterans ballot this year, there was a run of about five or six football nominations in a row right before my turn came around. "Is it all right if I don't nominate a football player?" I asked, my snark showing for all to see.
It's always been said that it's difficult to compare different players across eras. Try comparing football players to rodeo cowboys to hockey players to swimmers. Try mixing athletes and coaches and administrators into one stew. It's not just difficult to judge one against another, it's downright impossible. On some level, it comes down to personal preference.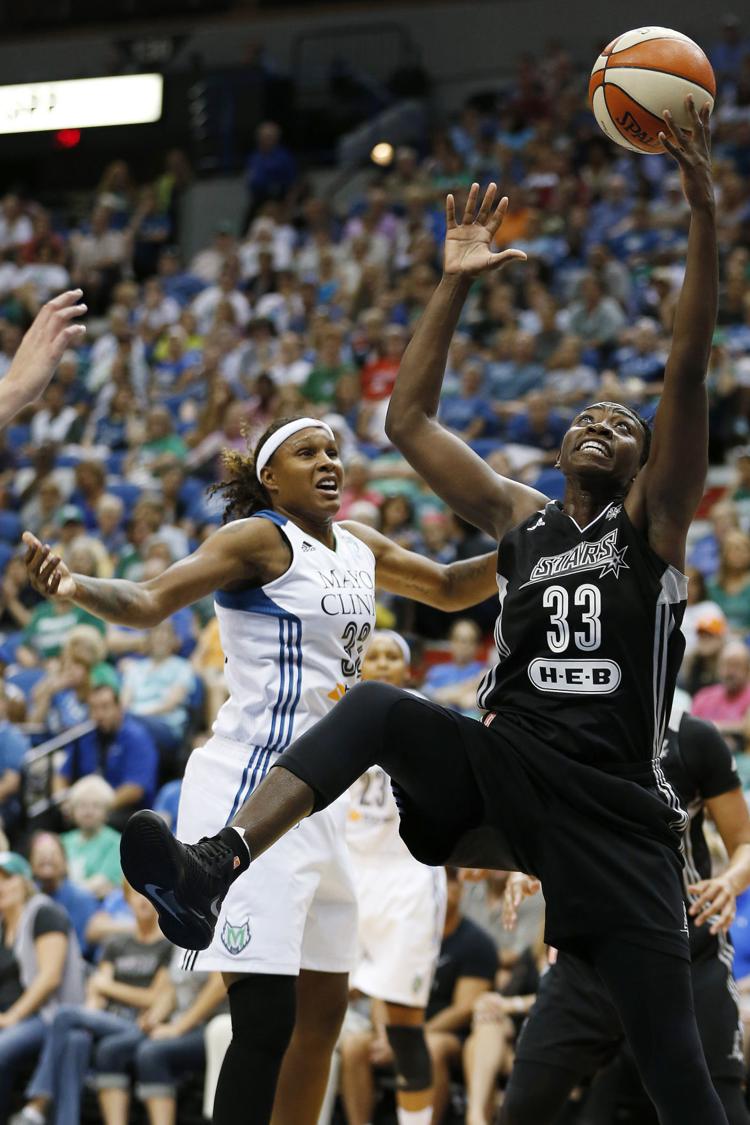 As a committee member, I also know I have to be patient. There are so many worthy candidates, and even when you're inducting a class of eight people each year, it takes time to print up a Hall pass for some of them.
One of my personal pet projects has been to get Sophia Young inducted. The Baylor great, who led the Lady Bears to the 2005 national title and was a three-time WNBA all-star in San Antonio, is on the ballot for the fifth straight year. I'm hoping that based on her solid vote totals from last year that she'll finally make the cut for 2020. If not, I'll nominate her again next summer, and keep on arguing her merit.
Another guy I've nominated multiple times is baseball's Cecil Cooper, whose 2,192 hits are more than any native Texan not in our Hall of Fame with the exception of Frank Robinson, who was born in Beaumont but whose family moved to California when he was very young. I tried to get Cooper on the ballot again this year, but he was bumped off during our whittling process, so it's back to the drawing board. (No, really. HOF vice president Jay Black writes our nominees out on a giant sketch pad. We're old school that way.)
I didn't need to nominate Waco's Andy Cooper this year. One of the great Negro Leagues pitchers in history, Cooper and several other Texans who have already been enshrined in the Baseball Hall of Fame in Cooperstown, N.Y., including Hilton Smith and Biz Mackey, are expected to be inducted in a special ceremony in the near future. The Hall of Fame board is working on just such an event.
We've got enough worthy people who have contributed greatly to sports in the Lone Star State to keep us busy until the (Blue Bell) cows come home. The Texas Sports Hall of Fame is a special place. One of the biggest reasons why is the caliber of legend immortalized there.
Like I said, it's a cool gig to help pick those legends. And if you'd like to see just how cool, why don't you join me? The general public can nominate someone for the Texas Sports Hall of Fame through its website at www.tshof.org. Even better, you can also become a voting member with purchase of an individual or family season pass to the museum.
I'll even let you zing me.