Two years ago, Cotton Davidson traveled to Oakland, California, for a dinner celebrating the history of the Oakland Raiders. A bunch of ex-Raiders were in attendance, 50 or 60 of them, and Davidson had to chuckle when the introductions were made.
"When the lady hosting the dinner got to me she said, 'And, now, the oldest living Raider still alive, Cotton Davidson,'" he recalled. "I had no idea. Maybe that's why they let me start that fire."
Let's not get ahead of ourselves. Before we ignite the fire, let's meet the flamethrower. Not that Francis Marion Davidson, better known to all as Cotton, needs any introduction. The 87-year-old Gatesville native and Baylor grad is well-known to Central Texans for both his football prowess and his easygoing, pleasant approachability.
Following his brilliance for the Baylor Bears from 1951-53, Davidson joined the pro football ranks. He had stints with the NFL's Baltimore Colts and the AFL's Dallas Texans and a detour in the Army before a young coach named Al Davis encouraged Cotton to hook up with the fledgling Oakland Raiders in 1962.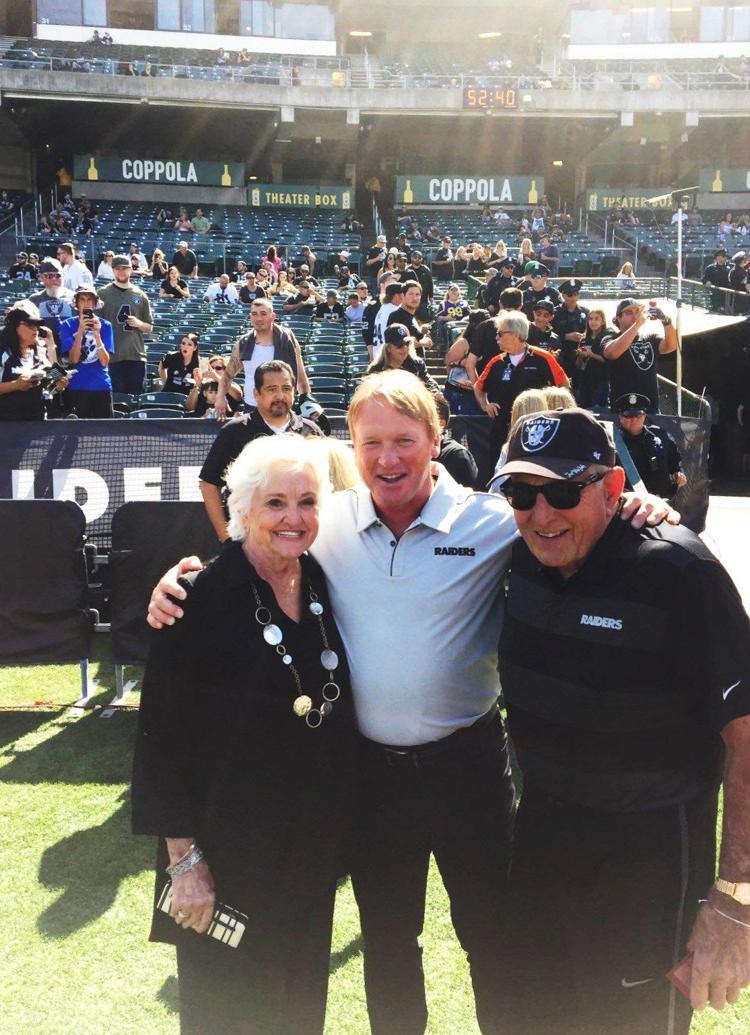 At the time, the Raiders were still taking baby steps as a franchise. They'd been around only two years. But with Cotton at quarterback and Davis at the coaching helm, they started making far bigger strides.
"I don't know if we had a letdown after Al started coaching the Raiders," said Davidson, who was named an AFL all-star his first season under Davis. "I know he made me a better player. He didn't want you to ever go into a game unprepared."
And so it was that Davidson found himself back in Oakland last weekend to pay homage to Davis and to help kick off the Raiders' 60th anniversary season. The team invited Cotton and his wife Carolyn to be their guests at the Raiders' preseason opener against the Los Angeles Rams.
Lighting the torch
They also gave Cotton a job to do. The fire, of course. Davidson, who took the first snaps in the Oakland Coliseum when it was unveiled in 1966, was tasked with lighting the Al Davis Memorial Torch, a large, Olympic-style cauldron dedicated to the memory of Davis, who died in 2011.
Remember when Tom Hanks' character finally started a fire in the movie Cast Away? "Look what I have created! I have made fire!" he bellowed. Now imagine if he'd had thousands of fans cheering him on. That was Cotton's day.
"It was so great — I honestly can't imagine it being greater than that," Davidson said.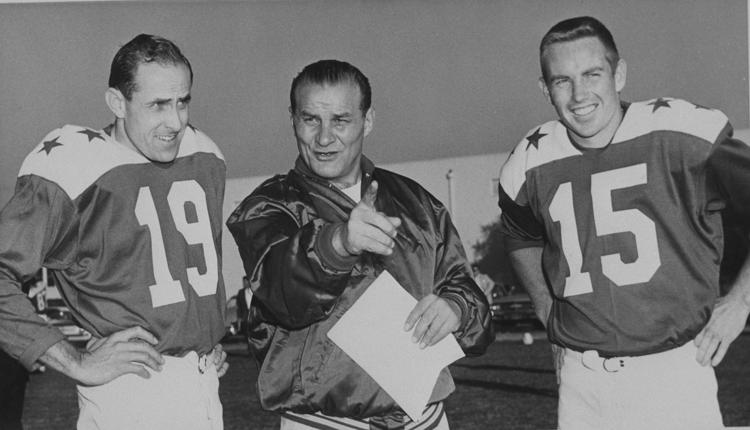 Cotton first met Davis at the 1961 AFL All-Star Game. Chargers head coach Sid Gillman was the head coach of the West All-Stars, and his brash, 32-year-old assistant Al Davis accompanied him.
Later, when Davis beckoned Davidson to join the Raiders, the quarterback wasn't so sure.
"I told some friends, I haven't seen anything in California that would suggest that I'd like it," he said.
But he did like Davis. Ultimately, it was Al who won him over.
"I got to know Al at that all-star game," said Davidson, who was representing the Dallas Texans. "He and I got together and visited, and I guess I impressed him. He sure impressed me."
Just prepare, baby
Davis helped Cotton develop as a quarterback, particularly in the way he went through his pre-snap reads. There's more to playing QB than just chucking and ducking, you know.
"The quarterback has to be able to handle the blitz, because if you don't, you'll get your tail knocked off," Davidson said. "He helped me recognize when the defense was moving people around, and when the blitz was coming."
After his pro football career ended in 1968, Davidson returned to Gatesville. He worked in the oil business and took up ranching, and figured football was in his past. Then in 1972, a gentleman named Grant Teaff came calling, and pulled off a helluva recruiting job by hiring Cotton as his quarterbacks and receivers coach at Baylor.
Davidson spent the next 21 years on Teaff's staff, helping to oversee some of the most memorable seasons in school history. When it ended, he went back to Gatesville, where he and Carolyn still live today, on a hill-topped house near the edge of town.
"I love it. It's a nice little town," Davidson said. "A lot of what's going on in the world doesn't happen here."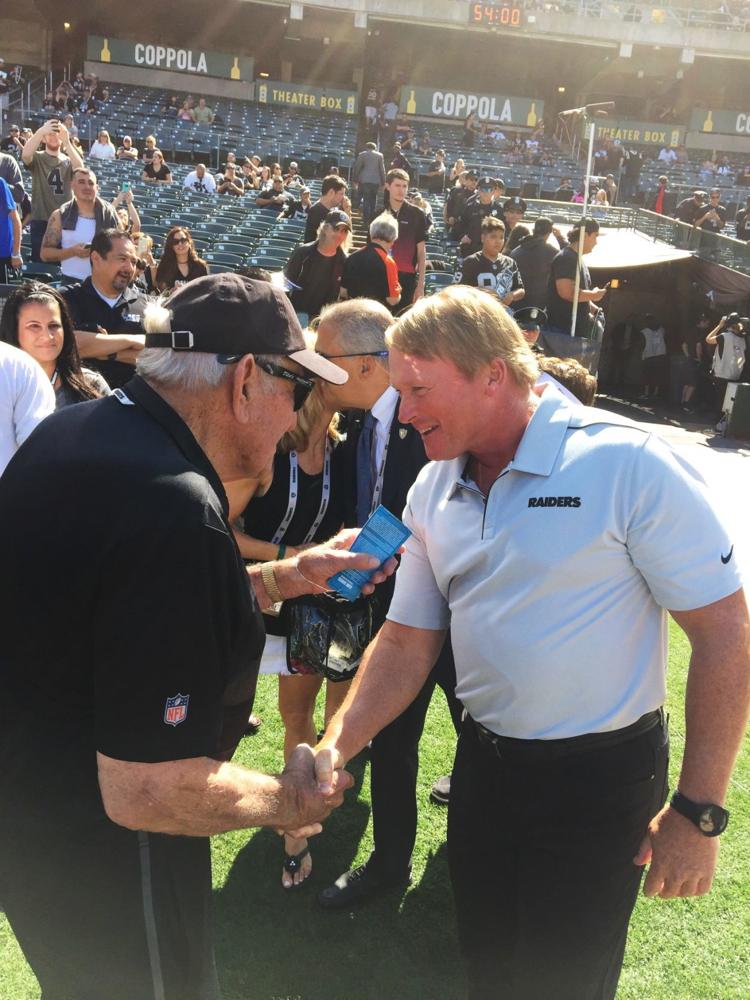 Local football fan
Davidson still follows football, even as the game has evolved from his final days in the uniform. (In addition to playing quarterback in the NFL, he also punted and kicked. That's big-time stuff.) He's already got his season tickets for the 2019 Gatesville Hornets — "I'm ready to go," he said — and also enjoys traveling down Highway 84 to see Baylor play.
This season marks the Raiders' last in Oakland. (At least for now — they left once, and came back again.) Next year the team will pack up ship and head to Las Vegas.
Count Cotton among those who believe the silver and black belongs in Oakland, not Sin City.
"It will be (sad) for me. They really had a lot of support in that stadium. The fans hollered and screamed and made everything as good as it could be," Davidson said. "I feel sorry for those people who can't travel to Las Vegas to see them play, because a lot of them can't. I don't feel good about that.
"I was talking to some folks about it when we were in Oakland, and they said, 'Well, it's just money.' ... Yep, it's that money machine."
Of course, the Raiders could move to Bangor, Maine, and it wouldn't change Cotton's experience. It wouldn't diminish his memories of Oakland. He'll always be a Raider.
As for that title of the World's Oldest Living Raider, well, that's fine, too.
"I'd rather have that than nothing," he said.