---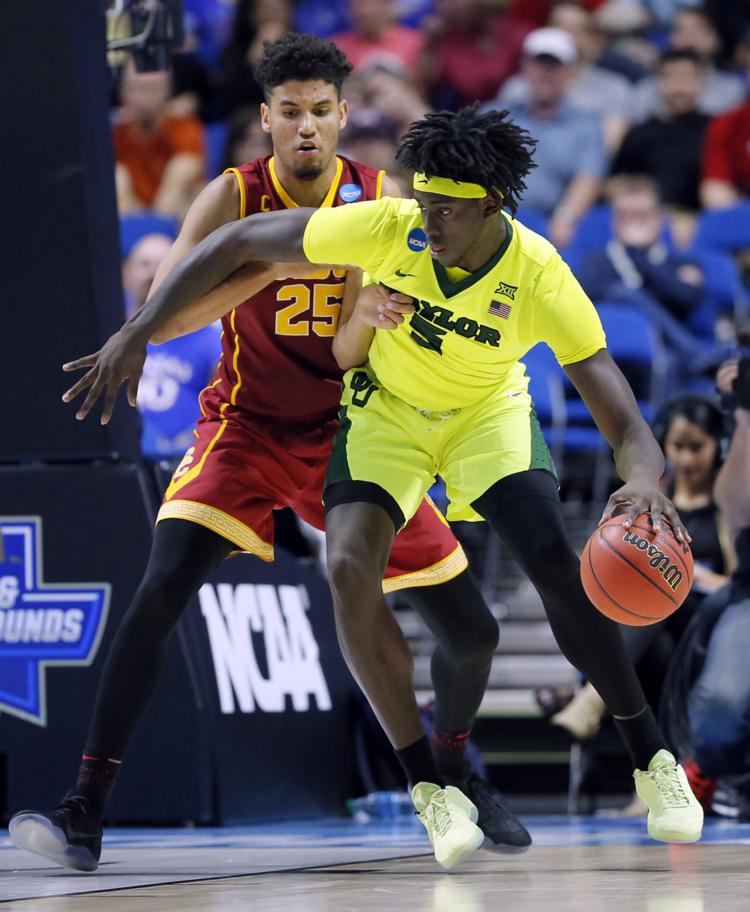 No. 3 Baylor Bears
Coach: Scott Drew (277-179 in 14 years at Baylor; 297-190 in 15 years overall)
2016-17 record: 27-7 (12-6, T-2nd in Big 12)
How reached Sweet 16: Beat New Mexico State, 91-73, in first round; Beat USC, 82-78, in second round
Top players: F Johnathan Motley (17.3 ppg, 9.9 reb); G Manu Lecomte (12.3 ppg, 3.9 assists); G Al Freeman (9.9 ppg, 39.3 3-point percentage); C Jo Lual-Acuil (9.2 ppg, 6.8 reb, 2.5 blocks); F Ish Wainright (5.7 ppg, 5.1 reb)
Breakdown: The Bears reached the Sweet 16 for the first time since 2014 behind double-doubles by Johnathan Motley against New Mexico State and USC. They got a huge lift off the bench from Terry Maston who recorded 19 points and nine rebounds in both games. Al Freeman also came up big with a 21-point performance against New Mexico State while King McClure hit 5 three-pointers and matched his career high with 17 points against USC. The Bears have played tremendous defense all season but now they've seen an offensive boom by averaging 86.5 points in their two NCAA tournament wins.
No. 7 South Carolina Gamecocks
Coach: Frank Martin (94-73 in five seasons at South Carolina, 211-127 in 10 seasons overall)
2016-17 record: 24-10 (12-6, T-3rd in SEC)
How reached the Sweet 16: Beat Marquette, 93-73; Beat Duke, 88-81
Top players: G Sindarius Thornwell (21.4 ppg, 7.3 reb); G Duane Notice (10.3 ppg, 33.5 3-point pct); G PJ Dozier (13.8 ppg, 4.7 reb); F Chris Silva (10.1 ppg, 5.8 reb); F Malik Kotsar (5.8 ppg, 4.9 reb)
Breakdown: Many people expected No. 2 seed Duke to make a run at the Final Four after winning the ACC tournament, but South Carolina pulled off an 88-81 upset in the round of 32. Making their first NCAA tournament appearance since 2004, the Gamecocks advanced to the Sweet 16 for the first time since 1973. The Gamecocks star is SEC player of the year Sindarius Thornwell who leads the team with 21.4 points, 7.3 rebounds and 2.9 assists per game. In the win over Duke, he recorded 29 points and 11 rebounds. Expect the Gamecocks to play lockdown defense under former Kansas State coach Frank Martin.
No. 4 Florida Gators
Coach: Mike White (47-23 in 2 seasons at Florida, 148-63 in 6 seasons overall)
2016-17 record: 26-8 (14-4, 2nd in SEC)
How reached the Sweet 16: Beat East Tennessee State, 80-65; Beat Virginia, 65-39
Top players: G KeVaughn Allen (13.4 ppg, 72 3-pointers); G Canyon Barry (11.8 ppg, 2.9 reb); F Devin Robinson (11.4 ppg, 6.3 reb); G Kasey Hill (9.7 ppg, 4.5 assists); F John Egbunu (7.8 ppg, 6.6 reb)
Breakdown: There's not much question the Gators can play great defense. Virginia's 39 points in the round of 32 looked like a score from the 1940s.The Gators have allowed just 65.7 points per game and a 40.5 opponents shooting percentage for the season. While Florida isn't a prolific scoring team, it has gotten consistent numbers from guards KeVaughn Allen and Canyon Barry and forward Devin Robinson. Barry, the son of NBA Hall of Famer Rick Barry, is a superb free throw shooter like his dad as he's hit 88 percent.
No. 8 Wisconsin Badgers
Coach: Greg Gard (40-17 in two years at Wisconsin)
2016-17 record: 27-9 (14-4, T-2nd in Big Ten)
How reached the Sweet 16: Beat Virginia Tech, 84-74; Beat Villanova, 65-62
Top players: F Nigel Hayes (13.8 ppg, 6.6 reb); F Ethan Happ (13.8 ppg, 9.1 reb); G Bronson Koenig (14.5 ppg, 90.2 FT percentage); G Zak Showalter (8.1 ppg, 49.5 FG percentage);
Breakdown: The Badgers made the biggest news of last weekend with their 65-62 upset of defending national champion Villanova in the round of 32. Following legendary coach Bo Ryan, second-year coach Greg Gard has the Badgers back on track with a second-place finish in the Big Ten. Like Ryan's teams, Wisconsin plays tremendous defense by holding opponents to 61.8 points per game and a 41.1 field goal percentage. Senior forward Nigel Hayes and guard Bronson Koenig have been big contributors since their freshman seasons.