Baylor has waited all season to unveil sophomore forward Mario Kegler, a versatile, dynamic player who is expected to be a major force for Scott Drew's basketball team.
That time will finally come Tuesday night when the Bears host South Dakota at 7 p.m. at the Ferrell Center.
After serving a season-opening six-game suspension for an unspecified violation of team policy, the 6-7 Kegler should help solidify a team that has struggled with inconsistency during a 4-2 start.
Kegler redshirted last year after transferring from Mississippi State where he averaged 9.7 points and 5.5 rebounds while shooting 34.5 percent from 3-point range as a freshman in 2016-17.
"Everybody is really excited," Drew said. "Mario's one of those guys that gives you experience. Even though he's only a sophomore, it's his third year in college and physically he's a grown man. Emotionally, he's somebody who gives us more swag. He has the physicality and toughness that you need at this level."
Throughout last season and the first six games this year, Kegler has been one of the most animated players on Baylor's bench, constantly jumping up and cheering for his teammates. But his teammates would rather him showing what he can do on the court than cheering from the sidelines.
"It will be a great boost," said Baylor senior guard King McClure. "It's always good to have your brother out there. We've been missing him. He's a great player, he's really versatile with his game, he can do a lot of things on the court that will help us. So we're really looking forward to it, really excited to get him back."
This will be the first time that Drew will have all his players available since a preseason scrimmage against Vanderbilt.
"You really don't know what we're going to be like until we have everybody or every piece," McClure said. "So now that we have him, we can finally start to see how our team is going to mold and transform as we progress and start conference."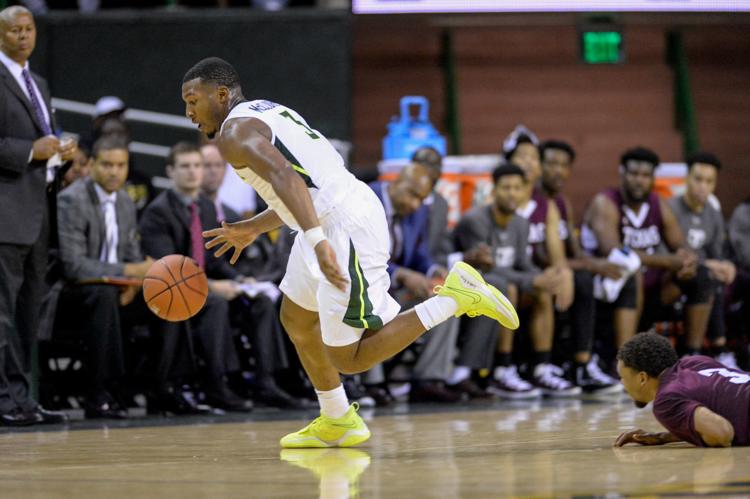 The Bears split their two games at the Emerald Coast Classic in Niceville, Fla., last weekend. After Friday's 78-70 loss to Mississippi, the Bears bounced back with Saturday's 72-61 win over George Mason as McClure recorded career highs with 27 points and 14 rebounds.
For the season, McClure is Baylor's third-leading scorer with a 14-point average and leads the team with a 42.4 3-point percentage while ranking second with 5.8 rebounds.
"I think leadership-wise he's been off the chart phenomenal," Drew said. "He does a great job in how he talks to our guys, how he approaches them. They all listen, they all respect him. Basketball-wise he's been really good."
After missing the first three games with an ankle injury, Yale graduate transfer Makai Mason has made a big impact at point guard by averaging 15.7 points and 2.7 assists in the last three games.
In last weekend's tournament, Mason played 31 minutes against Mississippi and 38 against George Mason. Drew limits Mason's practice time to allow his ankle more time to recover from games.
"I feel like I'm doing pretty well with the fact that I played so many minutes over the weekend," Mason said. "But yeah, I'm just trying to get with (Baylor trainer David Chandler) as much as I can, limited reps in practice, stuff like that. And I think that's helped just trying to progress along and get healthier out there."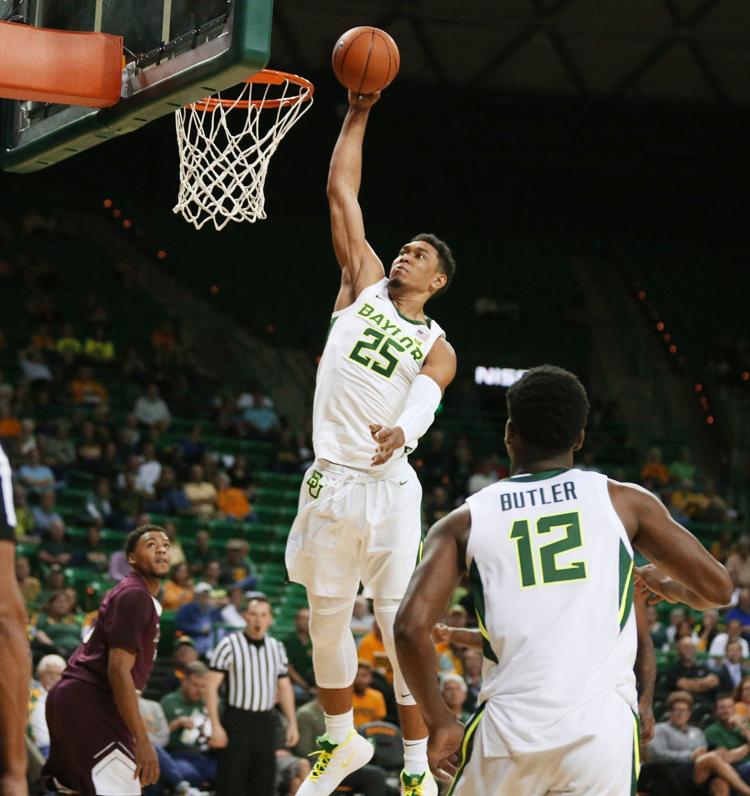 Sophomore forward Tristan Clark delivered his best career offensive game for the Bears against Mississippi as he collected 27 points on 11 of 13 field goals. For the season, he's averaging 14.8 points, 5.2 rebounds and 1.5 blocks while shooting a mind-boggling 80 percent from the field by hitting 36 of 45 field goals.
"He's shown a lot of progress from first year to second year," Drew said. "Physically, he's a lot bigger and stronger. The game has slowed down for him. People have doubled him, and he's done a good job handling it. He's done a good job passing it out. At the same time, one-on-one he's very tough to stop."
South Dakota (3-2) will likely try to slow down the pace to keep the Bears from running their fast break.
The Coyotes feature a balanced scoring attack led by Trey Burch-Manning with a 17.6-point average, Triston Simpson with a 16.4 average, Brandon Armstrong with an 11.4 average and Tyler Peterson with a 10.6 average. Burch-Manning has shot a remarkable .722 from 3-point range by hitting 13 of 18 shots, and is tied with Peterson for the team rebounding lead with 5.8 per game.
"South Dakota is a team that's used to winning, 26-9 last year," Drew said. "It's a team that likes to control the pace. They play a pack defense which makes it really hard to get to the paint and get easy buckets. They try to contest 3s, and offensively they really work it to get a high percentage shot."