After watching No. 20 Iowa State blow out No. 7 Kansas last weekend, Baylor knew it needed energy, laser-like focus and perhaps a sense of desperation to have a shot to win Tuesday night.
The Bears drained clutch 3-pointers, hit big free throws and hustled for every rebound and loose ball.
Baylor had to whip up every one of those elements to pull off a 73-70 win over the Cyclones before 5,930 fans at the Ferrell Center.
It was the first win for the Bears (9-5, 1-1) over a Top 25 team this season and was much needed following Saturday's 85-81 Big 12-opening loss to No. 25 TCU in Fort Worth.
"This was a great Iowa State team and we knew we had to be focused from the get-go, and we were able to get it done," said Baylor guard Makai Mason, who scored a season-high 25 points. "I think it was the most focused we've been. Obviously, coming off a loss the pressure is greater and the attention to detail is definitely higher because you can't waste any more opportunities."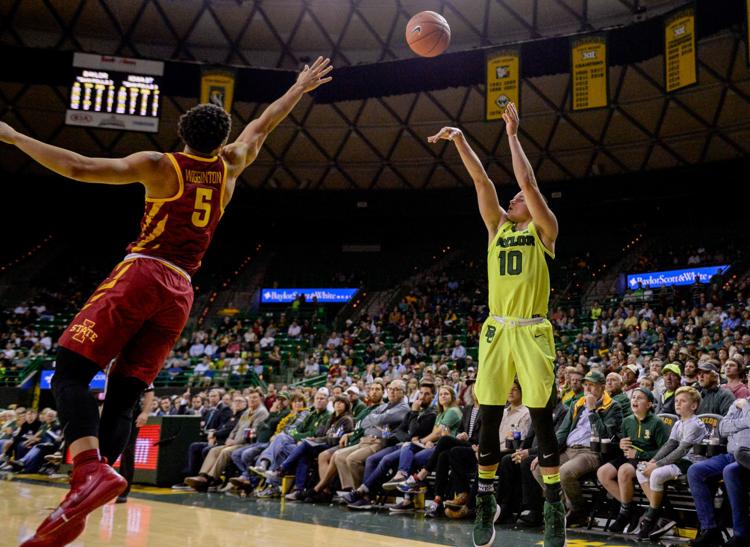 Mason was Baylor's catalyst as he buried four of nine 3-pointers and five of six free throws. A Baylor team that came into the game ranked ninth in the Big 12 with a 65.1 free throw shooting percentage managed to hit 17 of 20 against the Cyclones (12-3, 2-1).
Even with so many solid performances across the board, the Bears had to sweat it out until the final seconds against an Iowa State club that was fresh off a 77-60 win over Kansas in Ames on Saturday.
Devonte Bandoo, who came off the bench to score 13 points in 11 minutes, nailed a pair of clutch free throws to give the Bears a 73-70 lead with five seconds remaining.
"I was definitely confident," Bandoo said. "I just wanted to clear my head and stay positive when I went to the line because I knew it was two big free throws. But I knew I had been down this stretch before and I knew I could knock it down."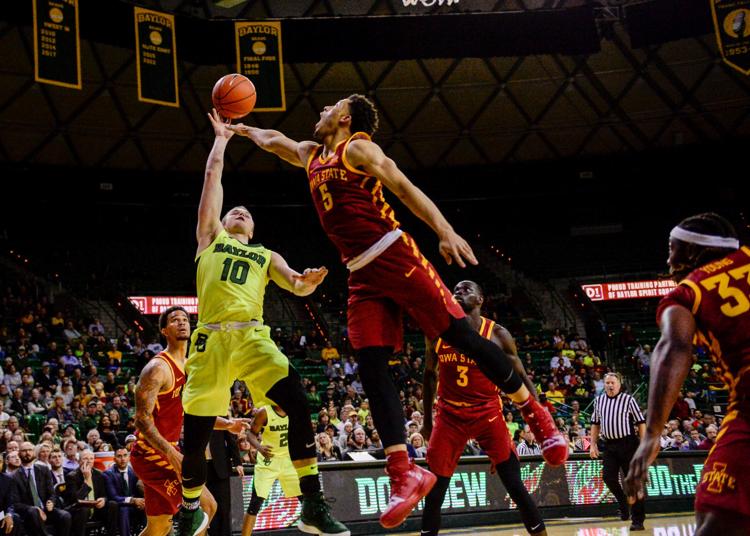 The Cyclones had one last chance as Nick Weiler-Babb tried a long 3-pointer as he was heavily guarded by Mason. But he couldn't connect and the Bears walked away with a big win that should provide some momentum with Kansas coming to the Ferrell Center on Saturday.
"Another Big 12 game," said Baylor coach Scott Drew. "We've played two of them and both have come down to the last possession. At the end of the day, that's what the best league in the country gives you, no off nights. If you compete really, really hard it gives you a chance to be in those positions. The energy level and the effort were tremendous."
The Bears put themselves in strong position by closing the first half with a 12-4 run to take a 38-30 halftime lead. Tristan Clark, who collected 16 points and four rebounds, scored four points during the stretch while Mason buried a 3-pointer and closed the half by making an off-balanced shot.
"I tried to be a little more aggressive from the start," Mason said. "You know we've been getting off to slow starts and I felt like that was kind of on me, just not getting us going energy-wise and just being aggressive. I felt that was something I was definitely focusing on a little bit and it was able to work out for us."
But the Cyclones quickly took a 45-43 lead with a fast start in the second half sparked by Big 12 leading scorer Marial Shayok, who scored eight points during the stretch and finished with 19.
The Bears came back to open up a 61-54 lead with 6:48 remaining as Mason buried three straight 3-pointers. But the Cyclones stormed back as Talen Horton-Tucker drained a pair of 3-pointers to take a 66-64 lead with 3:02 remaining.
The Bears tied the game when Mason made a turn-around jumper over a pair of Iowa State defenders with 1:48 remaining.
After Mason missed a 3-pointer, Shayok rebounded for the Cyclones, but Baylor's Mario Kegler tied up the ball with 47 seconds to play. The possession arrow was in Baylor's favor and Weiler-Babb fouled Mason, who hit his first free throw to give the Bears a 67-66 lead with 38 seconds remaining.
Mason missed the second free throw attempt, but teammate King McClure swooped in for the rebound. Weiler-Babb fouled Mason again and this time he nailed both free throws to push Baylor's lead to 69-66.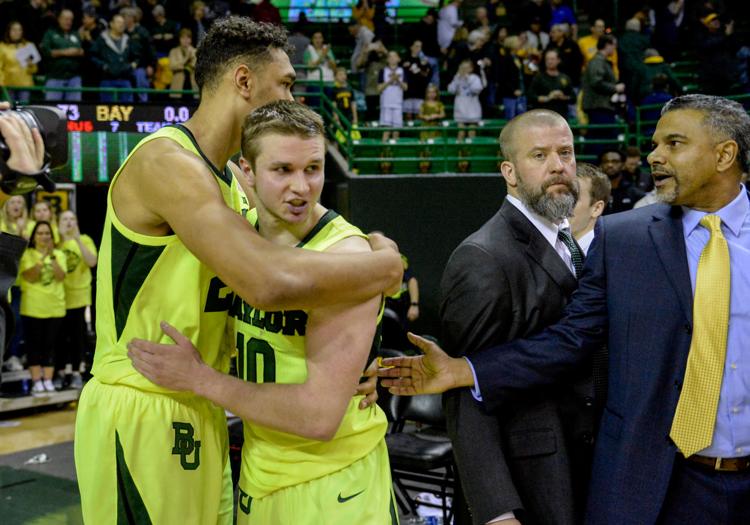 Iowa State's Michael Jacobson hit a jumper to cut Baylor's lead to 69-68, but Mason nailed a pair of free throws with 12 seconds remaining.
Lindell Wigginton forced McClure to foul with 5.8 seconds remaining, and he drained both free throws to cut Baylor's lead to 71-70. But Bandoo hit both free throws for the Bears to pull out the win.
"When you play a team like Iowa State, it's a game of runs, because they can score in bunches," Drew said. "As a coach, you feel really good when you know your guys have put in a lot of hard work. We've lost a couple close games at the end. It's great to see them win one as well. We deserved it tonight."