When they convened in the locker room Saturday night in Salt Lake City, the Baylor players and coaches shed a lot of tears because they knew it would be their last game together this season.
Baylor coach Scott Drew had put better teams on the floor than the one that dropped an 83-71 decision in the second round of the NCAA tournament to No. 1 West seed Gonzaga.
But Drew had never coached a team that had to constantly reinvent itself to produce a successful year.
Any of a number of injuries could have derailed the Bears: center Tristan Clark's season-ending knee injury, guard Makai Mason's bruised toe, guard King McClure's knee injury.
But the Bears kept battling no matter who Drew put into the game. Despite constantly changing lineups, Baylor somehow finished 20-14, placed fourth in the Big 12, and knocked off Syracuse in the first round of the NCAA tournament.
"I think every year a coach doesn't like to see the last game come to an end, but some years are just a little harder than others," Drew said. "In the locker room, we all had a really good cry because we genuinely liked one another and appreciated how each person contributed, starting with King, Makai and Jake (Lindsey) and how they led the team."
Even before the deluge of injuries, expectations were low for the Bears as they were picked ninth in the Big 12 coaches preseason poll after losing their top four scorers from 2017-18. The perception didn't change with nonconference losses to Texas Southern and SFA.
But the doom and gloom was palpable when Clark went down with a season-ending knee injury in early January. But with their best player gone for the year, the Bears remarkably defied the odds by putting together a six-game winning streak to slip into the NCAA tournament picture.
Despite injuries to Mason and McClure that kept them out of a combined seven games during the heart of Big 12 competition, the Bears survived by getting tremendous play from freshman guard Jared Butler, junior guard Devonte Bandoo, sophomore forwards Mark Vital and Mario Kegler, junior forward Freddie Gillespie and freshman forward Flo Thamba. Though freshman forward Matthew Mayer's minutes were spotty, he delivered some good games.
Unselfishness and camaraderie abounded. Winning became more important than individual recognition. Opponents had difficulty preparing for the Bears because so many different players could produce a big game on a given night.
"Everybody stayed bought in and just really cared about the team," Drew said. "We're all human and we're all selfish, but the team kept that to a minimum. The way they played with joy this year allowed us to be successful. We had so many different people step up all year long, and when they did the team was excited for each and every one of them."
The Bears played the underdog role to the hilt, using low expectations as motivation.
"It motivated me and it motivated them," Drew said. "They never doubted their ability as a team. They remained coachable, and because of that it allowed their roles to change. As a coach, the most important thing is getting guys to buy into the team and their roles. Guys would play 30 (minutes) and then play five. They'd start and then not play. As a player, that's really tough."
That underdog card won't work for the Bears next year. They'll likely be picked near the top of the Big 12.
Though seniors Mason and McClure are major losses, the Bears return the majority of their players who saw substantial time. Additionally, Auburn transfer guard Davion Mitchell and North Carolina-Asheville transfer guard MaCio Teague will be eligible after redshirting at Baylor this season.
The 6-3 Teague will bring explosive scoring potential to the lineup after averaging 16.1 points and shooting 43.7 percent from 3-point range in two seasons at North Carolina-Asheville. The 6-1 Mitchell will be a sophomore after averaging 3.7 points in his only season at Auburn, but he was a four-star recruit coming out of Liberty County High School in Hinesville, Ga.
"Obviously with MaCio, Davion and Tristan (Clark), everybody is excited about the potential we have next year," Drew said. "The great thing is that we have a bunch of guys who like each other and like to work, so hopefully we can get back to this point where you can celebrate a little bit longer."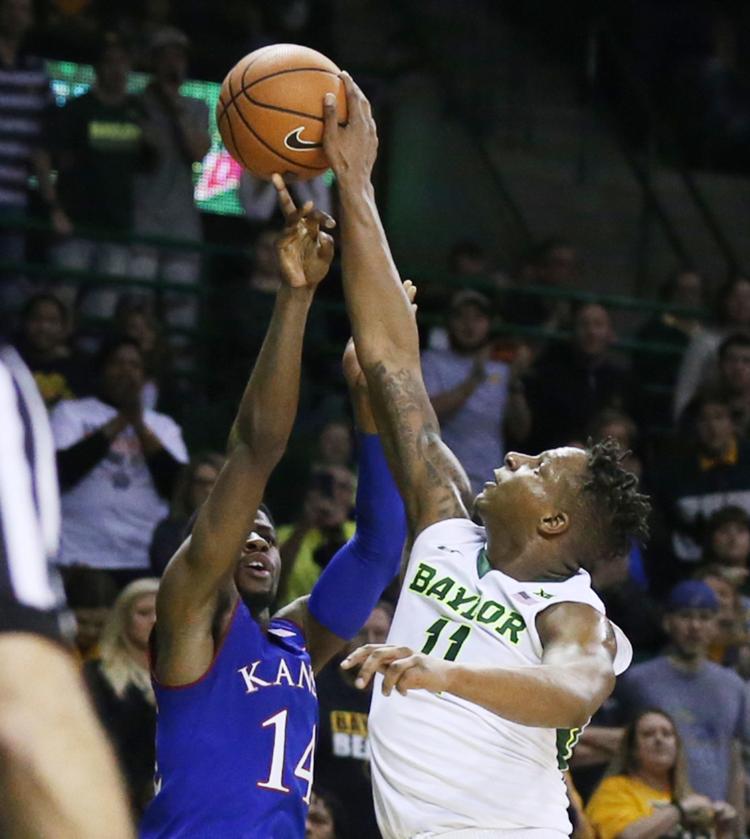 Clark had been Baylor's most productive player before undergoing knee surgery. The 6-8 center averaged 14.6 points and 6.3 rebounds while shooting a remarkable 73.7 percent from the field in 14 games.
Nobody showed more promise than Butler as he averaged 10.2 points, 2.7 assists and 3.1 rebounds while shooting 35.1 percent from 3-point range. He delivered his biggest game in Baylor's 78-70 loss to Kansas in the regular season finale at Allen Fieldhouse as he broke loose for 31 points.
As Baylor's point guard of the future, Butler is glad he had a year to learn the nuances of college basketball from Mason and McClure.
"Makai and King taught me a lot about how to be a tough dude," Butler said. "No matter what the situation, no matter what's going on, they stayed the same. I never saw Makai change. He's always been a cool, collected guy. King is passionate all the time no matter what. They taught me a lot every day, every game about being a team leader."
Kegler improved as the season unfolded as he finished third on the team with 10.5 points per game while averaging 5.8 rebounds and developing a more consistent 3-point shot.
With Clark out of the lineup, former Division III forward Freddie Gillespie and freshman Flo Thamba were pressed into duty in the paint. They both performed admirably, especially as rebounders and rim protectors.
They both benefited from watching Vital play relentlessly every game, tracking down rebounds and loose balls regardless of the score or situation. Despite standing just 6-5, Vital led the Bears with 7.2 rebounds per game and became a better offensive player as the season progressed.
"Mark and King were huge," Gillespie said. "They bring energy and intensity in every single practice and every game. They were two guys we rely on."
Mason and McClure were the only two Baylor players who went into the Salt Lake City regional with NCAA tournament experience. But next year, the Bears will have eight players who saw time in this year's tournament, and they feel certain they can surge a few games deeper into March.
Beating Syracuse in the first round of the NCAA tournament will give the Bears confidence that they can win on the big stage.
"We had a lot of guys who had never been here, so now we're experienced," Kegler said. "I just know next year Baylor is going to be a great team and we will be back here. We know what to expect now. I most definitely feel we'll be ready."