After embarrassing Oklahoma by 30 points two weeks ago in Norman, Baylor knew the Sooners would play more inspired basketball in Round 2.
Even with senior guard Makai Mason back in the lineup after a one-game absence due to a toe injury, the Bears struggled to shake the Sooners.
But with Freddie Gillespie scoring his only basket of the night on a key putback with 36.3 seconds remaining, Baylor hung on for a ragged 59-53 win on Monday night at the Ferrell Center.
The Bears (16-8, 7-4) snapped a two-game losing streak while the Sooners (15-10, 3-9) dropped their fifth straight game. The losing streak began with their 77-47 loss to the Bears on Jan. 28 in Norman.
Mason struggled to find his rhythm as he hit two of 14 shots, but he played 35 minutes and dished out eight assists.
"Makai did a great job managing the game and the tempo," said Baylor coach Scott Drew. "As a coach, you love hard-nosed tough guys. He wasn't at 100 percent, but he did what he could to help us win. It says a lot about his character."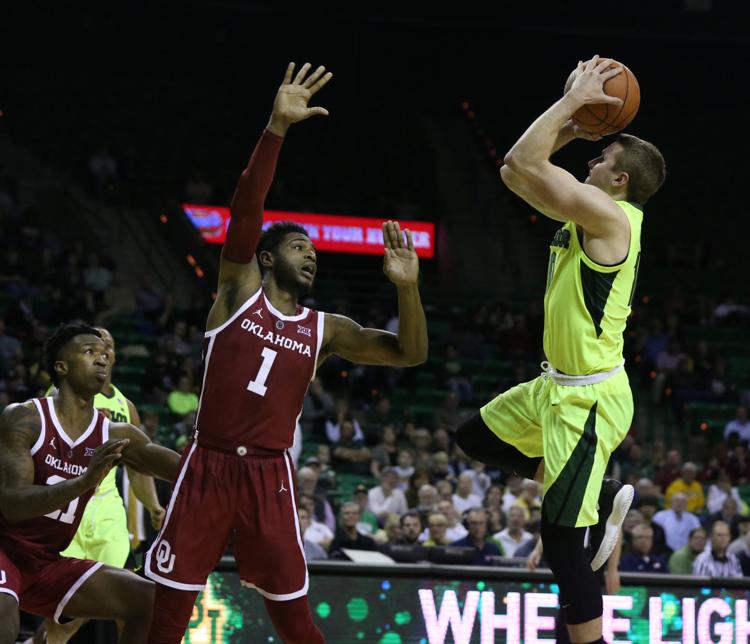 With the Bears clinging to a 55-53 lead, Gillespie rebounded a missed Mason shot and scored with 36.3 seconds remaining. Gillespie played just 15 minutes due to foul trouble, but came up with the big basket.
"I had foul trouble at the beginning and I wanted to close out well," Gillespie said. ""He (Mason) put it up and I was determined to get it. I looked left and looked right and no one was there. Then I heard Mario (Kegler) say, 'Freddie go up.'"
Oklahoma's Christian James missed an outside shot and Mason sealed the game with a pair of free throws with 12.8 seconds remaining.
Both the Bears and Sooners hit just 38.9 percent from the field. But Baylor had a clear edge from long range by hitting 10 of 22 3-pointers compared to Oklahoma's three of 16.
Devonte Bandoo had the hot hand for the Bears as he scored a game-high 19 points while draining five of seven 3-pointers.
"You had two teams that really competed hard," said Drew. "Offensively we didn't execute as well as we like, but we did a great job defending and giving ourselves a chance to win. Oklahoma is a top 25 defense for a reason and we knew they'd do a tremendous job."
Baylor senior guard King McClure missed his second straight game with a knee injury.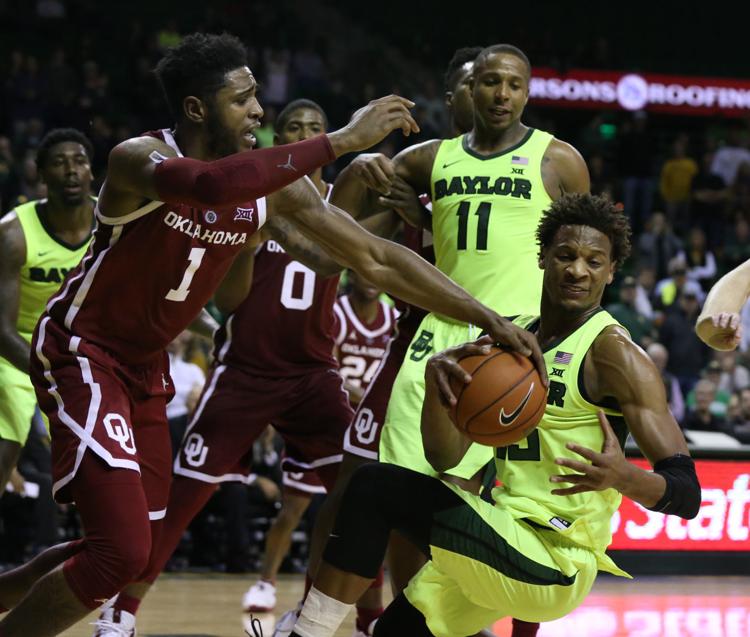 After hitting eight of 15 3-pointers in the first half, the Bears focused on taking the ball inside in the second half and outscored the Sooners 13-4 in the first 7:40.
Tied at 35, the Bears started to create some distance when Kegler sliced inside for two baskets and then passed to Matthew Mayer for a basket. With Jared Butler's 3-pointer, the Bears opened up a 44-35 lead.
The Bears stretched their lead to 48-37 when Butler scored on a drive with 10:49 remaining. But the Sooners answered with a 10-0 run that was keyed by James, who buried a 3-pointer, drove inside for a basket and hit a pair of free throws to cut the Bears' lead to 48-47 with 8:09 remaining.
The Sooners grabbed a 51-50 lead when Kristian Doolittle scored inside with 4:59 remaining, but Bandoo answered with a 3-pointer for the Bears with 4:25 to play.
Trailing 53-51, the Sooners were their own worst enemy. Brady Manek missed his first free throw in a one-and-one situation. After Baylor's Gillespie was called for a flagrant foul with 2:56 remaining, James missed both free throws and Doolittle lost the ball.
After a lethargic start, the Bears played with more energy as the first half unfolded.
The Bears opened the game by missing three shots and committing two turnovers as Oklahoma grabbed an early 8-1 lead.
With little success getting the ball inside, the Bears focused on shooting outside as Kegler and Bandoo buried treys to tie the game at 10-10.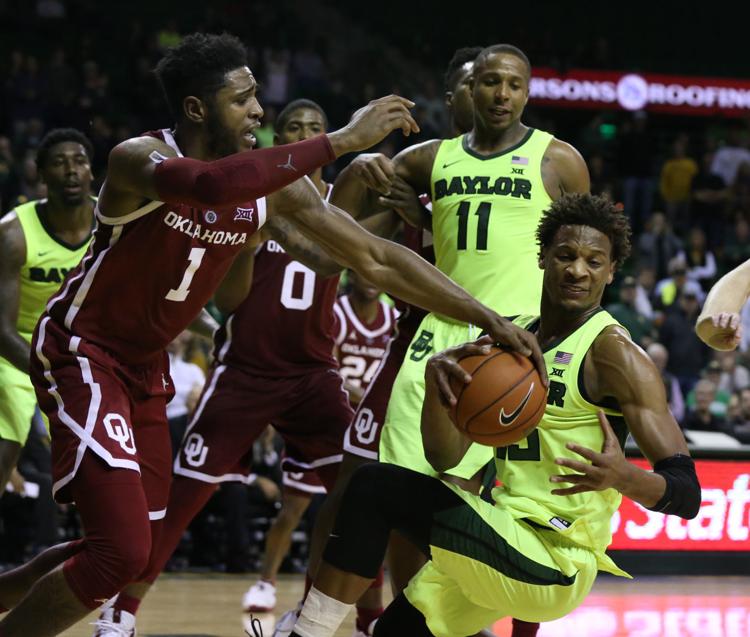 The Bears finally took their first lead when Mason hit Mark Vital for a layup followed by Mayer's 3-pointer to take an 18-14 edge with 10:11 left in the first half.
But the Sooners answered with an 11-2 run to open up a 25-20 lead. Manek keyed the run by hitting a shot from the baseline and scoring on a putback while Jamal Bieniemy nailed a 3-pointer.
The Bears kept shooting 3-pointers as Butler hit a pair and Bandoo went deep again to tie the game at 31-31 with 1:10 remaining in the first half. Oklahoma's James buried a trey to close the half, but it was ruled after the buzzer.