Baylor came into Big 12 play confident that its array of zone and man-to-man defenses could handle any scorers and playmakers the league had to offer.
After watching TCU shoot 56.6 percent in an 85-81 win over the Bears, they know now they still have some tweaking to do.
The Bears won't have long to find all the answers with offensive powerhouse Iowa State coming to the Ferrell Center at 6 p.m. Tuesday. It will mark the start of a two-game homestand as the Bears host Kansas at 3 p.m. Saturday.
The Cyclones (12-2, 2-0) blew into this week's national rankings at No. 20 following their 77-60 blitz of No. 7 Kansas on Saturday in Ames.
"They're a really talented team, very, very good offensively," said Baylor guard King McClure. "They have a few guys on their team who can really score the ball. They have a lot of guards that when they separate down, they get to the paint and create."
Iowa State leads the Big 12 with an 82.1 scoring average and is second in the league with a 48.3 field goal percentage and a 36.1 3-point percentage.
The Jayhawks couldn't stop the Cyclones from long range as they nailed 13 of 25 3-pointers. Leading the way was senior guard Marial Shayok, who drained all five of his 3-pointers, and scored a game-high 24 points.
Shayok, a transfer from Virginia, leads the Big 12 with a 20.1 scoring average and ranks third in the league with an 85.7 free throw percentage.
"He started at Virginia, was a really good player and contributor there," said Baylor coach Scott Drew. "Now he just has a bigger role. It's a team that offensively that's been one of the tops in the country, especially since they've gotten people back healthy and in that rotation as well."
Like Shayok, junior forward Michael Jacobson is starting his first season for the Cyclones after starting as a freshman and sophomore at Nebraska, The 6-9 Jacobson is Iowa State's second-leading scorer with a 14.1 average while shooting 61.7 percent from the field and averaging a team-high 6.5 rebounds.
Sophomore guard Lindell Wigginton is back for the Cyclones after missing 10 games with a foot injury. Last year as a freshman, he stormed into the Big 12 by averaging 16.7 points, including a 30-point outburst in a 75-65 win over the Bears in Ames.
Freshman guard Talen Horton-Tucker is averaging 12.9 points while senior guard Nick Weiler-Babb is averaging 9.5. The Cyclones lead the Big 12 by making an average of 9 3-pointers per game, and they do a great job finding the open man by ranking second in the league with 16.9 assists per game.
Since TCU plays a similar offensive style as Iowa State, Drew believes his club will be more prepared.
"Preparing for it and then preparing again for it, we'll be better off as Iowa State gets to the paint and tries to hit shooters," Drew said. "I think first and foremost, we've got to do a much better job on the ball. I think we'll be in better gap help to start out. We'll do a better job of being down and trying to keep the ball out of the paint to begin with."
Baylor (8-5, 0-1) hopes to jump off to a better start against the Cyclones after trailing the Horned Frogs, 40-28, at halftime and eventually getting down 50-31. Finally kicking their transition game into gear, the Bears rallied to cut the lead to one late in Saturday's game in Fort Worth.
The Bears had a shot to tie, but Makai Mason missed a wide-open 3-pointer with eight seconds remaining.
"I think the key thing to take from that is we can't play from behind again against a team as good as Iowa State because offensively they have so much firepower," McClure said. "If we play from behind, it might be impossible to come back. So I think that we've got to jump on them from the very start and bring that same focus we had for the last 12 minutes. Bring that for the whole game, I think we'll be fine."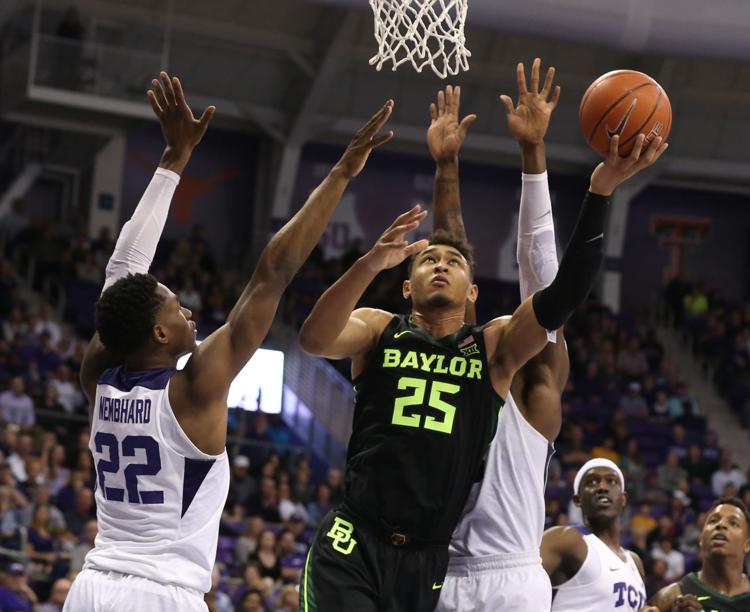 Getting production in the paint from leading scorer Tristan Clark will also be important. Clark, who is averaging 14.5 points and 6.5 rebounds, collected 18 points, six rebounds and four assists against the Horned Frogs.
Though the 6-9, 240-pound sophomore is the focus of every defense the Bears face, he's been up to the challenge. He's gotten stronger since his freshman year and last year's experience is paying off.
"He's getting more double teams and he's getting better defenders and more people concentrating, trying to keep it out of his hands," Drew said. "But he's prepared for the wear and tear of the Big 12, prepared for the long season, because he had gone through that. He's taken a huge step forward."
The Bears got a lift from freshman forward Matthew Mayer against the Horned Frogs as he came off the bench to hit five of nine shots and score 17 points in 14 minutes.
Shooting 35 percent for the season, Mayer is seeking more consistency.
"I just go out there and be as aggressive as possible every time," Mayer said. "If I'm missing shots usually I get pulled. If I'm making them, I usually get to stay in there. So that's how it works."
BEAR FACTS -- Baylor guard King McClure got a chance to shadow ESPN reporter Holly Rowe in the Lady Bears' 68-57 win over then-No. 1 Connecticut last Thursday at the Ferrell Center, and was thrilled with the opportunity. "I learned a lot from Holly, just seeing that side. She's amazing. She's probably one of the best at what she does. Just for her to take the time out of her day to show me the ropes, and teach me meant a lot to me."