Surrounded by Baylor family connections, Jake Lindsey appeared predestined to play college basketball for the Bears.
Jake is a rare Baylor basketball legacy who has followed in the footsteps of his father, Dennis Lindsey, a guard for the Bears from 1987-92. It was at Baylor that Dennis met his future wife, Becky Dry, and they're both graduates of the university.
Jake's grandfather, F.A. Dry, was an assistant football coach under Grant Teaff. When he was growing up, one of Jake's favorite Baylor players was point guard Tweety Carter.
"I've got a Tweety Carter jersey in my closet back home — he doesn't know that," Jake said. "Tweety was fearless and he cared about winning. You could see it. He just kind of emanated it."
Despite the numerous Baylor influences, Jake's college choice really wasn't that obvious.
Utah offered him a scholarship, which was appealing since he could have stayed home and played in front of his family. Dennis Lindsey is the general manager for the NBA's Utah Jazz. Always an exceptional student, Jake was fascinated when he got an offer from Harvard.
"Harvard was definitely one I had to consider because it's Harvard," Jake said.
But in the end, Baylor coach Scott Drew's enthusiasm and plans for Lindsey to play quickly paid off. Within days of watching Jake play for the first time, Drew offered him a scholarship, and the move has benefited both of them.
Though Lindsey isn't a prolific scorer, his knowledge of the game and ability to fit in where the team needs him has helped the Bears reach the NCAA tournament the last two years.
After coming off the bench for most of his career, Drew has plugged Lindsey into the starting lineup in the last seven games. The Bears have won five of them to move into position for their fifth straight NCAA tournament berth and third since Lindsey's arrival.
"Jake's been tremendous, a real heady player and a very underrated defensive player," Drew said. "As far as knowing the scouting reports and stuff, he's telling us half the time what we're doing wrong. He's pretty intelligent. No question, he's going to be an NBA GM one day like his dad."
Lindsey has never cared about producing big scoring numbers as his 4.9 points per game rank eighth on the team. But the statistic that best shows Lindsey's value to the Bears is his 91 assists to 34 turnovers which means he's getting the ball to the right places with minimal mistakes.
During his three seasons at Baylor, he's collected 269 assists to just 98 turnovers in 97 games. Since he's been in the starting lineup, Lindsey has taken much of the ballhandling pressure off starting point guard Manu Lecomte and has established himself as a defensive presence on the perimeter.
"He's a floor general," said Baylor center Jo Lual-Acuil. "He's like an extra ballhandler. I think it helps Manu when Jake takes some of that responsibility. He's just our glue guy. He does everything for us. Things that might not show up on a stat sheet he does for us. He'll dive on the floor, knock down big shots, hit a shot we'll need. He's always locked in. He's one of the leaders on the team."
Lecomte, Baylor's leading scorer with a 16.4 average, always encourages the other guards to shoot. Lindsey's 45.9 shooting percentage ranks second among Baylor's guards behind Nuni Omot's 47.5 this season. But while Lindsey will occasionally take a key shot, he feels more comfortable as a facilitator for his teammates.
"I just like to win and whatever is the best thing for me to do is what I try to do," Lindsey said. "In high school, my senior year we had good players but they were young so I had to take on a really large role. But when I got here I was like, 'Wow, I have some really good teammates.' It's just finding ways to put them in the best position."
Before and after games, Lindsey often has conversations with his dad. They'll talk about what Jake needs to do to help the Bears win and how to get the most from his ability. With Dennis' basketball pedigree, Jake welcomes his opinion.
"We've talked about what he has needed to do to play a significant role," Dennis said. "I've been able to share a few things about how if I did it all over again this is how I'd do it. We've had a lot of conversations about how to use his intelligence, his confidence and his character. What he needs to do as a defender, a ball mover, and sometimes as a finisher. Jake has taken those conversations to heart. I think he's played his role about as unselfishly and as well as he can to his ability."
Though at 6-5 Jake stands a few inches taller than Dennis, their roles for the Bears have been similar. Playing with future NBA guards like Micheal Williams and David Wesley, Dennis was never the Bears' top scorer but could find his teammates for baskets and would shoot when called upon.
Like his father, Jake is a heady player and even more of a facilitator and a stronger defensive player. For both father and son, team success always trumps personal accomplishments.
Dennis was a freshman when the Bears made the 1988 NCAA tournament under coach Gene Iba, breaking a 38-year drought. After losing to Memphis in the first round of the NCAA tournament, the Bears suffered through a 5-22 season before bouncing back with an NIT berth in 1989-90.
Jake isn't hesitant to remind his father that he's played on more successful teams during the current era of Baylor basketball. The Bears reached the Sweet 16 last year after losing to Yale in the first round of the 2016 NCAA tournament.
"My dad talks a little bit here and there about when he played," Jake said. "I always make fun of him because he talks about how good they were. I say 'Y'all weren't that good.' But they were pretty good. He talks about Micheal Williams and David Wesley a lot. Obviously he was roommates with (former Baylor guard and current Dallas Mavericks assistant coach) Melvin Hunt. He talks about the success and struggles they had."
Jake can't remember a time when he wasn't involved in sports. He played football and baseball and ran track as a kid before focusing exclusively on basketball in junior high.
"My first word was 'ball' to be honest," Jake said. "You can find me in diapers playing ball. I started as early as you can, as soon as you can put me on a team I was out there. My best sport was probably baseball. But I took three pitches to the head by the same pitcher in fourth grade and decided I was done with that.
"I was really good at football, I was a quarterback but I gave that up in sixth grade," Jake said. "It broke my grandpa's heart. I ran track a little bit, long distance. I liked winning but I always got shin splints, so I gave that up in seventh grade. So I went completely basketball."
When Dennis was an assistant general manager for the San Antonio Spurs, he'd sometimes take Jake to college games where he scouted players. Dennis would produce his scouting report and Jake would sometimes come up with his own.
"He was 10 or 11 when he wrote his first scouting report for me," Dennis said. "They were cute."
Dennis often brought Jake to Spurs practices where he got to meet stars like Tim Duncan, Tony Parker and Manu Ginobili, who were key players on NBA championship teams. Meeting NBA heroes was pretty exciting for a kid who loved basketball as much as Jake, but he also learned how dedicated they had to be to maintain successful careers.
"I think I learned a lot not just from my dad but the places and the people I was exposed to," Jake said. "I spent a lot of time around Tony, Manu and Tim, and just watched how they handled their business every day. It gave me an appreciation for what hard work is and how talented you had to be, and how competitive and tough you have to be to play at that level. I talk to my teammates now about how much you've got to want it and how much work it really takes to make it."
After Jake made the San Antonio Clark High School varsity as a freshman, the Lindsey family moved to the Salt Lake City area when Dennis became the Utah Jazz general manager.
Jake became one of the best schoolboy players in Utah as he scored more than 1,200 points in three seasons for Olympus High School in Holladay, Utah. He averaged 24.1 points, 9.3 rebounds and 5.5 assists as a senior as he led his team to the state semifinals for the second straight year.
Though Baylor was among the schools that offered Jake a scholarship, Dennis made it clear that he didn't want to influence his son's decision. Dennis has a lot of respect for how Drew has built the Baylor basketball program and thought Jake could fit in. But he let Jake make up his own mind.
"Jake is so stubborn and hard headed that if I told him where to go he probably would have done the opposite," Dennis said. "But I told Becky he will get on the Baylor campus and will want to commit, just knowing him. We've been very happy that he made a good decision, and he's represented Baylor and our family very well."
After Jake finishes his career at Baylor next year, he wants to work for his dad in the scouting department for the Utah Jazz with hopes of rising to a general manager position some day. A finance major, Lindsey has been a first-team all-Big 12 academic selection the last two years.
He's sometimes given his father tips on college basketball players like when he played against Louisville guard Donovan Mitchell last year. Though the Bears took a 66-63 win over the Cardinals in the Bahamas, Mitchell collected 17 points, eight rebounds and four assists.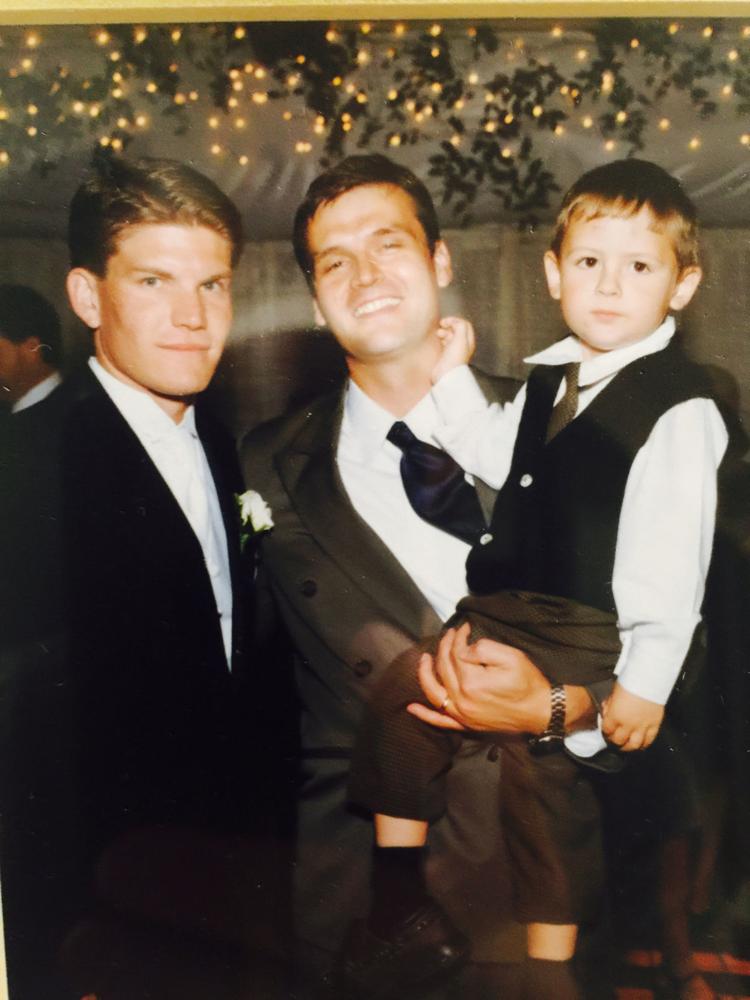 Mitchell also impressed Jake with his defensive skills. The Jazz drafted Mitchell in the first round of the 2017 draft, and now he's in the running for rookie of the year as he leads the team with 19.6 points per game. He was also the NBA Slam Dunk contest winner last weekend.
"I told my dad that besides (West Virginia guard) Jevon Carter, Donovan Mitchell is the best on-ball defender I've played against," Jake said. "He likes to hear my opinion. It's one thing when you watch them, it's another when you compete against them. So we talk about players we like."
Jake is also considering coaching, but regardless of what his future holds he wants it to center around basketball. Dennis thinks Jake could be anything he wants, a doctor, lawyer or a CEO for a big company.
But basketball is in his genes. He wants to be a role model for others like his father has been for him.
"I've always thought I had a gift for basketball," Jake said. "I can see how the game has changed my life and I think it has the ability to uplift people and change their lives. I think it's given me a platform to lead people in the right direction and be a role model."