OKLAHOMA CITY — Hang a hundred, wear a hundred.
Sorry, Texas Tech, but there's just a difference when you're playing Baylor.
The No. 1-ranked and top-seeded Lady Bears didn't seem worried at all that the Lady Raiders were coming off a blistering opening-round game at the Big 12 tournament in which they piled up a single-game record 104 points against Oklahoma. No, Baylor just went out and played its game, and that was more than enough in a overpowering 100-61 victory on Saturday afternoon at Chesapeake Energy Arena.
"We have a hell of a team, don't we?" Mulkey said. "When you have seven kids scoring double figures, and I guess I really could have given Queen (Egbo) a few more minutes and a couple more shots and we would have eight. That's what wins championships — your defense first and then sharing the basketball."
Baylor (29-1) indeed looked hell-bent on adding another trophy to its already well-stocked case. The Lady Bears displayed better than 20-20 court vision, keeping the ball moving and finding one another for buckets to the tune of 32 assists, a single-game record for the Big 12 tourney. They also joined Tech and the 2001 Oklahoma Sooners as the only Big 12 teams to reach the 100-point mark in the conference tourney.
"It definitely shows how unselfish we are," said sophomore DiDi Richards, who dished out seven assists. "We love each other, and have a lot of chemistry. So it's easier when we're unselfish the way we are."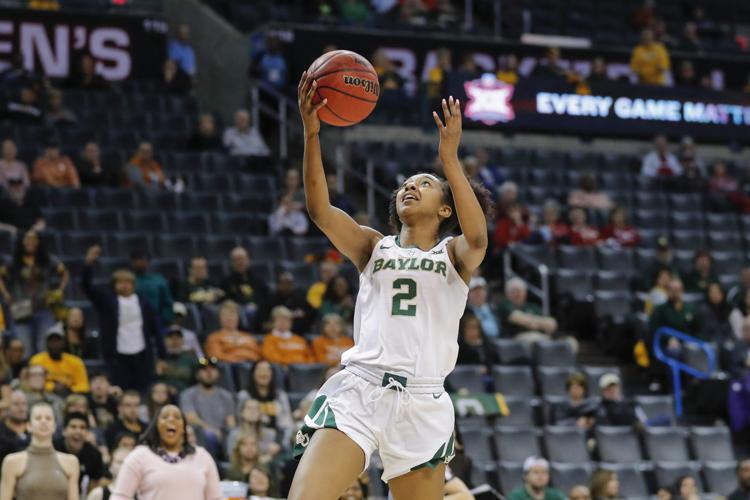 The bucket that pushed the Lady Bears to triple digits on the scoreboard reflected one of their greatest assets — their dominant depth. With 62 seconds to go, freshman Caitlin Bickle caught a kick-out pass from Honesty Scott-Grayson, squared up, and launched a 3-pointer that tickled the net for Baylor's 98th, 99th and 100th points. Bickle's basket ensured that every Lady Bear inked her name in the scoring column. Seven of them scored in double figures, another Big 12 tournament record.
Baylor's starters had long since departed by that point — the reserves played the entire fourth quarter — and they giggled and shimmied as Bickle's bomb swished through the hoop. On the day, Baylor's bench outscored Tech's reserves, 52-0.
"It just shows that we're always ready on the bench, when our name is called," freshman NaLyssa Smith said. "It shows that when we go in, we've got to do what we can do to rest our starters for bigger and better things down the road."
Like a cat batting around and toying with a mouse before he swallows it whole, the Lady Bears let Tech (14-17) hang around for a little while. Or maybe Baylor just didn't have its tournament legs yet. After all, the Lady Raiders had played the day before while Baylor had a first-round bye.
At any rate, Baylor missed seven shots and committed three turnovers in the first seven minutes of the game, and the Lady Raiders capitalized, tying the game at 10 following a Brittany Brewer jumper on the blocks.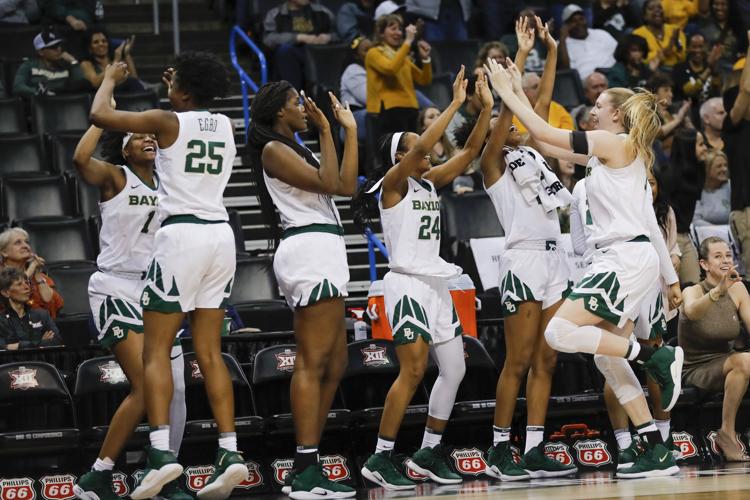 Then Baylor shifted to a higher gear, and Tech wasn't in the picture anymore. Baylor closed the first quarter on an 8-0 run. That surge was partially fueled by its effectiveness in the mid-range game, as Chloe Jackson and Moon Ursin each faked defenders off their feet before pulling up for 14-to-15 foot jumpers.
Tech pulled to within 22-15 on a 3-pointer from Sydney Goodson with 8:30 left in the second quarter. Then Baylor started to impose its will. The Lady Bears started blocking seemingly everything in sight, and it led to a number of runouts and breakaway opportunities. They shot out to a 23-3 run, stretching the lead to 45-18 and deflating whatever air was left in the underdog Lady Raiders.
When you're able to engulf an opponent like a tidal wave, that's when the game is at its most enjoyable, said BU senior Kalani Brown.
"To me, it just feels like you're having fun when everybody is scoring and everybody is getting to play," she said.
Added Richards, "It's a great feeling, especially when you see the crowd getting into it and our bench jumping off the bench, or whatever. It's fun to get everybody into it."
Tech didn't have much answer for Baylor's frontcourt tandem of Brown and Lauren Cox. The Lady Bears outscored Tech, 36-0, in the paint in the first half, as they opened up a 45-25 lead at intermission.
Tech's Brewer poured in 40 points in the Lady Raiders' opening win over the Sooners on Friday. But Baylor's defenders lick their lips at such a challenge. They tried to force her into high-degree-of-difficulty attempts, and Brewer managed just 13 points on 4-of-13 from the field.
"We take pride in our defense, and that was one thing we weren't going to let her do," Cox said. "I was trying to take away her left hand. I let her get open 3's. She banked that one in but we were trying to help in the lane. But just taking away her left hand and being physical with her, not letting her post deep in the lane."
With Brewer unable to get on track, hotshot freshman Chrislyn Carr picked up some of the slack for Tech. Carr buried seven 3-pointers on her way to a game-high 25 points.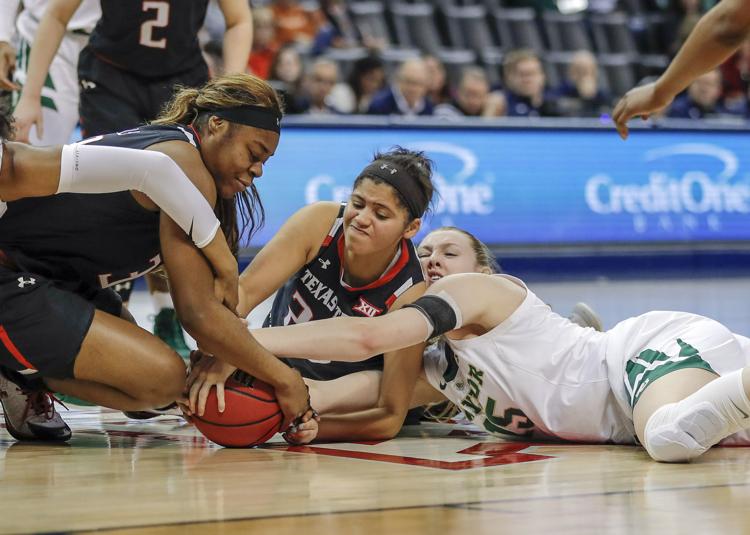 However, most of those baskets came while Baylor was nursing a comfortable lead. Or, rather, adding to it — as the Lady Bears outscored Tech in every period, even the fourth, when the starters played nary a minute.
Brown and Smith topped Baylor's seven-player double-figure scoring attack with 14 points apiece. Jackson and Ursin both chipped in 12, while Richards, Cox and Aquira DeCosta all had 10. Cox, who won the Big 12 Defensive Player of the Year award from the coaches earlier in the week, added four blocks and three steals.
Mulkey knew it was a luxury to be able to rest her starters as much as she did — Richards was the only BU player to play as many as 30 minutes — and it should benefit the Lady Bears going forward in the tournament.
"I hate using the word 'bench' because those kids could start for us," the coach said. "They're all that good. It's just y'all don't get to see them. They're freshmen, and what you saw today is the future here. I'm just so happy for NaLyssa Smith and those kids that they could play a lot of minutes and valuable minutes … not mop-up minutes."
Baylor moves on to face fifth-seeded Kansas State in Saturday's 2 p.m. semifinal game. Should the Lady Bears win that one, they'll advance to the championship game, which is slated for 8 p.m. on Monday.