FORT WORTH — Defense has always been a staple on a Kim Mulkey coached basketball team. Even though the change to playing four quarters instead of two haves happened fairly recently (2015) in women's basketball, the Baylor head coach couldn't think of another time that she'd seen what transpired on the court at Schollmaier Arena Saturday afternoon.
Her fourth-ranked Lady Bears held TCU without a bucket in the second quarter (the Horned Frogs did make two free throws) as that defensive domination helped Baylor to a 79-55 win that moved the Lady Bears to 3-0 in Big 12 play and handed TCU its first home loss of the season.
"Well the second quarter, I don't know that I've ever coached in a game, quarters are new in college for us, to have a zero field goal percentage," Mulkey said. "To hold a team to not scoring, well you can't do anything but compliment your kids. We're going to guard you. I'm just old school that I've learned from people who taught man-to-man defense that you stay with it. We have length, we have size. Those kids can come out and guard on the perimeter."
Overall, from the 1:46 mark in the first quarter to 6:52 remaining in the third quarter, the Horned Frogs didn't make a field goal. During that nearly 15 minutes of play, TCU missed 11 times, committed 11 turnovers and Baylor swatted five shots away.
"Well, slow starts against any Big 12 team is going to be really hard to recover from," TCU head coach Raegan Pebley said. "I felt like, for the most part, our second half was much better, but our offense in the first half was uninspiring. I know we're a team that can score. We've struggled as of late scoring. We've just got to get that mojo and that confidence and that purpose back."
In that second quarter — after Baylor raced out to a 16-9 lead in the first quarter — DiDi Richards and Chloe Jackson were on the bench as each had picked up two fouls. That put Moon Ursin into the game, and boy did the sophomore guard capitalize on the moment.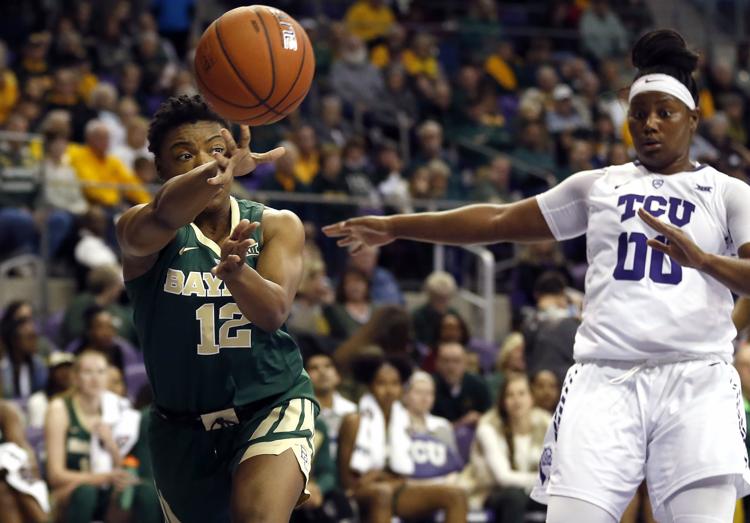 She hauled in an offensive rebound before sinking the put-back to beat the buzzer at the end of the first, and then swished a 3-pointer as the TCU defense sagged off her to focus more on Kalani Brown and Lauren Cox inside. Ursin finished the game with seven points off 3-for-3 shooting with four rebounds, an assist and no turnovers in 16 minutes.
"You're just so happy for a kid like that because she's a sophomore now and she absorbs everything you teach her," Mulkey said. "You knew she could jump out of the gym at her size. You knew she had quickness, speed. You just stay with her, stay with her. She can shoot the jumper. What a tremendous spark she was for us."
When it wasn't Ursin outside, it was Juicy Landrum, especially in the second half. Most of Landrum's points came in that final half as the junior sharpshooter showed off her range. She even nailed a deep triple well into the fourth quarter, and Landrum played 39 minutes on the afternoon.
"I never really got fatigued," Landrum said with a grin. "I guess after the UConn game playing 40 minutes, I guess it set me up for that."
Landrum was all over the place for the Lady Bears. Not only did she lead Baylor with a career-high 23 points, but she also had eight rebounds and dished out five assists. Landrum even picked off a TCU pass that she laid up on the other end.
"She never (got) fatigued, she hit big shots late, she delivered the ball to post players, she kept pushing the ball up the floor. I thought those two kids were pretty special today."
Most of Landrum's assists came from pick-and-roll action between her and Brown. Landrum would have the ball on the perimeter, and Brown would run up from the block to set a screen on the guard. As Landrum dribbled to her right or left, Brown rolled toward the basket. All that was left was an easy pass to Brown for two.
I thought Juicy and Kalani just worked it to perfection there on the other end," Mulkey said. "Just back and forth, screen and re-screen. (We) got what we wanted, a layup."
Brown finished with 16 points off 8-for-11 shooting and six rebounds in addition to four blocks. On the defensive end, the senior was tasked with defending Jordan Moore, who averaged an 81 field goal percentage from the floor at home. Against Brown and Baylor, however, Moore went 3-for-13 for 11 points and 5-for-10 from the free-throw line.
"Well, Kalani is a great defender. She deserves a lot of credit for that. Jordan was taking probably some shots a little too quick unbalanced and not utilizing some of the footwork she needed to separate from the contest. She was trying to help her team score, so she was probably forcing some shots that normally when we get a little more contribution from other people she doesn't have to."
Amy Okonkwo led TCU with 20 points as Kianna Ray added 13. Overall, TCU ended up shooting 34 percent as a 58.8 percent fourth quarter helped that average.
"All but the fourth quarter was good today," Mulkey said. "I'll take blame for that. I've got a lot of freshmen I'm trying to get in games that I need to substitute better. I need to let them grow with older players instead of throwing them all out there at the same time sometimes."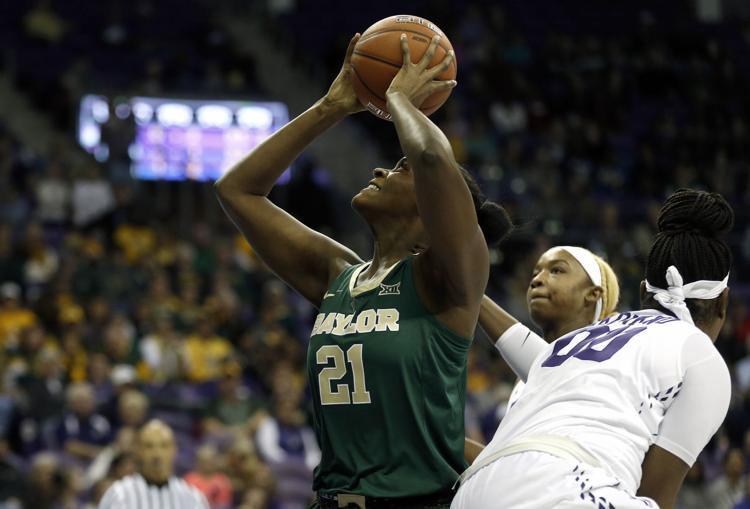 Part of TCU's success in the final quarter came from the Horned Frogs using their full court press. Five of Baylor's 10 turnovers on the day came from that press.
"It was good. I mean, we've seen other teams press them and they handle it better than they did tonight," Pebley said. "We needed to try and create some possessions, we needed to try and create some more energy, so we rolled the dice with it. It was productive. They still were able to find some scores on the backend of that, but it got our blood pressure up a little bit which helped, I think, our offense."
Baylor finished the game with 21 assists on 34 made buckets with a 51.5 field goal percentage. Lauren Cox was the other Lady Bear in double figures with 14 points to go with seven rebounds and five assists.
The victory over TCU marks the fourth victory in the fourth game in 10 days for the Lady Bears with a win over UConn on Jan. 3, a win at Texas Tech on Jan. 6, a win over K-State on Jan. 9 and a win at TCU on Jan. 12. The Lady Bears now have a little more time before they travel to Kansas for a 7 p.m. tip Wednesday.
"We've had a remarkable little run here," Mulkey said. "Now we'll get to rest a little bit tomorrow and start back and play a Big 12 game on Wednesday."
Saturday was the first time a Baylor team has held a Big 12 opponent without a field goal since NCAA women's basketball moved to quarters. Also, TCU's 11 points in the first half tied a record for fewest points allowed vs. a Big 12 opponent in the first half (11 by TCU, 1/2/13).