The Baylor Lady Bears and Connecticut Huskies will renew their rivalry of perennial women's basketball powerhouses next season when Baylor travels to the northeast.
Connecticut revealed the matchup via Twitter on Thursday with a graphic promoting the Huskies' loaded 2019-2020 schedule. The Huskies and Lady Bears are set to meet Jan. 9 at the XL Center in Hartford, Conn.
Although the Lady Bears' win over the then-top-ranked Huskies no doubt helped build momentum toward the national championship, Baylor coach Kim Mulkey made sure to keep it in perspective at the time. The Lady Bears opened Big 12 play just three days after defeating UConn.
"They don't lose much, we don't lose much," Mulkey said in her postgame press conference. "When you can do it year after year after year, taking people's best shots, and you have an opportunity to play each other, it's good for women's basketball. … We will enjoy this, and they should enjoy it, but you can't overemphasize it. You just can't. We're one of the elite programs. They're the elite of the elite, and we want what they have."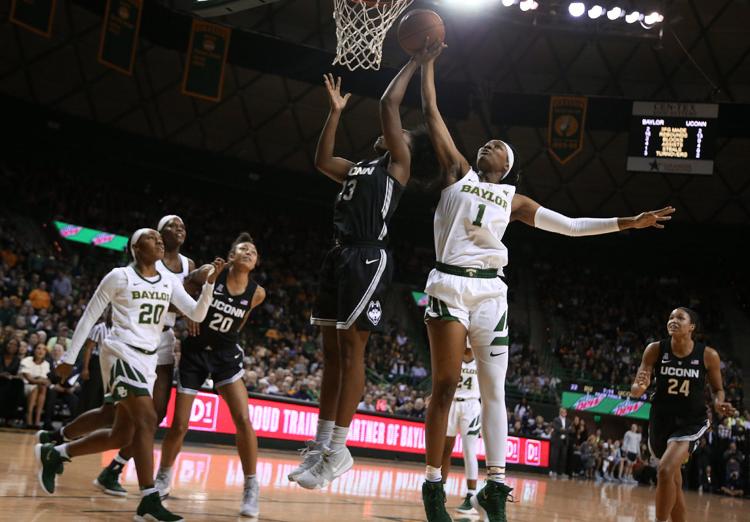 By defeating Notre Dame, 82-81, for the national title, the Lady Bears upped their total to three NCAA Tournament championships, taking over third place on the all-time list. Baylor trails only UConn (11) and Tennessee (8) for the most NCAA Tournament titles.
Baylor and Connecticut will be playing each other for the eighth time. The Huskies lead the series, 4-3. This will be the Lady Bears' fourth trip to play UConn in Connecticut and the third time the programs have met in Hartford.
It will mark only the second time the Lady Bears and Huskies have faced each other in back-to-back seasons. They previously met in 2013 in Hartford and 2014 at the Ferrell Center with each team winning on the other's home court.
Baylor and UConn have met just once in the NCAA Tournament. The Huskies defeated the Lady Bears in the national semifinals in 2010 in San Antonio when UConn went on to win its seventh national. championship.