That's the familiar adage Baylor head coach Kim Mulkey quoted when asked about taking on No. 1 Connecticut.
"Guys, it boils down to this, they have All-Americans at every position," said Mulkey, whose squad will host the Huskies at 8 p.m. Thursday. "In the game of basketball, you don't need but five. We've got to score with them. They can score from every position."
Baylor fans will remember Crystal Dangerfield from the last time these two teams met in November of 2016. Then a freshman, the 5-foot-5 point guard led the Huskies in scoring with 19 points off 8-of-14 shooting, including a 3-for-5 mark from 3-point land.
This season, she has been the key distributor for a balanced UConn offense and also averages 13.8 points per game. While everyone in UConn's starting lineup averages double figures — including freshman Christyn Williams (13.8 points) and sophomore Megan Walker (10.8 points) — most of the scoring for the Huskies has come from the senior leadership of Katie Lou Samuelson (20.1 points) and Napheesa Collier (18.6 points).
Samuelson is second in program history with 323 made triples, while Collier is on track to join Hall of Famer Rebecca Lobo as one of six UConn players to average double-digit rebounds for her career.
"They're nightmares to guard," Mulkey said. "They're just so fluid with what they do. What are their weaknesses, really? When you do scouting reports, it's like, well take this away or make her do this. With those two kids, they're just such all-around ball players.
"Their size. Samuelson's size on the perimeter. Most kids that size are post players for a lot of teams, but she's such a great shooter. Collier's ability to get them extra shots and get everybody on her team involved and make them better. They're just really, really good."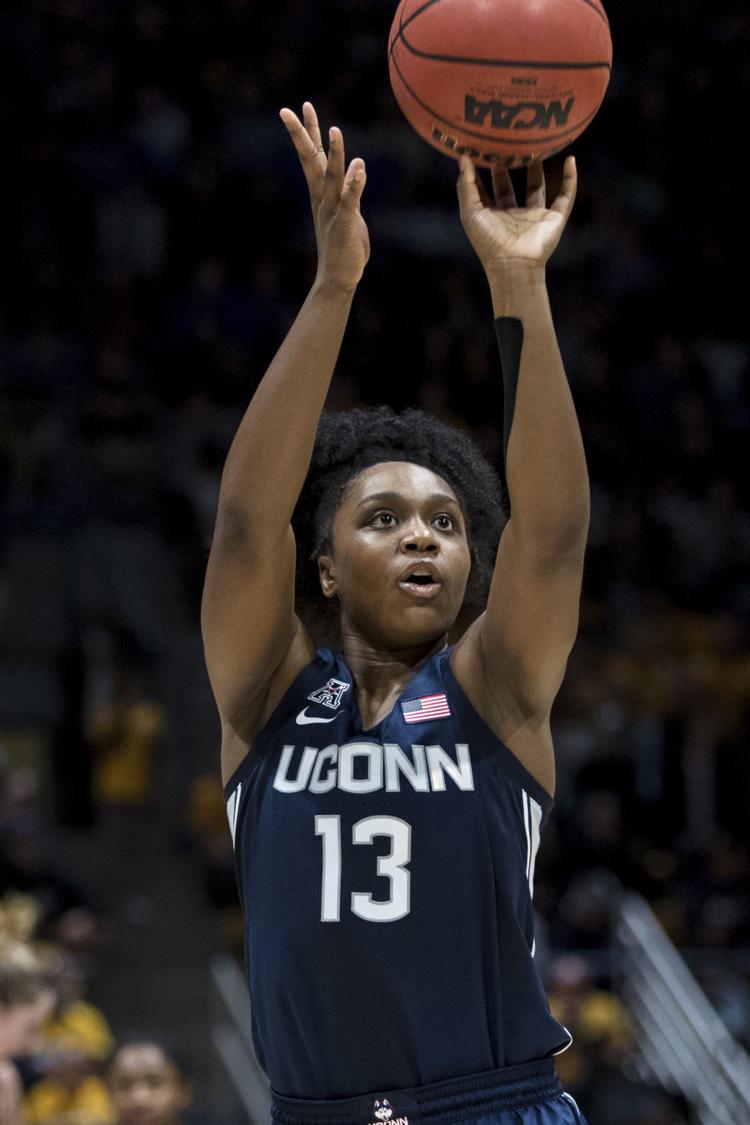 Outside of the starting five, the Huskies substitute only one more player on a regular basis. In close games, UConn uses six players. In those games with a six-man rotation, the Huskies finish with a total of, on average, 12.8 fouls per game (nine vs. California, 12 vs. Oklahoma, 18 vs. Notre Dame and 12 vs. St. John's).
"If you look at their stats, they're not just overly physical where they're going to foul out of ball games," Mulkey said. "They understand that they've all got to be on the floor. So, we're not going to do anything with the hopes that we're going to make them foul out of the game. That's not going to happen.
"But, we're going to play and make them have to guard us. They're going to play and make us have to guard them. I think you'll see two different styles based upon the personnel. And we're going to do what we do, they're going to do what they do, and whoever hits the most shots wins."
Notables
For the first time since 2008, UConn has won back-to-back games by 10 points or less with a 72-63 win over Oklahoma (Dec. 19) and a 76-66 win over then-No. 14 Cal (Dec. 22).
UConn has won 126 straight regular season games since Nov. 2014. The Huskies have won 163 straight regular season games without a regulation loss since they lost to Baylor in Feb. 2013.
UConn's Geno Auriemma became the fastest coach in men's or women's basketball to reach 1,000 wins last season.
A total of four former No. 1-ranked high school recruits will be on the floor Thursday night — Christyn Williams, Megan Walker and Katie Lou Samuelson for UConn, and Baylor's Lauren Cox.
Baylor has won 27 straight victories at the Ferrell Center and 44 straight wins in Waco over non-conference opponents.
Baylor is 0-14 all-time against the No. 1 ranked team in the AP or WBCA polls.
Doors at the Ferrell Center for Thursday's game will open at 6:30 p.m.