In any sport at any level, it's never an easy task to go on the road and win. That's why so much is made about home field, or in this case, home-court advantage.
When strength of schedules are compiled, it's one thing to host a top 25 team. It's another to take them on at their house.
The Baylor women's basketball team has done that twice already this season with a so-called neutral-site contest at Fort Defiance, Ariz., against then-No. 23 Arizona State before traveling to then-No. 18 South Carolina to face a program that dominates the women's college basketball landscape when it comes to attendance.
"Winning on the road period is hard," Baylor head coach Kim Mulkey said. "You're out of your comfort zone. It tells you that we're being led by Kalani Brown, Lauren Cox and upperclassmen who have experienced it and understand that we have to go play these games so that down the stretch when we're in the heat of the Big 12 battle and on the road in hostile environments that we've prepared ourselves in non-conference for that."
Saturday afternoon, No. 3 Baylor takes on its third Top 25 foe on the road when it faces No. 11 Stanford. Since the 2010-11 season, the Lady Bears are 51-13 against ranked opponents away from Waco.
Against Arizona State, Baylor fought back from an 11-point deficit at the half to win 65-59 behind freshman NaLyssa Smith's 16 points. Earlier this month, the Lady Bears didn't allow the South Carolina fans any chance to get involved in the game as they led by 19 points at the end of the first quarter.
Baylor played its first contest since that game on Wednesday when it took down Morehead State, 96-58. Stanford, meanwhile, hasn't hit the hardwood in more than a week as its last contest was a 79-73 loss at Gonzaga on Dec. 2. That loss bumped Stanford out of the AP Top 10 to No. 11, while it moved the Zags into the poll.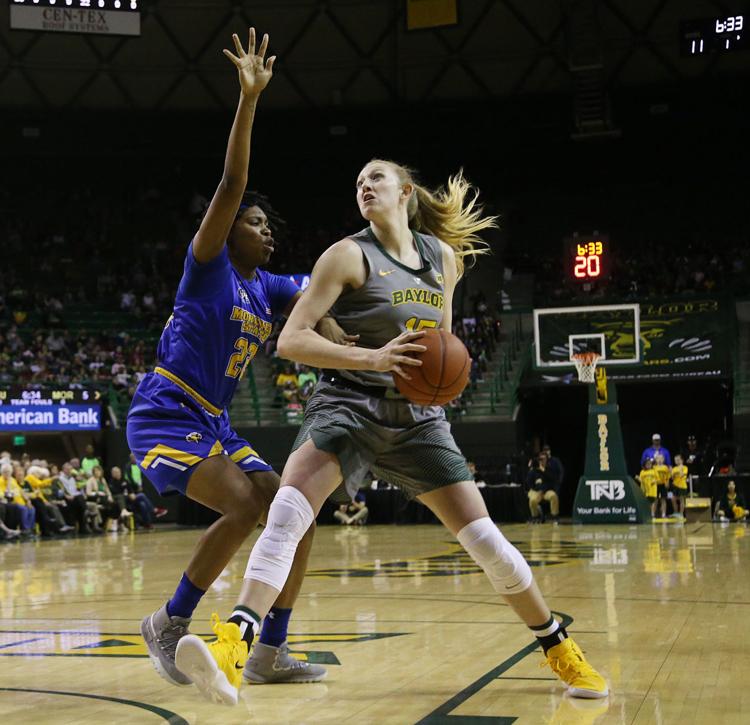 In the loss, Stanford shot 43.9 percent from the floor, while Gonzaga hit at 55.2 percent, including a blistering 60 percent from the 3-point line.
"The schedule that we've had, Arizona State was another tough road game for us, it's good for our young players to get that type of competition and atmosphere so nobody is a deer in the headlights come tournament time," Baylor senior Kalani Brown said. "I like the challenge. Stanford is going to play us harder. They haven't forgotten what happened here last year. I know they're going to come ready to play."
Last season, Baylor topped the Cardinal, 81-57, to give the Lady Bears a 4-2 advantage in the all-time series. This year, Stanford ranks No. 12 in the country in scoring with 85 points per game, while Baylor is third with an 88 per game average. Four players average double figures for Stanford, with 6-4 forward Alana Beard leading the way with 18.1 points per contest. Baylor also has four in double figures, topped by Brown with 16.4 points per game.
On the sidelines
Baylor head coach Kim Mulkey and Stanford head coach Tara VanDerveer have led their respective schools to two national championships. VanDerveer is in her 33rd season at Stanford and has led the Cardinal to 12 NCAA Final Four appearances. Mulkey, in her 19 seasons at Baylor, has led the Lady Bears to three NCAA Final Four appearances. Mulkey ranks second among active NCAA coaches with an .848 winning percentage, while VanDerveer is third at .812.