OKLAHOMA CITY — Like a kid pulling on your pants leg and incessantly asking for candy, the Baylor Lady Bears will pester you. You may be able to hold out for a little while, but they're going to wear you down eventually.
Except the Lady Bears weren't asking for candy. They were seeking an even sweeter prize – another Big 12 tournament championship.
Top-ranked Baylor was unfazed by a sizzling shooting start by Kansas State at the game's opening. The Lady Bears didn't panic and just kept doing what they do, and wore down the Wildcats, 88-60, to clinch their ninth consecutive trip to the Big 12 tournament final at the Chesapeake Energy Arena.
"Always sweet, going for a championship," Baylor sophomore Moon Ursin said. "You never can win too many. To be here again, with almost an entirely different team, it just shows how good we are and how well we've been doing."
The Lady Bears have made tighten-the-screws, in-your-grill defense their calling card over the past two decades under Kim Mulkey. It's a sound strategy. Defense travels even when you might've forgotten to pack your jump shot in the carry-on bag.
In the first six minutes of Sunday's game, Baylor's defense didn't really matter. The Wildcats took the court with confidence, and it showed in their shooting stroke. They made 7 of their first 11 shots from the floor (63.6 percent), usually with a hand (or two) right in their faces.
That electric emergence helped K-State take a 16-10 lead by the 4:21 mark of the first quarter.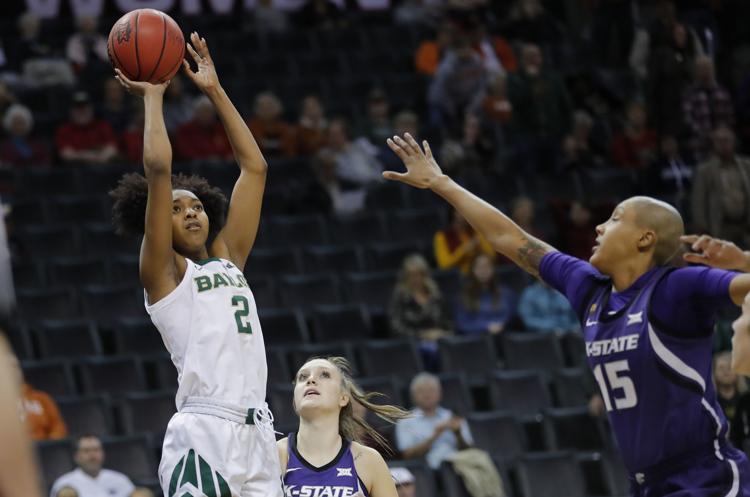 But it's tough to keep making contested shots forever. So during a timeout, Mulkey told her players to just hang in there and keep getting after it defensively. She assumed things would turn around — and she was right.
"Weather the storm," Mulkey said. "You keep playing good defense. You keep running the floor, shooters will fatigue. Usually you lose your legs first when you shoot a lot of perimeter shots like that. Just stay with your defense and weather the storm."
The Lady Bears outlasted the torrent, and didn't even need an umbrella. Juicy Landrum tossed in a runner in transition, and Kalani Brown carved out deep post position and dropped in a couple of buckets as Baylor rapidly tied the score at 16.
Meanwhile, on the opposite end of the court, Baylor's defense continued to make K-State work. And those shots that bottomed out in the game's first few minutes stopped hitting the mark with as much regularity for the Wildcats.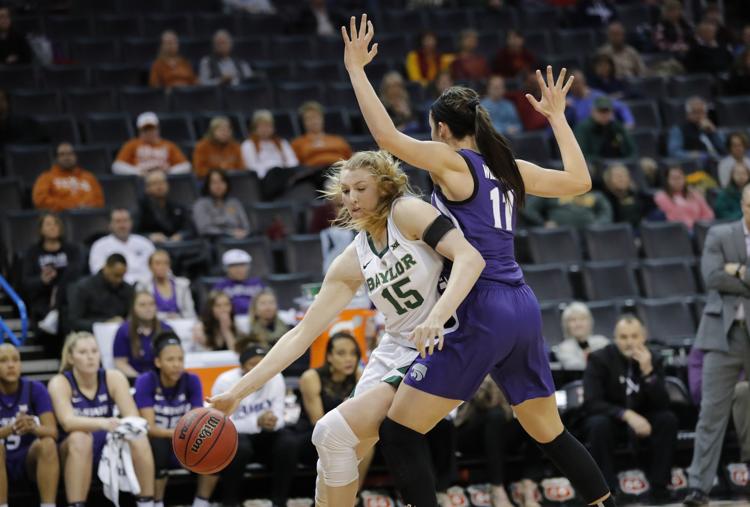 Following a jump shot by K-State's Kayla Goth at the 1:25 mark of the first quarter, Baylor outscored the Wildcats, 31-11, the rest of the way in the half. Chloe Jackson's mid-range jumper was pure butter, and Lauren Cox stamped her imprint on the game even when she couldn't get her shot to fall. Whether it was her post-to-post express deliveries to Kalani Brown or snatching boards away from the smaller Wildcats, Cox made her presence known.
She had four rebounds, four assists and two blocked shots before she ever scored her first points. Yet she still ended up finishing with 18 points, and came only two assists away from a triple-double, as she contributed 15 rebounds, eight assists, one steal and two blocks.
"If my shot's not falling, I'm going to do whatever else I can to help my team," Cox said. "So, whether that's rebounding, playing defense, whatever it is, eventually my shot's going to fall, like it did in this game. I've just got to do the little things before that."
Baylor held a commanding 47-29 lead at halftime. Then the Lady Bears (30-1) went for the jugular to start the third quarter, scoring 15 of the first 20 points of the period. In that stretch, both Landrum and Cox ripped 3-pointers, and K-State (21-11) had to feel a little helpless defensively. Brown is enough of a load on the blocks, but when the Lady Bears start flicking in shots from the parking lot as well, forget about it.
There were still some teachable moments the rest of the way for Baylor. K-State opened the fourth quarter on a 7-0 run with BU's reserves on the court. Mulkey signaled for a timeout, put her starters back out there, and though the Wildcats stretched the run to 10-0, the Lady Bears eventually settled down and got back to playing their inside-out, unselfish style of ball.
"I had five new ones on the floor and I wasn't real pleased," Mulkey said. "I took them off the floor for a few minutes. I have to coach them like I do everybody else."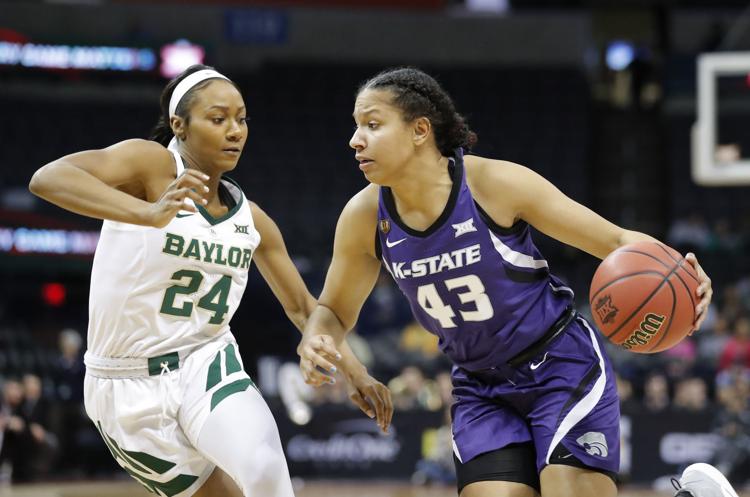 With around six minutes to go, Brown and K-State's Jasauen Beard became entangled, and some heated words were exchanged. Teammates rushed in to pull the players apart before anything got further out of hand, and both players were hit with technical fouls.
Brown had one of her ultra-efficient stat lines – scoring a game-high 24 points in just 21 minutes, on 10-of-14 shooting from the floor and 4-of-4 from the line. She added nine rebounds and one blocked shot.
Landrum hit three 3-pointers on her way to 19 points, and Jackson hit for 10. K-State, which shot just 28.8 percent for the game and only 20.8 percent after the first six minutes of the game, was led by 12 points apiece from Peyton Williams and Christianna Carr.
The Lady Bears will next face Iowa State in the Big 12 tournament championship game at 8 p.m. Monday.
"I'm pumped. I'm excited, playing for another championship," Brown said. "That never gets old. I'm excited for our freshmen to experience a big game like this. They haven't had one in a long time."