OKLAHOMA CITY — It's not a one-on-one game. Technically, they didn't even guard one another.
OKLAHOMA CITY — A funny thing happened on the way to another Baylor laugher. Iowa State showed up and said, nope, we're not going to be a punchline.
Nevertheless, Baylor had the last laugh.
The No. 1-ranked Lady Bears responded to Iowa State's charge by putting together a furious fourth-quarter kick on their way to a 67-49 win over the Cyclones in the Big 12 tournament final on Monday night at Chesapeake Energy Arena. It's the 10th Big 12 tourney title for Baylor (31-1), which also owns 10 regular-season banners in its ever-growing collection.
The Lady Bears definitely had to work for this one.
The second-seeded Cyclones (25-8) showed no small measure of gumption and grit in climbing out of a first-quarter hole. Throughout the second and third periods, Iowa State basically traded jabs with Baylor, standing toe-to-toe with the league's longtime heavyweight champs. After three quarters, it seemed to be anybody's game, with Baylor clinging to a 48-44 advantage and both sets of fans raucously reacting to every play.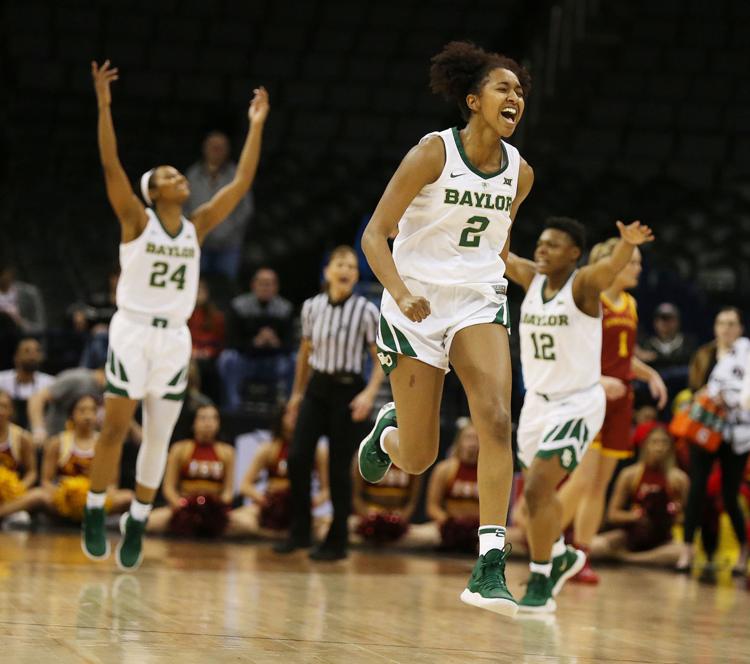 In the fourth, though, Baylor pulled away by doing what Baylor does. It's a basic two-step process — pound the ball into the paint, where those twin towers Kalani Brown and Lauren Cox reside. And number two, make your opponent work for every shot.
Baylor coach Kim Mulkey said she challenged Brown and Cox at halftime, so she was happy to see them answer the bell.
"I said to both of them, you're a combined, and I forget what it was, but it wasn't good. I said if you're as good as people say you are, then you'll work your way through it," Mulkey said. "And they did. … Those kids are experienced players, they've seen it all."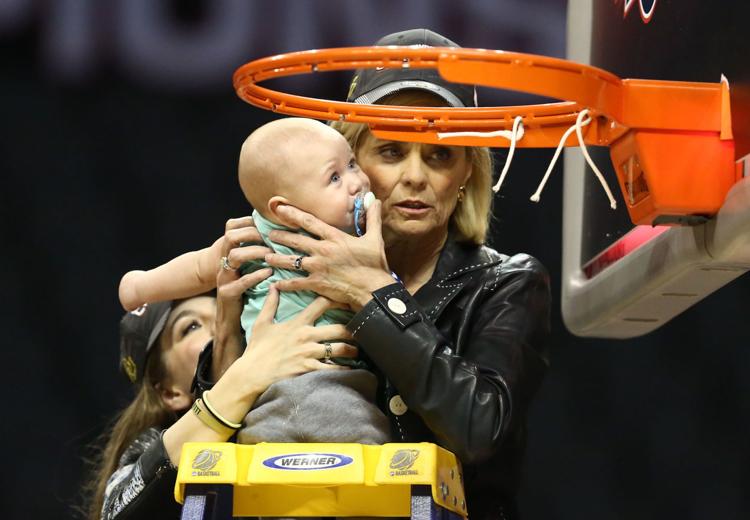 Baylor's pound-the-paint strategy proved as sound as ever. Baylor outscored Iowa State, 19-5, in the fourth. Cox and Brown loomed especially large, and finished with a combined 31 points, 15 rebounds and five blocked shots. But guards Chloe Jackson and Moon Ursin also stepped up and knocked down some clutch shots in the final stretch, as the Lady Bears found their runaway after all.
Meanwhile, on the other end, Baylor held its ground defensively, and the Cyclones wilted. Iowa State shot just 2-for-10 (20 percent) from the floor in the fourth and committed six turnovers.
"Their defense was really good in the fourth quarter," Iowa State's Alexa Middleton said. "We weren't able to execute like we wanted to. Right there with them in the third quarter, we survived the surge they usually have in the third quarter, just couldn't get it done in the fourth."
By the time that Iowa State sharpshooter Bridget Carleton lost the handle on the ball and Jackson picked it up and darted downcourt for a breakaway layup with 5:07 to go, the Lady Bears were feeling it. They stretched their lead to 59-46, forcing Iowa State coach Bill Fennelly to call his second timeout of the quarter to try to stop the bleeding.
But Baylor wasn't done, and neither was Jackson. With 3:09 to play, Jackson swished in a tough step-back jumper right in front of the Lady Bears' bench, which practically lost their minds in delight.
"All credit to my teammates," Jackson said. "They gave me that confidence that I could knock down a shot, and Coach talked about it earlier, pay attention to the shot clock. I knew I had to do something with this."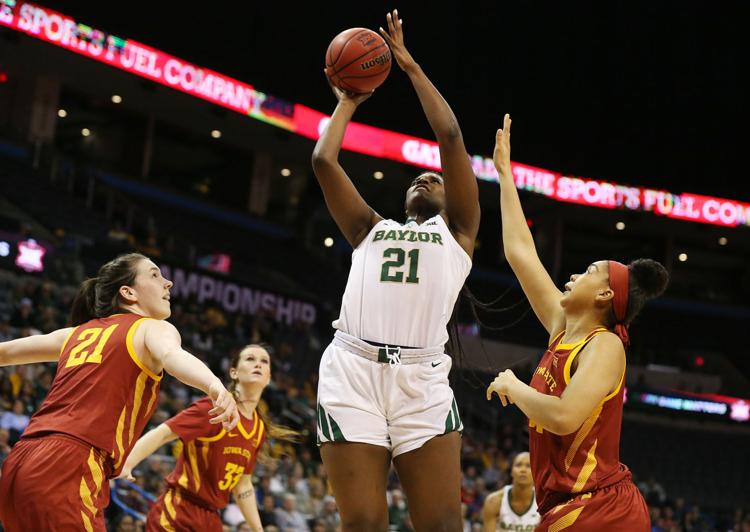 Jackson scored 16 points on 8-of-14 shooting to go with five rebounds and five assists. Brown dropped in a team-high 17 points for Baylor on her way to the tournament's Most Outstanding Player. She was joined on the all-tournament team by Cox (14 points, eight rebounds and three blocks in the finale), along with Iowa State's Carleton and Alexa Middleton, and Texas' Sug Sutton.
In a contrast from the games of the previous two days, Baylor refused to allow its opponent seize the early momentum. Displaying the proficient level of passing befitting a team that leads the country in assists per game, the Lady Bears delivered assists on six of their first eight baskets on their way to a 18-6 lead.
At that point, Baylor looked as dominant as ever. It was getting whatever it wanted offensively, whether it was Chloe Jackson scooping to the hoop on driving forays or Kalani Brown taking up residence in the deep post for easy dump-ins.
Furthermore, Baylor had effectively taken ISU star Bridget Carleton, the conference coaches' choice as Big 12 Player of the Year, out of the game. Through the first eight minutes, Carleton was 0-for-2 from the floor with no points.
But with 1:46 left in the quarter, Carleton sank a deep 3-pointer with the hand of DiDi Richards in her face, and that shot seemed to breathe new life into the Cyclones. Juicy Landrum turned the ball over on the ensuing possession, Alyssa Middleton scored on the other end on a difficult reverse layup, and the Cyclones were off and running.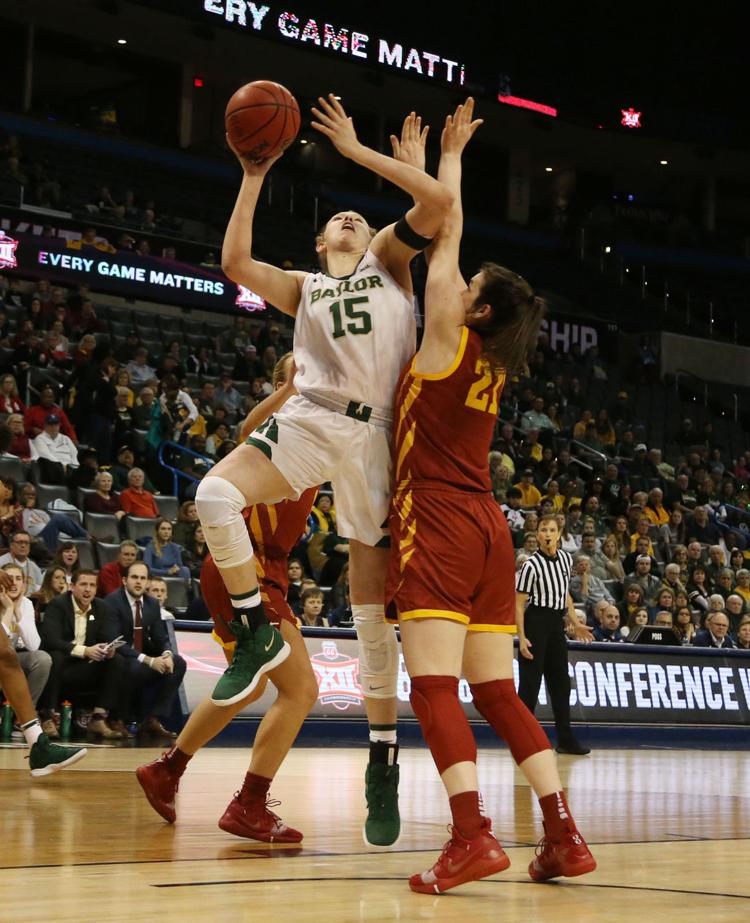 Iowa State closed the first quarter on a 7-0 run, then kept the snowball rolling downhill to open up the second. The Cyclones extended the run to 12-0, tying the game at 18 on Middleton's trey. Baylor finally snapped a nearly six-minute drought between field goals when NaLyssa Smith banged in a baseline jumper off a pass from Lauren Cox. But it was clear that this wasn't going to be another blowout for the Lady Bears.
Middleton turned in a terrific game for Iowa State, as she ran Baylor's defenders ragged for three quarters. She finished with a game-high 18 points on 7-of-12 from the floor. However, Middleton didn't score in the fourth, as Ursin and DiDi Richards stayed in her hip pocket and harassed her on every Iowa State possession.
"They're just amazing defenders. That's all I can say," Jackson said of her teammates Richards and Ursin. "They're great, they do a great job."
NaLyssa Smith gave Baylor a spark in the first half, when Brown and Cox were a combined 5-of-15 from the floor. The freshman forward out of the San Antonio area crashed the glass with a fervor, and tied for high-point honors with eight first-half points to go with three rebounds.
Mulkey said that Smith hit "the freshman wall" at one point during the conference season, but the coach believes the player has crashed through that barrier of mental and physical fatigue.
"She has to live it, and it's good to see her at this time of year, because we need that kid," the coach said. "That's what I told her coming off the floor – 'It's good to see you back.'"
Baylor likely had a No. 1 seed locked up before the Big 12 tournament ever began. But by virtue of sweeping its way through OKC, the Lady Bears stated a resounding case to be the No. 1 overall seed when the NCAA brackets are revealed on Monday, March 18. Baylor will host a watch party at the Stone Room of the Ferrell Center at 6 p.m. that day.