GREENSBORO, N.C. — I've been watching two college basketball teams play for five full months as the calendar turns to April.
And they're both still going.
For reasons that are too complicated, probably boring and possibly sentimental to divulge here, I've been closely following the Baylor Lady Bears and the Texas Tech Red Raiders since the ball went up for the first time back at the beginning of November. Now I'm in a hotel room in North Carolina the day after my alma mater, Texas Tech, punched its ticket to the Final Four for the first time, and the day before the Lady Bears attempt to make their way back to the promised land.
That's pretty exciting stuff.
I'm a little hyped up, but not so much so that I'm unreasonable. I understand that the Baylor women's program is a superpower in its league while the Red Raiders are reaching new heights.
However, there is one obvious similarity and I've had the enlightening pleasure of tracking it all season: both the Lady Bears and Red Raiders play tough-as-nails defense.
I'm not going to make the rest of this column a treatise on the axiom "defense wins championships." Baylor ran away with the the Big 12 women's basketball title and Texas Tech claimed a hard-fought share of the men's crown. That's proof enough.
Instead, I'll just point out a few things I've observed from watching these two defensive stalwarts.
Texas Tech ranks No. 2 in the nation in field-goal-percentage defense, holding opponents to 36.9-percent shooting. For 300-plus men's college basketball teams that looks pretty dang good.
The Lady Bears, though, are just a little better. Baylor ranks No. 1 in the country in the same category, keeping its foes to 31.3-percent from the field.
Did I mention I've learned a thing or two about what makes great defense this season?
Here's the big one: to play great defense, a team has to get its hands on the ball before a shot is on its way down to the basket. That means deflections, steals and blocks. Deflections disrupt what the opponent is trying to do, steals create fast breaks, and blocks, well, they're just the third most exciting play in basketball behind the slam dunk and the 3-pointer.
A team can slap the floor on defense all it wants, and the bench can chant "D-up, D-up" until all the reserves are hoarse, but if they don't get a hand on the ball, everything else is hoopla.
Guess who's No. 1 in the nation in blocked shots on the women's side? Of course, it's the Baylor Lady Bears, who have swatted 252. That's 40 more than the second-best shot blockers, which just happens to be the team Baylor just beat, South Carolina. Lauren Cox leads the Lady Bears with 89 send backs and Kalani Brown has pitched in 57.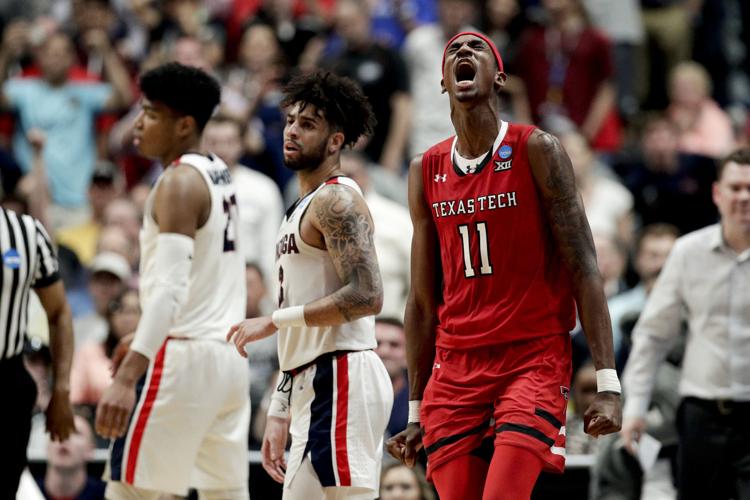 Again, the Red Raiders are lagging behind a bit as they rank No. 15 in the nation in blocked shots. But Texas Tech rim protector Tariq Owens ranks No. 7 individually with 88 blocks and we won't soon forget the amazing block/save he made to help preserve the Red Raiders' Elite Eight victory over Gonzaga in the closing minutes.
Oh, by the way, blocking 3-pointers is the cherry on top of the great defense sundae. Because it's not enough to get a hand in the face of an outstanding shooter, he or she will just drain it in your face (I may have experienced this a time or two in pick-up games). You've got to alter the shot.
The second key I've witnessed to playing great defense is precision. Specifically, a team has to be able to make plays on the ball without fouling, and that's really difficult.
But the Lady Bears and Red Raiders have accomplished it. You know all those shot blockers I just mentioned? They have something else in common: They stay in the game.
Neither Cox nor Brown has fouled out all season. Owens has fouled out four times, but just once in the last two months when Texas Tech has won 14 of 16 contests
As far as specific, tangible on-the-court factors that I can prove, that's it. Those are the all-important details.
But there's one more crucial thing: it has to come from the top and it has to be sincere. Lady Bears coach Kim Mulkey and Texas Tech coach Chris Beard praise their program's defensive effort. Beard's right-hand man, who he pumps up every chance he gets, is defensive specialist Mark Adams. It's worth noting that Adams, quickly becoming the most famous person in college hoops without his own Wikipedia page, is a former regional champion Golden Gloves boxer.
As for Mulkey, if you ask her the one thing that her team is going to do no matter the circumstances, I think you'll find a quick and consistent response.
She likes to say, "We're gonna guard ya."